Marnie Stern: Marnie Stern Review (Four Takes)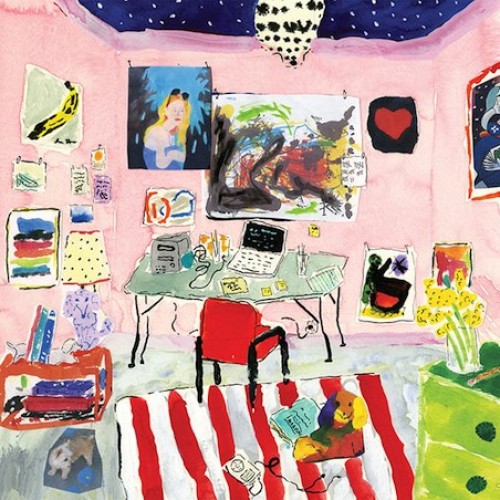 It can be difficult to gain a balanced perspective on an album after reading a single summary of the music. Bias can tilt a review, as can personal taste, history and just about everything else that is unique to the person writing it. So in an effort to offer an expanded perspective in such a medium, here are four reactions, four impressions, Four Takes on Marnie Stern by Marnie Stern.


Josh (Reviler)
87/100
The dust was barely settled on me writing my less than positive review of the new Screaming Females record when I got my first listen to the songs from Marnie Stern's new, self titled album.  It would be easy to think that I would come to the same conclusion on Stern as I did for Screaming Females.  Both are rock bands fronted by female guitar shredders, but to me, that is where they stop being equal.  Where all of the solos on Castle Talk seemed masturbatory and too closely linked to 80's hair metal, Stern uses her prodigious guitar playing ability to integrate her deft playing into her songwriting structure.  Songs like the previously lauded "For Ash," the pummeling "Transparency is the new Mystery," "Female Guitar Players are the new Black" and "Cinco De Mayo" show an aritst able to use their exceptional talent without feeling like you are listening to someone in complete awe of their talent.  Instead of seeming like a talent show showoff, Stern mixes in her massive guitar riffs with syncopated drumming and her plaintive, yearning vocals.  The final result is an album that is confident without being cocky, emotive without being cheesy and talented while still showing heart.   Marnie Stern is an album I would be wildly impressed with, even if I wasn't comparing it directly to an album that I really didn't like.

Jon Behm (Reviler)
68/100
As a "music dork" I am supposed to really be into Marnie Stern, right? Because she's a super great guitarist, the second coming of Sleater Kinney, a total babe, etc. Right? Right? I have heard these arguments from music critics time and time again but it still doesn't change the fact that Stern's music, in the end, does very little for me. While I think that Stern is an uber-talented guitar virtuosic, and her drummer Zach Hill (Hella) is probably one of the better percussionists of our time – overall I find their music cluttered and uninspiring. It's as if in their desire to cram as many shrieking guitar chords and time signature shifts into each song, they forget that music is meant to be enjoyed on more than just a purely technical level. I find that while I admire the prowess involved in the band's self-titled third album, the impeccable fretwork and meticulous drumming are precise to the point of being clinically sterile. It sort of reminds me of listening to a Van Halen album on fast forward (I would say on speed except that drugs might imply some sort of imprecision on the band's part). Yeah, musical talent is terrific – but it certainly doesn't necessarily equate great songs (see also: Peter Frampton). To my ear, at least, these songs lack the "soul" that I think makes music great. I don't, however, expect many people to agree with me and certainly wouldn't fault anyone for digging Stern, as far as musicianship goes, she's about as talented as they come.
Erica Krumm(Sharp Teeth)
60/100
You should never read an interview with a musician you are unfamiliar with, before reviewing their album. It muddies the organic experience, and this new knowledge creeps into your mind and skews your own personal, honest first impression of the music itself. It changes your perception. I will admit that I unfortunately made that mistake, and so now instead, to be fair, I am not going to so much "review" Marnie Stern's third, full length, self titled release, as I am going to point out some interesting things about it.
1. The swelling, epic, love-ache sound in the first track, "For Ash" is quite beautiful.
2.The overall feel of this record is fast and driving, with shredding guitars, and drums like an overactive heartbeat.
3. Stern's vocals fade in and out of range, sliding from pretty and melodic, to art-punk sass. Her vocal style, in my opinion is comparable to Pretty Girls Make Graves' Andrea Zollo.
4. "Risky Biz," and "Female Guitar Players are the New Black," are song titles on this album.
5.While thoughtful lyrics poke through here and there, Stern relies heavily on both technically proficient and creative instrumentation to get her emotions across.
6. Stern would be well advised to practice her professional interviewee skills. No publicly trash talking other bands, especially bands in your scene, and no talking about how you will sell out to anyone, for the right price. Even if it's true.
7. I want to love this record because it's quite good. I wont make this mistake again, I promise.

John Grimley (Radio K, Green Shoelace)
85/100
Marnie Stern loves contrast. She contrasts distorted, fuzzy guitars with clean, snappy drums. Fast building intros with plodding finishes. She contrasts her beautiful vocals with a high pitched croon. Her latest batch of songs are full of clashing themes and that can be good and bad.
When her dual approach works, as with the opener "For Ash," it makes the song feel fresh and surprising. The rapid buildup of guitar, drums and Marnie's high-octave vocals are suddenly slowed down as she switches to a more subdued singing style. Marnie's voice is a beacon amid the foggy guitars and clashing drums as she sings "I cannot fail" forcefully enough that you have no choice but to believe her.
When it falls flat, it devolves into just a lot of noise aimed at your general direction, as with "Female Guitar Players Are The New Black" where her wail overtakes her singing a little too frequently and the guitars feel like background noise instead of music.
Luckily for us (and Marnie), with her third full length Marnie Stern she makes two contrasting sounds work more often than not. This album has a lot of originality and new ideas and they shine much brighter than the occasional misstep. On this album, Marnie Stern shows that she has the creativity and musicianship to go beyond any one genre. She understands experimenting is half the fun of being an artist.
Marnie Stern – Transparency Is the New Mystery
Marnie Stern's self titled record will be out on Oct 5th on Kill Rock Stars
Marnie Stern:          Myspace
.