Parquet Courts: Sunbathing Animal Review (3 Takes)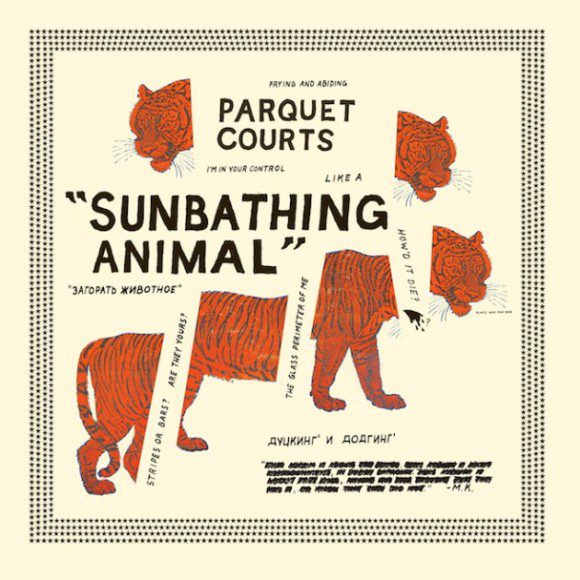 It can be difficult to gain a balanced perspective on an album after reading a single summary of the music. Bias can tilt a review, as can personal taste, history and just about everything else that is unique to the person writing it. So in an effort to offer an expanded perspective in such a medium, here are four reactions, four impressions, four takes on Sunbathing Animal by Parquet Courts.




Ali (@Egyptoknuckles, Background Noise Crew)
88/100
On the third album from punk/alternative minimalists Parquet Courts, you'll still find elements that made you fall in love with Parquet Courts in the first place, however, over the course of 45 minutes, you get much more expansive soundscape slow-cookers, as well as some of the lazy punk aesthetics that have drawn the band some similarities to the band Wire. Check out the energetic "Black and White," and the mid-tempo yet simplistic arrangements on "What Color is Blood?" Elsewhere on this album, you also have the raging and melodic stylings on "Vienna II" and "Always Back In Town," and the lead off "Bodies." While it doesn't have the quick and decisive one-two quickness that "Light Up Gold" had, it still manages to stay in its comfort zone and deliver a lot of elements that made Parquet Courts darlings in the first place, but "Sunbathing Animal" manages to expand on that by making it more lush and inventive.


Jon
73/100
I really enjoyed Parquet Courts debut record, Light Up Gold, last year. I have struggled to derive the same satisfaction from their follow up Sunbathing Animal. Honestly what it boils down to I think is that the new album is kind of boring. Whereas previously the band had a lot of rips and seams showing in their ramshackle slacker-punk aesthetic, now all those interesting imperfections have now been stitched up and ironed out. And that is fine for some musical genres, I prefer my punk to be considerably less self-conscious. Sunbathing Animal is a technically well executed, well-thought out (maybe too thought out), and it has some nice hooks, it just lacks, in my opinion, a lot of heart behind it. That isn't to say that it's terrible – despite the sheen, there are some standout tracks like slackfisted "Instant Disassembly," and VU-esque "Raw Milk" that the band makes work. As far as the rest though, I think that it could use a little more edge and a little less shine.


Josh
81/100
Parquet Courts are one of those bands that you spend your first half-dozen listens to their new LP deciphering their influences. Ohhh-the angular pop of Television or Wire. Ohhh-the curled-lip disaffection of Lou Reed or Mark E. Smith. Ohhh- pretty much everything about Pavement. Coming from the equally scattered yet enjoyable garage-rockers Fergus & Geronimo, the band have been softening the ground with a couple of solid releases over the last few years, but Sunbathing Animal is the first to really make me want to dive in further and put the record on repeat. It is a bit rambling, both in good and bad ways, but when they hit their chugging and odd-ball melodic charm on tracks like "What Color is Blood," it is deeply entertaining and smart pop music hiding behind a wink and a smirk. While it is easy to do this music bad, Parquet Courts have proven adept at navigating the pitfalls that lots of post-Pavement, pop-leaning, eclectic post-punk bands have been tripped up by. This is a record that has initial appeal, but really rewards after multiple listens. The snarky lyrics, the snake-charmer guitar licks and the quasi-Motorik grooves all seem to wrap themselves even tighter around each other on subsequent listens. If you are willing to jump on the merry-go-round, Sunbathing Animal will provide you with the entertainment. It just may take a few spins.