Tobacco: Ultima II Massage Review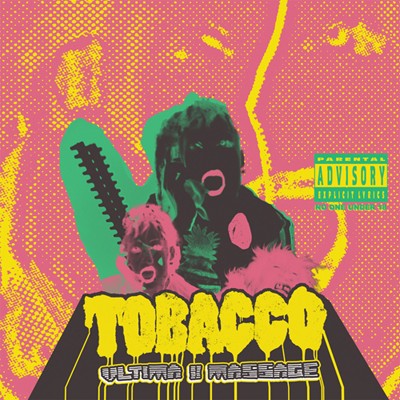 True story: I was listening to the Ultima II Massage LP on my headphones in my computer room and thought "wow, this sounds even more muddled and dissonant that usual, even for Tobacco." Then something stripped away and I realized the blender had been running in the kitchen through the wall and it was bleeding into the sound. If you don't want music that is so messy and contoured that a running blender can be mistaken as a part of the song, Tobacco (aka Thomas Fec), and his latest LP Ultima II Massage, aren't for you.
Building off his outstanding previous work deconstructing electronic pop music, Ultima II Massage might be the most well-rounded record Tobacco has put out (including, possibly, his work with Black Moth Super Rainbow). The album bursts out of the gate with the thunderous "Streaker," which highlights the demented synths, gigantic drums and vocals that sound like a robot from hell who is sucking on a lemon. The 16 song record spends a lot of time in the twisted, molten lava pop that we know him best for, but turns over a few new stones along the way. "Creaming for Beginners" is soft and almost gentle, "The Touch From Within" is space-y and "Beast Sting" is a restrained, almost celestial take on the hair-on-fire music that makes up a good chunk of the record. For those who loved the Fec curated train-wrecked-tom-foolery from Maniac Meat and Fucked Up Friends, there is a lot of that on this record too. Highlights include "Blow Your Heart," "Face Breakout" and "Eruption (Gonna Get My Hair Cut at the End of the Summer)," all of which feature the sonic freak outs that have made Tobacco a big fish in the small pond that he populates.
Ultima II Massage isn't for the faint of heart. It has been cited that Fec said he wants his music to make you feel paranoid "in a good way." Whatever that means, I think he has succeeded, and his latest record might be his best work yet.