Live Blog from Rock the Garden Sunday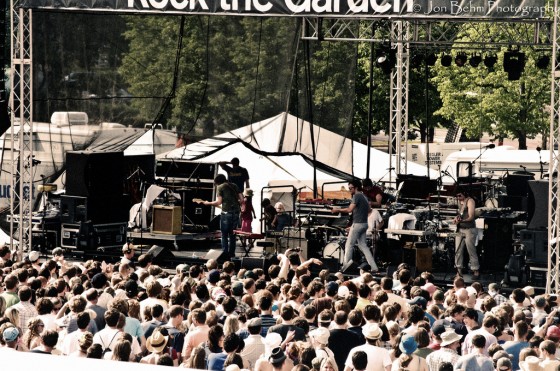 Reviler is at Rock the Garden. Sorry for typos.
4:10 – Here. Hot.
4:14 – Heard what I thought was a cut-rate Tame Impala song from the speakers as I parked my bike. Got in gates and realized it was Yoko's kid. Huh.
4:22 – Some random guy just shared his sunscreen, which i had forgotten. Hero.
4:25 – People in beer line mentioned how cool it was to see Lennon's son. They didn't seem equally excited about his music.
4:28 – Beer is $7 per. Good vibes from sunscreen guy are gone.
4:32 – JD McPherson keeps calling the crowd "friends." Calm down, buddy.
4:37 – This is a tour de force in stripping away the passion and creativiy from blues, country and rock and roll.
4:43 – In the spirit of being more positive, we are increibly excited for Seun Kuti and Babes in Toyland.
4:46 – In the shade, today's weather is positively delightful. (Two positive notes in a row!)
4:58 – Mr. McPherson is crazy for a north side girl, apparently.
5:03 – The VIP area is a six foot fence around a picnic area. The people inside are akin to animals at a zoo. Except for these people paid good money to be there.
5:23 – The classic hip hop playing between sets has unleashed a torrent of awkward dancing.
5:32 – Lots of (clean) biffies, free water, and quick entrance. Nice worl, Walker Art Center. Other festivals should take note.
5:37 – This will be third time seeing Seun Kuti and Egypt 80,and first time outside of the Cedar. Cant wait to hear their infectious grooves on this beautiful afternoon.
5:42 – Classic band introduction for the legendary members of Egypt 80. They kick things off with their great horn-driven afrobeat featuring a two person dance crew. Sounds awesome.
5:52 – Here comes the man of the hour, Seun Kuti.
5:55 – Seun, as always, starts with a cover of his lengendary dad, Fela Kuti. On Fathers Day. Killing it.
5:58 – The horns sound like rightous lightening bolts on a sunny day. Seun flailing like a madman as the groove deepens.
6:02 – Like his dad, Seun isn't afraid of politics. Wonder what this crowd thinks of a song called IMF (International Mother Fucker). Or maybe the are lost in the deep, funky groove, which would be understandable.
6:08 – I think the skin on my face is nearing the point where it will start boiling, but I don't care, because Seun Kuti and Egypt 80.
6:12 – Just saw a prominent Foo Fighters tat. No way that doesn't get laser removed at some point.
6:19 – When the stringy guitar lines and hi hat make even the most stoic Minnesotans nod their heads. That is afrobeat.
6:24 – Well that smoke doesn't smell like cigarettes.
6:34 – A solid, deep set by Seun Kuti. Hope everyone appreciated that.
6:34 – Going to be hard to top Seun Kuti tonight, but excited to see Babes in Toyland give it a shot.
6:48 – Playing Iggy and the Stooges "Search and Destroy" before Babes in Toyland was the right choice.
7:17 – Babes in Toyland sprint out of the gate louder and more abrasive than anything we've heard yet. Sounds wonderful.
7:26 – It is always a risk when a bands had been away for a whole, but Babe in Toyland haven't missed a beat. Heavy as a ton of bricks, searing as hell and with an attitude missing all too often today. These ladies are showing hiw it is done. So good.
7:34 – "We've missed you." We've missed you too, Babes in Toyland.
7:31 – It takes a certain kind of band to make rock and roll strut. Babes in Toyland do that. Even the security guards watching the stage are bobbing their heads.
7:47 – Phone is dying, so less updates, but rest assured that Babes in Toyland are melting faces here. At least the faces that are paying attention.
8:08 – Babes are done. Great, sweaty set. Hope we can see them again.
8:13 – Just walked past the entrance and people are just arriving. Huh?
8:45 – Nine strong, Modest Mouse start out with a ballad from an old album. Solid.
8:56 – Playing their latest "hit," the Modest Mouse sold out meme feels hollow. Even at their poppiest, still doing cool stuff. Not Lonesome Crowed West, but not shit either.
9:12 – Issac Brock is a weirdo, in all the right ways. Even if his band has jumped the shark, he doesn't seem different.
9:22 – New theory. Modest Mouse didn't sell out, they just ran out of ideas. Nothing glaringly bad, but set is dragging. They never were or should have been a "singles" band…doesn't fit their style.
9:35 – "Float On," so I imagine that sratched the itch for a good chunck of this crowd.
9:38 – Yep. Steady stream to exits.
9:45 – Modest Mouse's inability to give a fuck, vis-a-vis their slowing down/ rearranging their "hits," is commendable.
9:49 – Brock just said Minneapolis is #3 on his list of places to live…in North America. A very sincere almost-compliment.
9:54 – Modest Mouse are doing the pause -before-the-encore BS. While we wait, im guessing you can buy tickets for next years Rock the Garden at this point. Just give your credit card to any member of the Current staff. Why wait, right musicheads?
9:59 – A woozy, horn-filled version of "The Good Times are Killing Me" to close the night. As Brock said "If you're drinking, dont drive, and if you're driving don't drink." Signing off.