Tape Tuesday: Dreamweapon – S/T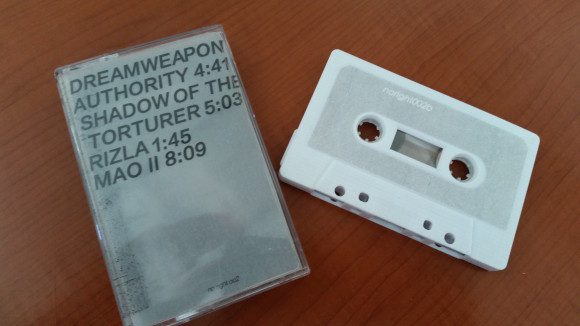 Tape Tuesday is a day (Tuesday, duh) where we review tapes (duh), both new and old. If you have a tape you think we should hear — hit us up.

Dreamweapon are a local collective that clearly have "getting famous" pretty far down on their to-do list. This review of their new (I think?) self titled tape was not prompted by a high-paid PR agency, nor by local members of the band who may have sent an email. In fact, I didn't know the tape existed until I saw it sitting with the other "Local" tapes at Dead Media in South Minneapolis. Having enjoyed their previous outputs, both on tape and live, I figured it was a no brainer to give it a shot. The tape is relatively short (about 20 minutes) spread out over four darkly hypnotic songs. The beats are barren, and the synths are thin, focused and demented, and the landscape is dark. It has a entrenched groove, but isn't dancy; it has sharp edges and fuzzy production, but doesn't feel industrial. It has a skeletal power, and like its producers, it seems perfectly fine leaving some of the questions open to interpretation. I'd be lying if I said were you can listen to this online (it didn't come with a download card) or where to buy it (the label on the artwork I can't find anything about), but it is worth checking out if you randomly stumble across it.