Oaks expand their fuzzy rock on their commanding new LP Animal Life (Release show Friday!)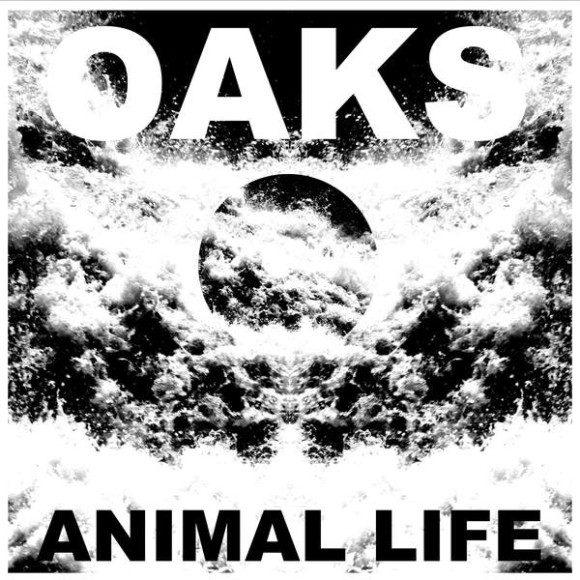 When they first made waves with their violent insurrection, the Tupamaros, a left-wing armed revolutionary group in Uruagy in the 1960's and 70's, were estimated by the Government and police to number well over 1,000 fighters. At the time they didn't even have 100 souls within their ranks. It was their methods, not simply their size, that made the the sum seem larger than their actual parts. Many bands fall into the mindset that bigger, louder and using more fancy equipment will make their sound seem larger, when the reality is it often just sounds bloated and unnecessary. Oaks are a local fuzzy duo who take a streamlined approach to their shoe gaze-y post-punk, using guitar, bass and a drum machine, yet on their debut LP Animal Life (out soon on Modern Radio) they create a product that sounds bigger and more powerful than the relatively minimal parts.
From the new wave leaning undertones of album opener "All the Thunder," it is an album that feels rich and full sonically while maintaining a muscular edge. The drum machine and bass (by Jim Kolles) keep the songs marching forward, often muddling through a sea of fuzz and distortion. Standout tracks include "Lake," a woozy track washing through the speakers on waves of fuzzy, shoegaze-y guitars, and the title track that melds an industrial feel with a harrowing call and response vocal part. The eight tracks on the LP flow together seamlessly, ebbing and flowing within the boundaries of the multitude of genres they explore. There is an ominous feel throughout the LP, from the metallic, wide-open production to the haunted, introspective lyrics deliver through the haze by guitar player and lead singer Erica Krumm, bringing layer upon layer of heaviness to the record.
Taking just a few moving parts, the duo have created an album that feels big and commanding, stretching their sound to the furthest corners of its possiblity. Animal Life, the band's debut full length after a handful of smaller releases, is lean and mean, and if you didn't know better, you'd assume the righteous waves of fuzzy, melodic post-punk was created by a whole army, not just two artists from our own backyard.
Oaks are celebrating the release of Animal Life Friday, August 28th at Icehouse with Waveless. Tickets are $6 and the show starts at 11pm.