The Nightingale Trio: "Letya" Review/Show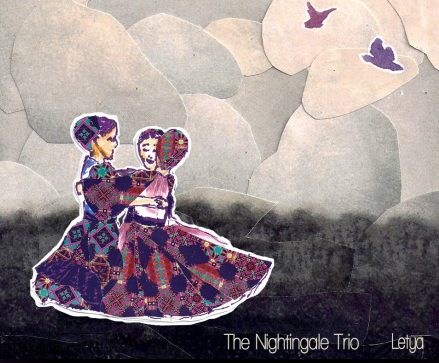 The Eastern European vocal folk tradition is probably due another moment in the sun.  It hasn't really had one since 1987 when Nonesuch reissued the unlikely hit record Le Mystère des Voix Bulgares, a compilation of songs recorded by the Bulgarian State Radio & Television Female Vocal Choir.  Nearly two decades on and most would be hard-pressed to think of even another example of the genre.  We've had our share of instrumentally infused Eastern European-influenced revivals (everyone from Fanfare Ciocarlia to Beirut) but few have rushed out to carry the banner or the purely vocal tradition.  There's a trio of young women out there, however, who would like to see that change.  They discovered each other through their shared time in the Yale Women's Slavic Chorus, and they now perform together as the Nightingale Trio.  The members are Nila Bala, Rachel LaViola, and Sarah Larsson, and though only Larsson lives in the Twin Cities – they perform here on a semi-regular basis (at least a few times a year it seems).
The Trio has an album out this year called Letya, which is comprised of 14 lovely tunes.  Each song is inspired by a traditional Slavic folk tune, though often they have been re-arranged, transformed, and made again new. With each song the Trio adds in their own original touch – whether it be structural or simply due to the fact that every all voices are unique and therefore these particular songs have never before been heard in this particular way.  The tunes range from solemn to ecstatic – and the diversity in style supports the fact that Eastern Europe was a cultural crossroads throughout much of history.  I am no ethnomusicologist, but in "Bezrodna Nevesta" I feel like I can hear the warbling style that made its way West to the Gypsy caves of Andalucia.  It's not hard to hear the Middle Eastern influence in album standout "Szombateste Bucsuztato."  And it's perhaps  not intentional but some of the harmonies in "Oi Chorna" sound downright African in origin. The genre that comes across the loudest though is, of course, Slavic and all fourteen of Letya's tracks have that particular Slavic ability to convey intense emotion through music.  More often than not that feeling is full of melancholy – but that's not to say there isn't touches of playfulness here and there as well.
If Letya has a weakness its that the reverb of the recordings is a bit extreme.  While that often gives the women's vocals a ghostly resonance, it can leave the (occasional) added percussion sound a bit as if it was recorded in the middle of a gymnasium.   That's a situation that could be easily remedied by hearing the songs in a live setting.  And we'll be getting several such chances to do so this weekend – the Trio will notably be performing on Saturday night at the Woman's Club of Minneapolis with the Prairie Fire Lady Choir (tix here) as well as several other local shows (for full schedule, see here).  I invite you out to hear at least an album's worth of lovely songs and, perhaps, assist in "bringing back" the Eastern European vocal tradition for it's next revival.
— Jon