We Went There: Viagra Boys at Amsterdam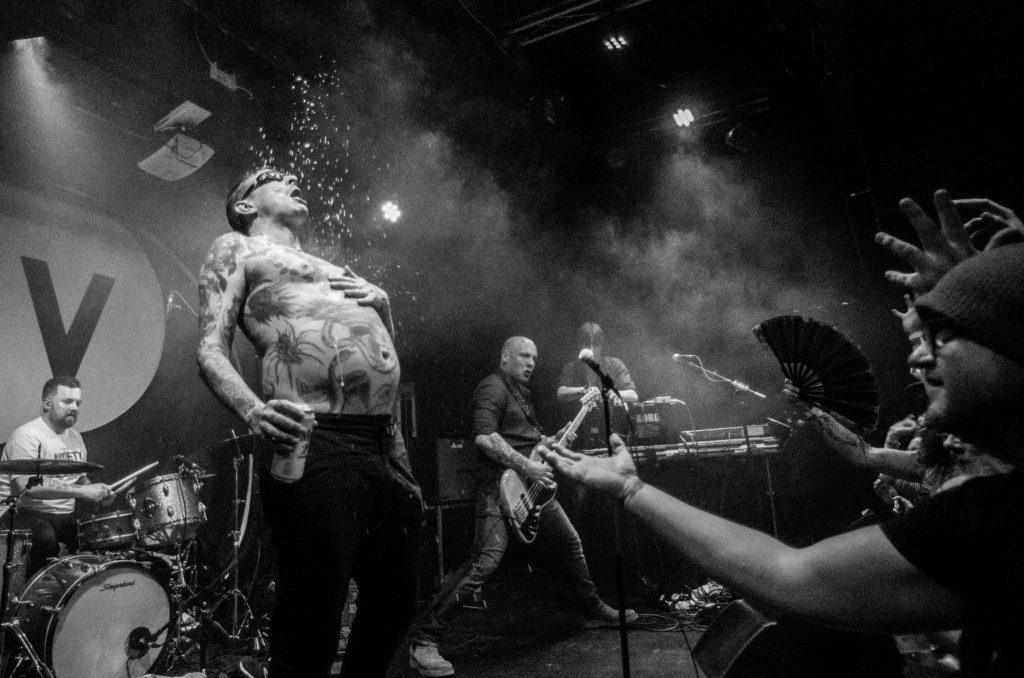 Back in 2016, my friend sent me the video for "Research Chemicals" telling me I'd probably like this band. A man in a tracksuit dancing in a full restaurant shouting about sticking amphetamines up his butt to a noisy yet somehow danceable beat caught my interest. Back then, there wasn't a ton of online presence, so I was resigned to know there was this band in Sweden, fronted by an American criminal who left the country (as I seem to remember their lore at the time), that'd I'd never end up seeing and would fade into cool obscurity like a whole lot of bands. There was something unique about them. You believed them singing about doing drugs that turned out into a table. Luckily for us, Viagra Boys had a bit of a viral hit with "Sports" a few years later and came through on tour in 2019. Not even that show prepared me for a 2022 show as the band works their way through a completely sold-out US tour.
Viagra Boys pull in an interesting cross-section of many scenes and people. Standing in front of me are two dudes in full tracksuits and sunglasses who are highly stoked for the band. They quote lyrics back and forth to pass the time between beers. Surveying the crowd, one remarks how everyone looks like they're studying for an advanced college degree. "What are you studying?" one of them asks me. "I'm a grown man… with a computer science degree," I answered to their delight of theorizing that I've hacked their Amazon Alexas. Across the front row, there's even more sunglasses, multiple Ween merch wearers, older dare I say normal average couples, punks and a bunch of big beard dudes. Everyone is excited. As setlists are taped to the ground, my tracksuit friends eye one gleefully and as they get slightly too close a voice from behind says "You're going to have to go through me to get that". Viagra Boys fans are all very dedicated.
Year001 labelmates Provoker took the stage as openers. Founded by guitarist Jonathan Lopez, Provoker found its voice in singer Christian Petty. There was at least a few fans in the audience as the band noted somewhere mid set ("This is the one request we received"). The band played a solid set of dark post-punk with a projection of an old first person shooter being projected over the band to interesting effect. Petty has an interesting stage presence that works great between his croons and random sounds.
After the lights drop and some pulsing techno plays, the band walks out one by one, ending in a long line of high fives for frontman Sebastian Murphy. Murphy immediately removes his shirt as the bassline to "Research Chemicals" hits. It's been a long time since I've felt crowd energy like this. While Murphy is the face of the band, playing the ringleader, the preacher, the politician shaking hands and kissing babies (there were no babies in attendance); one might forget just how talented this band is. Bassist Henrik Hockert plays the grooves for your end of the world dance party. I'd always really thought of them as a punk band but that's just part of it. There's jazz. There's no wave skronk. It's a constant assault yet you keep nodding your head.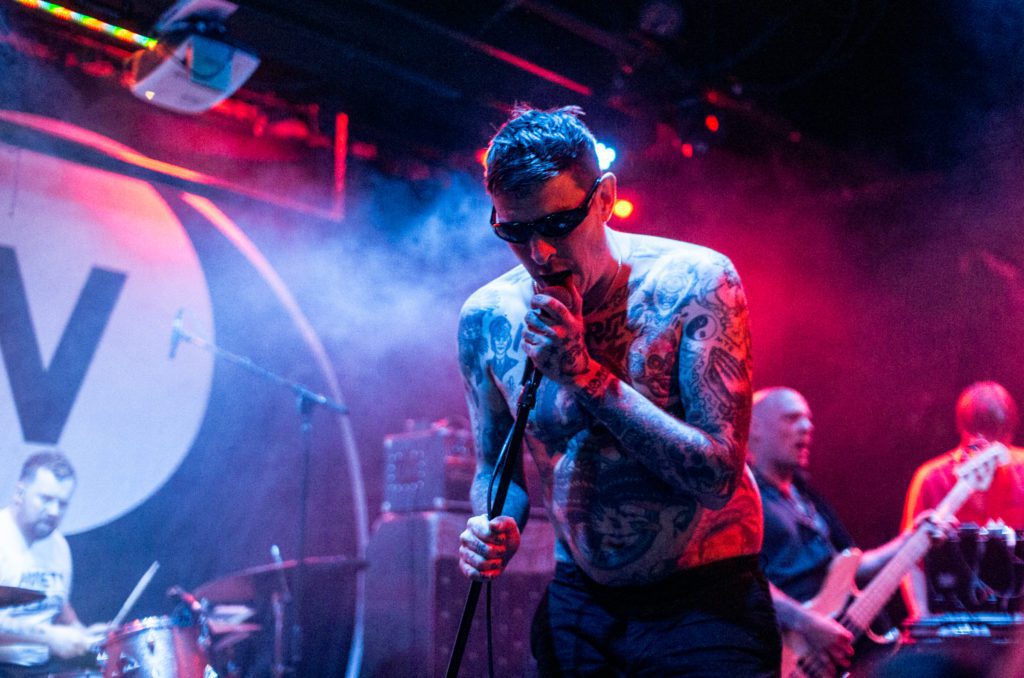 "I have the next two nights off…" Murphy says after a couple of songs "So I can party with you." The setlist primarily was split between last year's Welfare Jazz and 2018's Street Worms. A new song midway through called "Ain't No Thief" was promised to the crowd as "coming out on 4/20". While some songs passed by in a blur, the band wasn't afraid to stretch things out immediately. Murphy took a couple of breaks to the back, including a powerful blast through the instrumental "6 Shooter". This energy brought out even more crowd energy. More beers were thrown. More shirts were lost. More clothing was thrown on stage. More joints were thrown on stage. The most stage dives I've seen in years occurred. More dudes jumped on stage and were humored by Murphy. Viagra Boys is for all of us. Even a closing rendition of the Street Worms favorite "Shrimp Shack" wasn't enough. A brief hiatus from stage brought them back to give us "Sports" and "Down In The Basement" to close things out.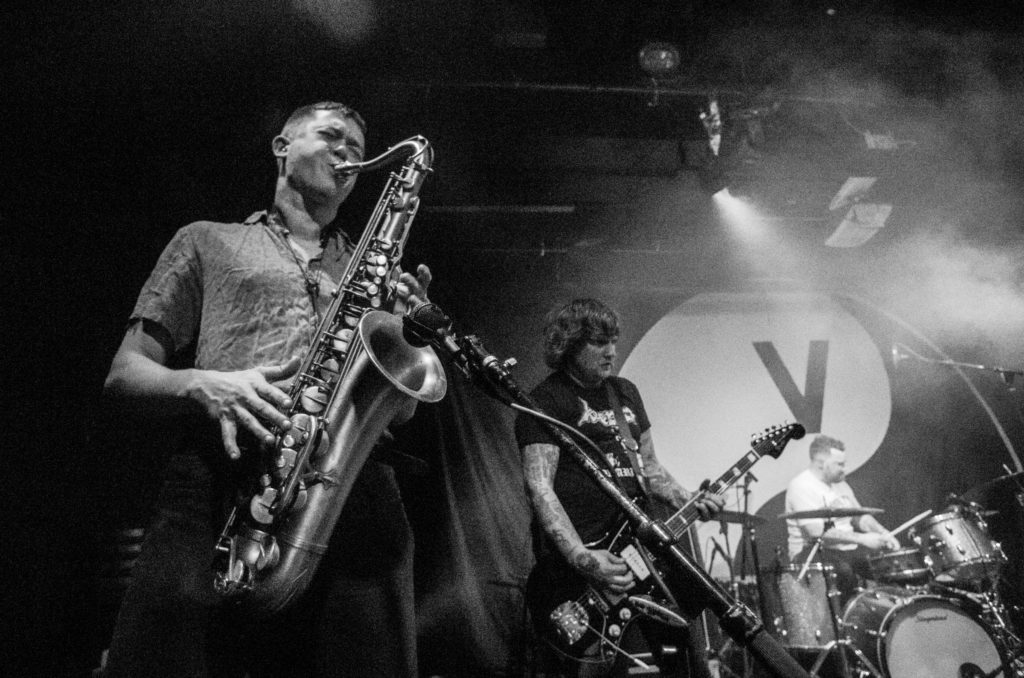 Viagra Boys seem both the least likely and most likely success story all at once. The funny catchphrases about shrimp and wiener dogs. There's the charismatic frontman. There are five minute instrumental songs with skronky sax. The music is aggressive. The music is catchy. You're so caught up in the frontman's antics that you forget the tightest, most furious band perhaps in the world is raging behind him. You're going to have trouble finding another band like this.
Writer / photographer / Reviler co-founder