We Went There: Haru Nemuri at the Metro Chicago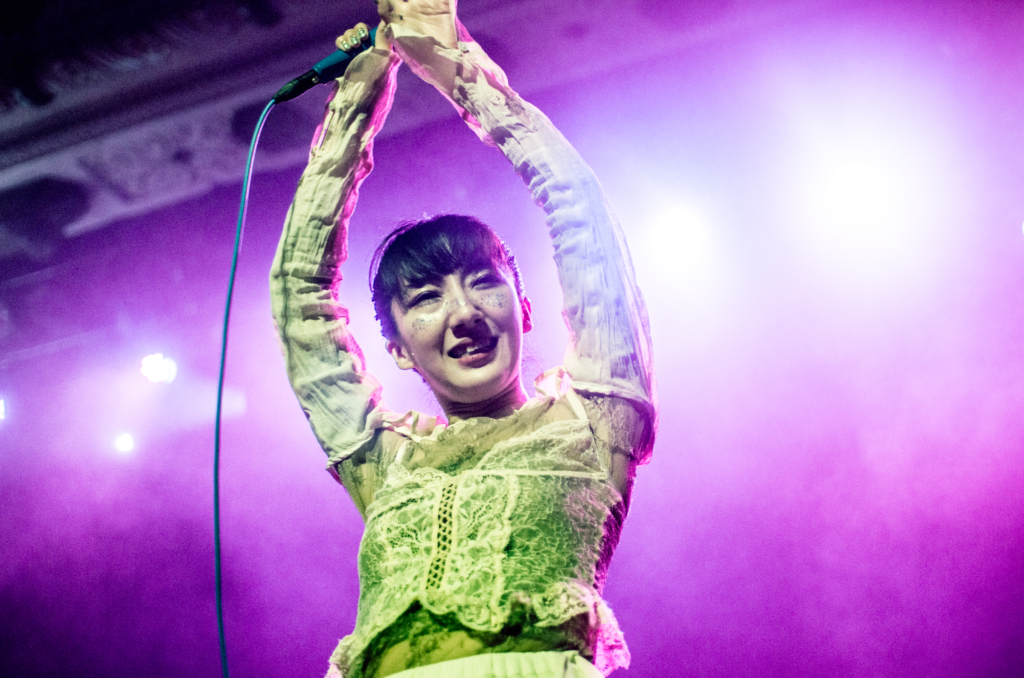 Haru Nemuri self describes as "poetry rap" but that ultimately doesn't come close to describing her energetic mash-up of J-pop, post-hardcore, rap, noise, and everything else that finds its way into her sound. Her vocals can lull you with a calm yet breathless careen of words that slam right into some intense screams. I've found it difficult to exactly explain sometimes what exactly she sounds like or how this unique of genres works so well, but I knew as the 2nd brief US tour was announced I needed to travel to see a show. For that, what better place than the Metro where I've mostly attended David Yow based shows in the past decade or so.
The Metro show was the biggest venue played on her 2nd tour of the US (the first being earlier this year) after playing the smaller Sleeping Village in March. A dedicated fan line formed before the 7 pm doors time which filtered right to the front of the venue. The crowd stayed small and dedicated for a while past doors time.
Sibling duo Frost Children opened up the show, bringing a hyperpop sound that bounced between semi-gothy 80s synth ballads and bubbly 100 gecs-ish energy. The blonde duo hit the show hard; Angel's schoolgirl tutu outfit was matched up with a large plastic sword early into their set, which they commanded the stage with for most of the first half of the set. Midway through they strapped on a guitar and bass for what started as basic punk songs turned into Sonic Youth guitar breaks over Ministry drum machines which turned into screamed emo mall anthems. Angel's dream prose about Bob Dylan and Jack Harlow's signature salad bowl over Lulu's machine drone closed ran into an epic close of their set.
The venue started to fill more out during Frost Children's set to cover the mid-section of the floor to make things feel much more filled out. A primarily empty stage consisting of a laptop table with a tour banner and a couple of amps flanking it. A single metal box riser stood in the front center. The lights dropped while the opening track, "sanctum sanctorum" from Shunka Ryougen filled the room, layers of vocal samples leading us in a choir as Haru entered from the stage right to take a silent stance in the middle. Nemuri's energy and range are immediately impressive. The first track goes right into her metal scream as she instantly controls the stage from the edges of both sides. From a statuesque calm stance to a bent-over scream, her infectious energy seems almost limitless as every moment seems entirely under control. If it weren't for a few short breaths as she talked between songs, you'd think she wasn't even about to break a sweat bounding across the stage.
After standing on the barrier held up by an eagerly adoring crowd multiple times, Haru To Shura's standout track "Narashite" brings Nemuri deep into the crowd. The energy is high as the crowd sings along as she paces the edges of the circle that has opened in the middle of the floor. Even if the Metro isn't packed, it feels full and alive at this point and everyone is shouting along. "Who The Fuck Is Burning The Forest?" delivers the closest that Nemuri gets to actually rapping before going full-on screaming into the choruses. The genre shifts somehow seem surprising and yet precisely right at the same time. Despite breathing a little heavily while speaking between songs, there's no indication of the incredible energy being given on stage. "MORE ENERGY" she screamed partway through the song, challenging the crowd every further. "Never Let You Go" was a great midsection with one of the heaviest breakdowns of the set. After a solid 40ish minutes, the title track to Shunka Ryougen closed the main set out with the most metal chorus of the evening.
After a few minutes, what felt like a legitimate encore came back to the stage. Haru took a shot at hitting a ball into the audience with a small novelty Cubs bat to select someone to join her documentary film crew for a song with a GoPro camera. Despite it "not going so well" in earlier practice, she connected and sent it toward the back of the venue. The crowd wasn't about to settle as a full-on mosh pit broke out in the middle while a crowd singalong to another great Haru To Shura cut "Take Back The World" was started after being introduced as "the easiest song to sing." Shunka Ryougen's exuberant closing song "Ikiru" closed the evening on a tremendous high note. In an even more generous move, she stayed well past curfew and a long line to talk to and sign items for everyone well past 11 pm.
"Thank you for making me be alive" she closed a sweet little speech to the crowd between songs as she dabbed her eyes. If her charm hadn't wholly won you over by this point in the evening, it's hard to say anything would. I had a hard time thinking of any Japanese artists who have crossed over past a niche audience after the years we've seen explosions of K-Pop and other music from that part of the world. While Nemuri's music might sometimes feel a bit jagged as it blasts through rapid-fire Japanese lyrics and sharp breaks, it's hard not to see her as a massive star to anyone who's gotten the chance to catch a show.
Full photo set here.
Writer / photographer / Reviler co-founder