Dark Dark Dark: Bright Bright Bright Review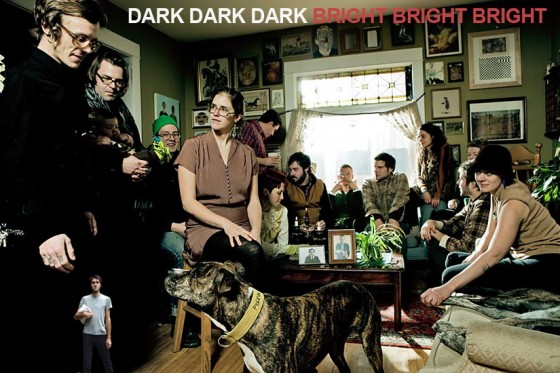 85/100
Though we seem to share ownership with a few other cities across the country, I have always still considered Dark Dark Dark a local band.  Whether in Brooklyn, New Orleans, or anywhere else, I hope that the group still considers the Twin Cities their "home." And not just because they are a great band (which they are) but additionally because I feel that this is where their music best fits.  Though influenced by Eastern European traditional music, Appalachia, and Bal Musette Jazz; DDD's sound seems rooted in the kind of folk that this state has excelled at for years: sad, bluesy, complicated music that goes well beyond (but includes) the genre's biggest star Bob Dylan.  It's a sound that draws from a variety of regions, but makes its own additions as well: Midwestern stoicism, seasonal dissafective disorder, and miles of flat, flowing prairie land to name a few.
Dark Dark Dark have finally released a follow up to 2008's fantastic debut, The Snow Magic.  It's a six song EP entitled Bright Bright Bright, and is a wonderfully fleshed out extension of the (duo?)(trio?)(sextet?)'s established sound.  Don't be fooled by the cheery sounding name: Bright Bright Bright is if anything even moodier and melancholy than any work that the band has produced to date.  It starts out with the epic lament we covered the other day, and stretches through five additional intricately arranged tunes.   The EP's heavy reliance on sulky piano melodies coupled to cello strings sets the tone, while the agile accordion helps each track avoid sinking into despair completely. Vocalist Nona Marie Invie takes the lead on most of the songs, notably in the beautifully melodramatic "Something for myself" as well as the bluesy "Wild Goose Chase" (though the latter song's refrain of "I do not love to ramble around" is a little confusing since I was under the impression that "rambling around" was precisely what the band loved most).  Marshall Lacount takes the spotlight once (though his vocal pairing with Invie is heard throughout) in "Make Time" the EP's most lighthearted track which features banjo, horns, and enough epic sweep  to prompt a comparison to their genre's most visible artist, Beirut.
Wherever the road takes Dark Dark Dark, either away from the Twin Cities or back towards them; for the time being it at least appears that they will continue to produce beautiful music.   The road is taking them on national tour in a matter of days, but on Feb. 20th we will get a chance to see them off at their show at the Hexagon.  You can always pick up a copy of the new EP there, or buy it online at their website.
— Jon Behm
Dark Dark Dark – Bright Bright Bright