Stars: The Five Ghosts Review (Four Takes)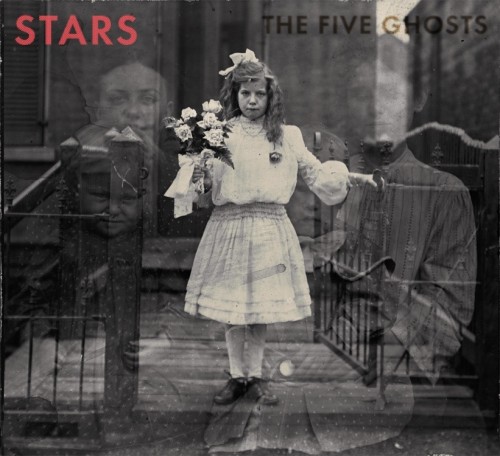 It can be difficult to gain a balanced perspective on an album after reading a single summary of the music. Bias can tilt a review, as can personal taste, history and just about everything else that is unique to the person writing it. So in an effort to offer an expanded perspective in such a medium, here are four reactions, four impressions, Four Takes on The Five Ghosts by Stars.

Dana Raidt (Girl Germs)
15/100
Stars is one of those bands that always tries to be dramatic, but Five Ghosts is more emotional see-saw than rollercoaster. The songs are all syrupy sweet or pretentiously sad, and more often than not they end up plateauing in an uncomfortable, exasperated "meh." Torquil Campbell and Amy Millan's vocals have always sounded like Ben Gibbard as a robot meets more-generic Emily Haines, and with Five Ghosts, the legacy of blandness continues. "The Passenger" is worse than the cheesiest pop song you could ever make up, and the band's half-assed attempts at danceable beats on "We Don't Want Your Body" and "How Much More" sound completely forced.
Just so we're all on the same page, I've compiled a list of situations that may elicit the exact shade of frustration, shame and yuckiness listening to this album causes:
Re-reading your high school journal
Going on a blind date that was arranged by your uncle
Being asked if you're a prostitute while you wait for the bus
Watching Garden State
To be fair, "The Last Song Ever Written" seemed tolerable because of its short duration and muted vocals. However, upon further review, I decided its tolerability owes more to the fact that it reminds me of a Wham! song I really like. Unfortunately, the not-so-horrible "Winter Bones" (the album's closer) is the only song that doesn't make the listener recoil as if they've just been propositioned at the bus stop.
Josh Keller (Reviler)
54/100
The first Star's song I ever heard was the crushing "Your Ex Lover is Dead," and I have been hoping the band will re-create that magic ever since. Unfortunately, I haven't found a song since that really drew me in the same way that really amazing track did. The kind of music Stars make easily slips into overtly dramatic, twee based music that sounds like the soundtrack to The Notebook. The qualities I originally liked about the band when I first heard them was the dark, gallows humor mixed in with the heart on the sleeve, Arts and Crafts sound. That sense of not over dramatizing everything seems to be completely gone on their latest album Five Ghosts.
Listening to the album album a few times, I didn't get pulled into the songs in any sense. The music was too slick and the lyrics seemed cheesy and overtly simple. Maybe this was one of the those cases where the first song I heard from a band was an exception that proved the rule, but I can't help but hope that someday they will put out an album that fully captures the buoyant, "we are all fucked but it will somehow be OK" feeling from that first song. All I know is that Five Ghosts doesn't even come close.
JH (Reviler)
67/100
Stars latest The Five Ghosts starts with a dud – the maudlin sing-song "Dead Hearts" (Did you know that some people have had their hearts broken and are now unable to love? I don't believe it. No, it's true.) – but quickly gains its footing, offering pleasant, if not especially memorable, orchestral pop. While there's not really a standout track – no "Take Me to the Riot" here – the Amy Millan bits (which in general are far more appealing than the Torquil Campbell bits) anchor the album with a cool, husky tone. Sounding increasingly like (fellow Broken Social Scene member and sometimes Stars collaborator) Emily Haines, Millan's "Wasted Daylight," "Changes," and "Fixed" provide the strongest moments on the album. However, if Stars wishes to be considered in the same league as fellow Canadian collectives Broken Social Scene or The New Pornographers, they're going to have to keep trying.

Jon Behm (Reviler)
40/100
This would have been a great year for Stars to re-assert themselves as a key player in the Canadian indie rock canon. After a good but not great release in their last record (2007's In Our Bedroom After the War) the band really needed another Heart or a Set Yourself on Fire to remind us that there was once a time when the Broken Social Scene affiliated gang could do no wrong. Unfortunately with The Five Ghosts they have essentially done the opposite. If Ghosts were a color it would be beige – the color of airport lounges, corporate conference rooms, and all things quiet and innocuous. Amy Millan is a terrific songwriter but it seems here she is only making a half hearted effort – the lyrics are bland, uninspired, and unmemorable. Torquil Campbell's contributions are no less mediocre. I had kind of expected the more upbeat, dancy sound due to the band's effort to "add more synthesizers," but I don't really know if anyone could dance to this at all. They could certainly snooze to it though – that's what I found myself doing halfway through.
The Five Ghosts will be out on June 22nd via Vagrant Records
Stars: Myspace
.