Lower Dens: Twin Hand Movement Review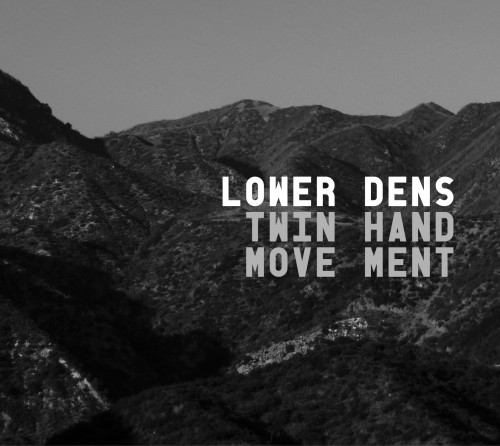 83/100
From the sound of their press release, Jana Hunter and her new band, Lower Dens, spent most of 2009 sweating away in dank little hidey holes in Baltimore, writing the tracks for what would later become the group's debut Twin Hand Movement.  Judging by inner city Baltimore's reputation, you might expect the resulting material a gritty, abrasive reflection of the group's surroundings (sort of like the antithesis to For Emma, Forever Ago).  Somehow though that didn't turn out to be the case.  While THM is full of the usual dread, bleakness, and confusion inherent to any Jana Hunter project, somehow it also manages to be the most accessible, listener-friendly recording from her yet as well.
Whereas Hunter's "freak folk" solo work is wildly strange, unpredictable, and bleakly uncompromising, THM is definitely more rooted in more traditional styles of rock and roll.  "A Dog's Dick" brandishes a bassline that could be lifted from the Pixies' catalogue.    Songs like "Blue and Silver" have shoegaze written all over them.   And the rest of the tunes are a mix of styles from post-punk to slo-core, helped along by consistent drum rhythms, Hunter's ghostly vocals, and extra helpings of guitar distortion.  Just because the sound is more conventional doesn't make it any less superb though.  Instead, the more structured sound gives the band a more solid platform from which to push boundaries.   While on the surface each track is listenable on a purely aesthetic level, under the surface the band has meticulously arranged really complex and nuanced musicianship.   Instrumental jam "Holy Water" is eminently easier on the ears than any virtuosic guitar instrumental has any right being.  "Completely Golden" shows enough hook for radio play (especially if it was 1990), but also weaves quite a bit of abrasive guitar distortion into the tapestry.  "Two Cocks (Waving Wildly at Each Other Across a Vast, Open Space)" has some of the album's best musicianship, gorgeous guitar floursishes tethered to a cold, new wave sound.  "Hospice Gates" is about as poppy as the band gets – and yet underneath the deceptively simple catchy rhythm the song pulses and shifts like a live thing, making for one of the best songs on the record.  The rest of THM is full of such twists and turns – all while successfully holding a cohesive, pop shape.
As consistently good as Twin Hand Movement may be, hard core fans of Hunter's previous work may be disappointed with the singer's move towards a more mainstream sound.  And if she had done it by sacrificing artistic integrity for catchy pop hooks I certainly couldn't blame them.  I don't think that that is the case though.  With Lower Dens, Hunter has really brought a new level of maturity to her work that represents a move forward rather than back.  She's taken unique, complicated arrangements and made them into beautiful music; in my mind that is the mark of a great artist.
— Jon Behm
Lower Dens:          Myspace