Pitchfork Day One: Jon's Take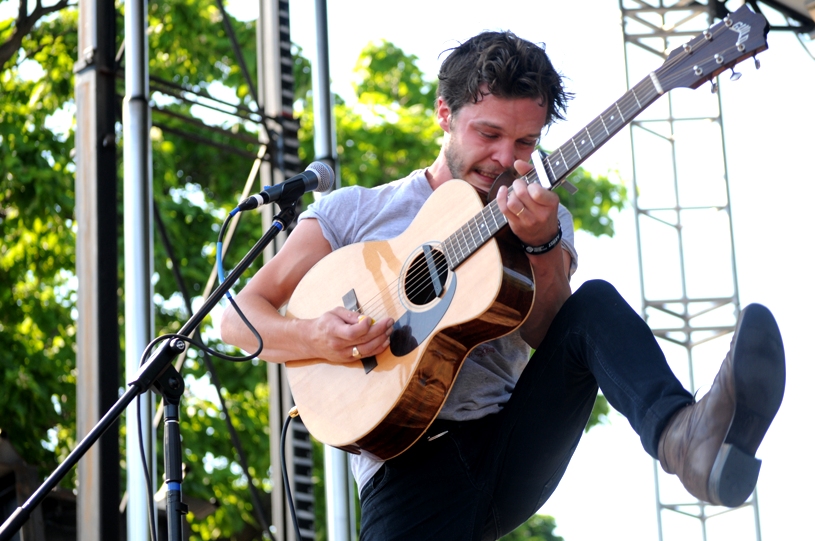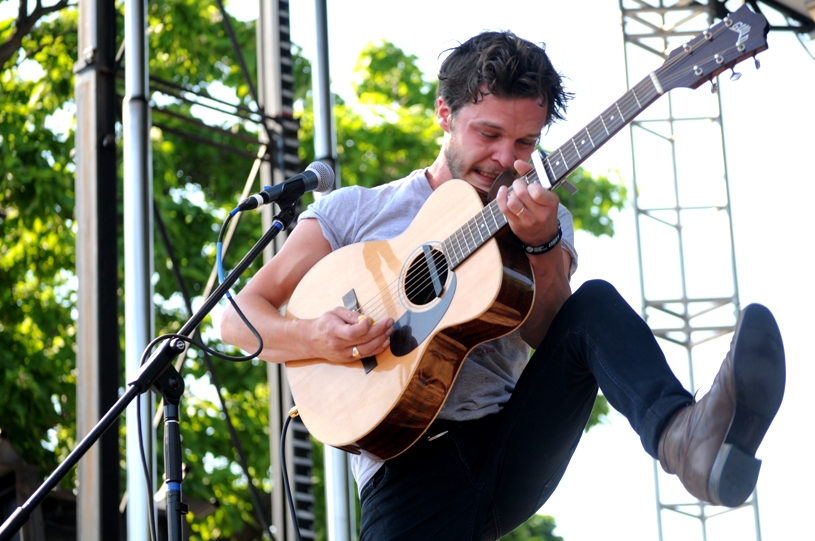 Ah another Pitchfork Music Festival.
It's fucking hot. Everything from standing in line for a beer to taking photos has become a lesson in endurance. Just going into a port-a-john is like entering the fiery mouth of hell.
Started off the day with Sharon Van Etten's early set – Van Etten seemed to struggle a bit to get started but in the end delivered a pretty solid set of tunes that I was not familiar enough with to name. Then it was over to Tallest Man on Earth who graced us with the utterly amazing performance that is his calling card. I had wondered about seeing Mattson in a festival setting, but somehow even on a giant stage in front of thousands he managed to make it seem like an intimate show. Grinning and sweating, I feel like he made eye contact with just about every single fan in the crowd.
Then it was over to El P for his bombastic performance with another MC (whom was introduced but I cannot remember). I have always found El P's rhymes be a little on the immature side ("I grab ma nuts!") and today's performance was no exception. Still, the MC/producer also covered some old school early nineties rap jams that I enjoyed thoroughly (particularly Tribe Called Quest's "Can I Kick It"). Still, El P did little to raise my generally low expectations for the day. Neither did Brooklyn art punks Liars, whom delivered a spirited set that didn't resonate with me at all. Lead singer Angus did his best to pump the crowd up though, playing air guitar on top of the monitors and whipping his hair around his never-still face.
It was around this time that during a lull I was awkwardly asked if I had any acid by a young girl. I was touched that someone thought that I still looked young and stupid enough to potentially have hard drugs that I would be willing to share with strangers (I wouldn't know where to find acid in my home town let alone Chicago). Speaking of drugs – the smell of marijuana is pretty much omnipresent. At one point a Pitchfork rep addressed the crowd telling them to be safe and basically not kill themselves in the heat (don't do ecstasy!) but several kids still did their best – I saw several limp bodies carried out and more passed out amongst the grass.
Next up was Swedish poster Robyn, for whom I approached with caution due to her "Billboard chart sound." Surprisingly though Robyn's set was one of the most enjoyable performances of the day. The irrepressible bottle blonde danced, sang, and hammed it up for every camera in the vicinity, and was largely appealing. At the start I felt a little like the singer's dance moves and persona were a bit Janelle Mona lite, but later on Robyn branched out a bit more, incorporating 80's synth pop and even reggae into her sound.
I didn't really feel like photographing Broken Social Scene next, due to my relative ambivalence to their sound and their highly overrated new record. I figured that some asshole would probably say "where are the BSS pics at, bra?" though so I made a go of it anyways. Pitchfork ended up making the decision for me though as the Robyn crowd was impassable and the new method of herding the photographers backstage for the shows, rather than letting them enter the pit, left me out in the cold as I could not get to the required meeting place in time.
At about that time Josh Keller warned me not to eat any food, but dehydrated, exhausted and hungry I of course didn't listen. I purchased some pad thai and proceeded to gorge myself on it, only realizing afterwards how tired and uncomfortable it would make me feel. While eating I listened to Comedian Michael Showalter's set. From what I heard, Showalter bombed spectacularly – breaking what I can only assume is a major rule of comedy by talking incessantly about just how badly his performance was going. While eating I accidentally dropped a big piece of pad thai in my beer which I can only assume is divine retribution for talking shit about "THE GREATEST CANADIAN BAND OF ALL TIME."
Shaking off the fatigue I missed Euegene Mirman's set due to the fact that I had to get to the photographer's required meeting point in order to be herded into the Modest Mouse photo pit. They sent the photogs in in waves and I only got in for one song (and of course it wasn't the one where Isaac Brock played guitar with his teeth). Modest Mouse put on what I can only assume was a decent performance, but by that time I was so exhausted that it was all I could do to avoid stepping in vomit. I headed home early and attempted a decent night's sleep.
Keep an eye out for photos and videos to be posted soon.