Big Quarters: Party Like a Young Commie Review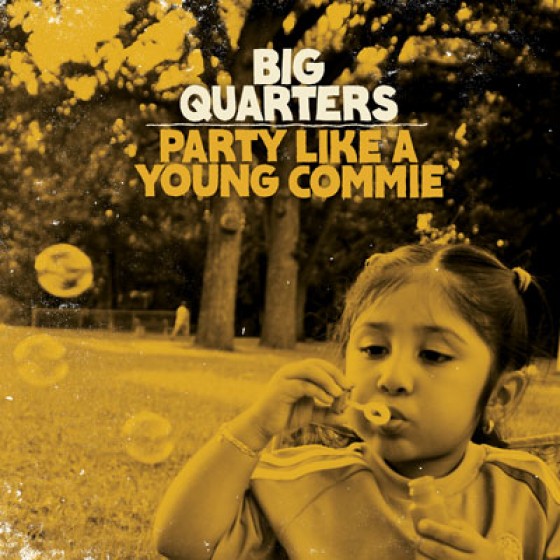 If the third album, Party Like A Young Commie from Brandon Allday and Medium Zach strike a bit of deja vu in your memory, it's probably because you heard the line originally on "Beacons 2.0" from their first album, Cost of Living. Since then, the brothers Bagaason (Bah-guh-son for those curious about the pronunciation) have given us a music subscription service, known as BQ Direct, where they put out 5 songs a month in your inbox for $5.  BQ Direct played a direct role in their second album, From The Home of Brown Babies & White Mothers, which was also in reference to their song "Song for Brown Babies" off Cost of Living, their first record.
However, for those who are ardent followers, Party Like A Young Commie shows a more mature Big Quarters.  Without getting into many specifics, Big Quarters have made their best album to date with Party Like a Young Commie.  A couple of cuts such as "Humble Servants," featuring Benzilla with co-starring duties on the beat and rhymes, and "Savings Bonds," produced by Julian Fairbanks of the Audio Perm collective, are the lone cuts that make an appearance on the album that were previously on BQ Direct.  The remainder of the songs however help serve as a testament to why Big Quarters still remains one of the most revered duos in Minnesota.  "Savings Bonds" and "Follow Me Through" for example display Medium Zach's mic abilities and his penchant for telling a thorough story, especially when both stories are so super-personal.  "Savings Bonds" displays that through their sibling rivalry, the admiration of his older brother, which could play kin to Kanye West's "Big Brother" minus all the drama, and Julian Fairbanks focuses on making the backdrop for this song very much soulful and stark, whereas on "Follow Me Through" Zach weaves a tale about his cousin, Natalie, whom he makes a personal message for to build a better bond with and congratulates Natalie on her newborn child.
In addition however, there are many more stellar cuts, such as "New Plateau", in which Brandon and Medium Zach tell a tale of their creativity and seeking to reach that plateau through each effort, while "Low Highs" shows Brandon & Medium Zach trading off line for line, making for a nice feelgood tune, and "Pefect Match", one of two tunes containing the vocal assistance from Mankwe Ndosi, shows Brandon retaining his title as the adlib king of Minneapolis, with such quotes as "gunpowder in the sky over occupied Mexico".  The production also shows how much the brothers Bagaason have evolved their ideas and making each tune flow cohesively with the next, giving Commie more of a seamless and wonderful groove.   While Cost of Living & From The Home of Brown Babies & White Mothers show why they are dope, it is Party Like A Young Commie that proves to be their grand statement, and in grand statements lie classic records.  Consider Party Like a Young Commie in that case, a classic without contention.