Woodsist Comp: Welcome Home/Diggin' The Universe Review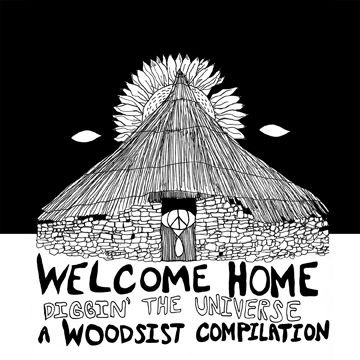 84/100
 For a long time, I looked at compilations or collections with a somewhat skeptical eye, wondering why bands would give up a great song for something that isn't going to directly influence the band. This was also before I realized the great power and influence a really great label can have. Now when I get a collection or compilation from labels like Underwater Peoples or Paw Tracks, I can barely contain my excitement to listen to it, knowing there will be great new songs from some of my favorite bands waiting around every corner.
The latest collection to really grab my attention is the record Welcome Home/Diggin' the Universe from the fine folks at the Woodsist record label. The album features almost all new songs (11 of the 12) from some of the most innovative and exciting bands playing right now, including label founders Woods, The Fresh and Onlys, Alex Bleeker, The Mantles, Run DMT and Ducktails. The songs don't really have a central reference point, but there is a definite spirit that weaves through the songs. I got the album in one long mp3 format, so I had to listen to it like a tape, with no chance to skip tracks. Luckily every song on the compilation is solid, with sounds ranging from the wide eyed folk of the Woods opener "I'm Not Gone," to the great pysch-garage of "Heel.Toe" by the Fresh and Onlys all the way to the tripped out bliss of Moon Duo's "A Little Way Different." Further cementing the Woodsist related groups love with the Grateful Dead is City Center's faithful take on the Grateful Dead's "Box of Rain." Other highlights include Alex Bleekers slacker-folk with "Getting By" and the Mantles crunchy "Bad Movies."
When I get into discussions with people on what "indie" music is, it is often a fruitless trip down a rabitt hole, a conversation that ties tongues and leaves everyone more confused and frustrated then they were at the start. I think I may just start playing them this album. The songs do not have unifying theme, other than they all seem to have that distinct feel that they were written/recorded more out of true artist expression than a strong desire to sell a million records. No matter what reason or motivation they had to record the songs, the tracks on Welcome Home/Diggin' the Universe are a great testament to both the bands on the album and the influential little upstate New York label that brought them all together.
     -Josh
Playlist
01 Woods – "I'm Not Gone"
02 RUN DMT- "Richard"
03 White Fence – "The Love Between"
04 The Fresh & Onlys – "Heel.Toe."
05 The Mantles – "Bad Movies"
06 Skygreen Leopards – "Catch"
07 Alex Bleeker – "Gettin By"
SIDE B
08 Moon Duo – "A Little Way Different"
09 City Center – "Box of Rain"
10 caUSE co-MOTION! – "Over You"
11 Art Museums – "Darling Are You Out Of Your League Again"
12 Nodzzz – "Old Clothes"
13 Ducktails – "Sun Out My Window"