Claps: No Party EP Review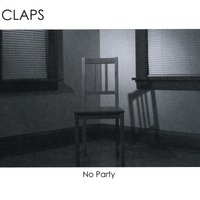 76/100
The new Claps EP, No Party, is strong both in its showcasing of the chilly electro pop that the group creates and in proving their ability to bring in some excellent local talent to remix their material.  The EP is split between the first half, which features the group's tectonic new wave jams, and the second half, which remixes those first three songs. 
The three original tracks, "Lost,""Red Dress" and "Game Undone," are synth driven tracks featuring the melodic but detached vocals of Patrick Donohoe.  The group nimbly walks the line between dark, new wavy dance tracks and chilly, isolated electro pop ballads. For a young group, the band has a refined sound that shows command well beyond their years.  The back half of the record features the remixes, one each from Gay Beast, Soviet Panda and Nyteowl.  Gay Beast and Nyteowl both took on "Red Dress," taking it to very different places, which shouldn't be surprising to anyone familiar with each group.  Nyteowl makes it sound like the polished pop of Solid Gold, while Gay Beast deconstruct the song until it is barely recognizable, highlighting the clips, beeps and hisses and making the vocals sound like they are being sang through wax paper. Soviet Panda strips away a layer of the darkness from "Lost" and almost makes it a club jam.
It is an interesting choice to use three of the six tracks on your album to have other bands remix your tracks, but the plan works very well on No Party.  The move shows an exciting you band confident in their songs and brings diversity to the record that otherwise may have felt slightly one dimensional.  I'm not sure if it is an approach they will continue on future releases, but it works well on this record.
     -Josh