Stacian: Songs for Cadets Review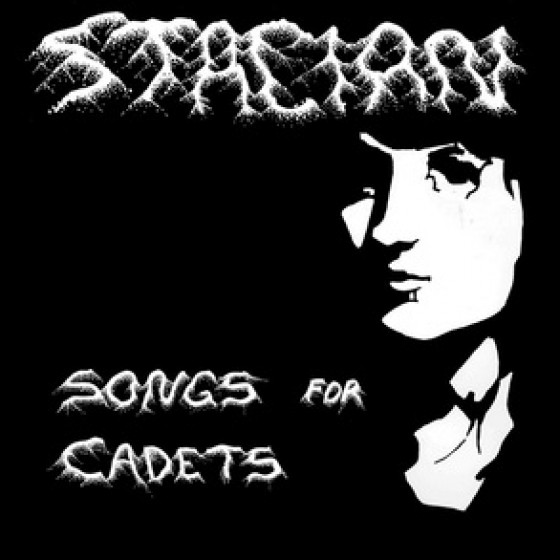 It's not an easy world for ambient synth artists. Outside of the few "big names" like Emeralds, Sun Araw, Oneohtrix Point Never, the fanbase for the genre simply isn't wide enough to reach all of the artists that do the music justice. One artists who falls into this trap is Milwaukee/Chicago based one women show Stacian (Dania Luck), who released the LP Songs for Cadets at the end of last year, falling silently into the ether and not getting anywhere near the praise and attention it deserved. I was as guilty as anyone, as the 37 minute record, dripping in gooey synth goodness and pulsing with back alley dance beats, somehow was stuck in my album rotation without getting a proper review over the last few months.
I was originally going to review the record back in October before Stacian played a show in Minneapolis with Claps, Camden and Skoal Kodiak, but never was able. The show was a perfect metaphor for her sound, fusing the theatrical synth pop of Claps, the dark, leather clad attitude of Camden and the electric shock dance kraut of Skoal Kodiak, giving life to the diverse but complimentary sounds that litter Songs for Cadets. From the almost poppy melody of "Formida" to the woozy head-numbing "Neon," Luck stretches the genre into every possible shape it could take. She goes from the grandeur of the stylish arpegiated synths of "Untitled" to the bubbly churning of "I Froze," creating a space where it is easy to fade into your subconscious, but you snap out of it to find your head bobbing from the incessant beats. The songs at times sound a like if that overcrowd hipster commune down the street had a electronic krautrock soundtrack for their Halloween party, especially the spooky ambient of "Lost My Sensor." The whole record isn't afraid to walk out onto ledges, stretching Luck and her sound into the nooks and crannies of the dark electronic synth underworld, but almost across the board she comes up smelling like daisies.
While this isn't the genre to enter if you are looking for a)fortune b)fame or c)both, Songs for Cadets was too good of an album from any genre to get slept on the way it has. Luck has been making great, interesting music for a while, but Songs for Cadets may be her clearest crystallization of her sound yet. It wanders without feeling like pointless noodling, is dancy without feeling cheesy and comes at the listener from multiple angles without feeling like there is structure. It is a great record, one that fits in nicely with the great work coming out of the Minneapolis electronic/ambient scene, and is a record that if you missed in the last part of 2012, you can make amends by starting your 2013 spinning Ms. Luck's cosmic jams for yourself.
Order the record HERE.