Owen Pallet: A Swedish Love Story Review (Four Takes)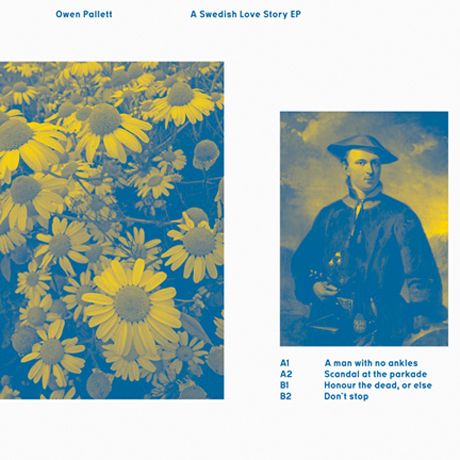 It can be difficult to gain a balanced perspective on an album after reading a single summary of the music. Bias can tilt a review, as can personal taste, history and just about everything else that is unique to the person writing it. So in an effort to offer an expanded perspective in such a medium, here are four reactions, four impressions, Four Takes on A Swedish Love Story EP by Owen Pallet.
Matt Linden (Reviler)
86/100
For all the sounds, elements and musical influences bursting out of A Swedish Love Story, it's really staggering, and a testament to Owen Pallett, that his albums are a one-man show. Like all of his previous releases, Pallett meticulously throws everything on the table when creating his richly arranged songs. The biggest difference on this short, four-song EP is that there isn't much meandering byway of orchestration and solely instrumental pieces – instead, aided by his airy voice, these four songs are really 'smart'-pop if anything. It's no surprise that his violin takes precedence over much of the other sounds on the record, but Pallet is able to play the line between classically trained and effortlessly pop like no one else. Which brings my to my next point about Pallett: How do you categorize the guy's music. Really, all I could think of when listening to A Swedish Love Story was how much this kind of music, whatever you want to call it, is just plain pleasurable to listen to. It's the kind of music that you can throw on and zone out or you can throw on your music geek glasses and try and breakdown and transcribe everything – though I'm sure it would be nearly impossible. Coming off of this year's Heartland LP, A Swedish Love Story is another great release from the man with many talents – a release that solidifies 2010 as Pallet's most fruitful musical year-to-date.

Jeremy Hovda (Reviler)
88/100
Boosted to the upper-echelons of indie stardom by the release of the much-lauded Heartland earlier this year, Owen Pallett (having finally dropped the "Final Fantasy" moniker after surrendering his legal battle with the Japanese video game manufacturer of the same name) has been spending the year touring with several of the hottest acts out there – the National, Dirty Projectors and his sometimes collaborators, Arcade Fire. Nevertheless, Pallett has somehow found the time to release two EPs this year: March's Lewis Takes off His Shirt and now A Swedish Love Story. The latest is a continuation of the experimental, yet melodic sound found on Heartland. Fans of that album will find much to love on this one. It employs the same basic tools – violin (both pizzicato and non), keys, and guitar looped and layered behind Pallett's sad, susurrus voice. The danceable opener "Don't Stop (On My Account)" gives way to the lugubrious synth-pop of "Honour the Dead, or Else," the more groovy "A Man with No Ankles," and then closes with the rapid, baroque beauty of "Scandal at the Parkade." The songs work perfectly together and give the album what so many EPs lack – a feeling of coherence and completeness.

Jon Behm (Reviler)
58/100
While I know it was generally received positively across the board, I never really warmed to Owen Pallett's recent LP Heartland. To me that record always evokes the cornier aspects of Stephen Sondheim style theatrical compositions – the grandiosity, the swelling instrumentations, the irritatingly cloying pop hooks. Listening to it makes me feel like I am stuck watching a Broadway show with Pallet playing the all the lead parts like an exceedingly insufferable showman (I don't generally care for musicals). And listening to Pallet's follow up EP, A Swedish Love Story, isn't a great deal different.
While I find the EP's first two tracks incredibly irritating, the backhalf does in fact get a little better. "Honor the Dead, or Else" does have some beauty to its muted synths and Pallett's melancholy restraint. The song could do without the ridiculous drum pounding though. "Don't Stop (On My Account)" isn't terrible either – Pallet's haunting violin work making him sound a bit like a daintier Andrew Bird. Overall though the sound is just a tad too precious for my taste. I won't begrudge Pallet fans their contrary opinion, but I am fairly certain that Owen Pallett's music just isn't for me.
Jon Schober (Radio K)
90/100
Oh, Owen Pallett. This guy will always make some of the best arranged tunes in music today. Who says a classical background can't be beneficial? It blows my mind how he has made a full transition from the moody baroque-pop of his Final Fantasy days to something as hopeful, bright, and yet still complex like we find him on his newest A Swedish Love Story EP.
Domino Records struck gold with signing this guy. His music has impacted a lot of people despite how hindered he has been by the forced name change. When he played the Varsity in Minneapolis, hardly a soul was there. I think Mr. Pallett has realized he is essentially starting his musical career over, and having to build up a new fanbase after being around for almost a decade is a difficult thing to do. Fortunately, everything he puts out is critically acclaimed, so I'd be dumbfounded if people didn't start taking some notice.
The new EP finds its highlight early on with "A Man With No Ankles." This is one of his most solid tracks, and it's surprising to hear how well produced it is considering he recorded these four songs in just one week- just himself (as he does best) with no back up. The looping is less pronounced here than how much more it dominated on Heartland, but it's almost refreshing that we are getting fuller compositions.
He's played with Arcade Fire, The Dirty Projectors, The National… basically every massive music powerhouse today. Out of the hundreds of thousands who have inadvertently seen him, someone has surely got to take notice.