Do Look Back | The Mummies: Death By Unga Bunga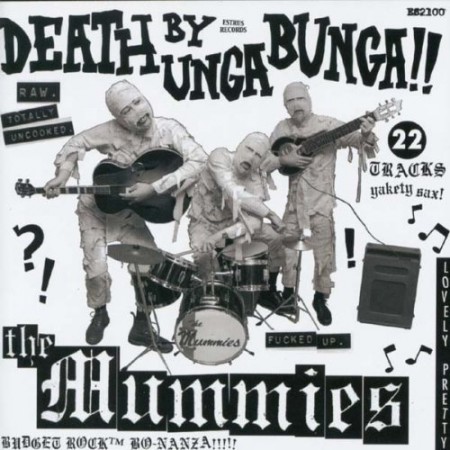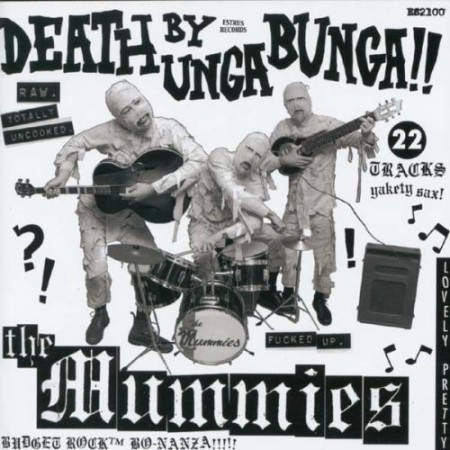 Just recently local band France Has The Bomb played an entire set of songs by garage legends The Mummies as part of a Halloween extravaganza at the Turf Club.  I didn't get to go (I never get to do anything fun anymore) but it did remind me to dig out The Mummies' Death By Unga Bunga compilation, which in addition to having one of the greatest album titles ever, is also an assortment of some of the influential band's finest work.
Unga Bunga is a massive collection of twenty one mostly brief songs that spans the band's mainly nineties' heyday.  It contains nearly all of 1992 debut  The Mummies Play Their Own Records, with standouts "Test Drive," "Die," "That's Mighty Childish," and "Food, Sickles, and Girls," all making welcome appearances.  The hilariously awesome "(You Must Fight to Live) On The Planet of the Apes" (which does just about everything except quote Charlton Heston lines ) also couldn't possibly have been left out.  And continuing in their typical irreverent fashion the Mummies even include Disney classic cover "Zip A Dee Doo Da," from 94's Party At Steve's House.  Every track is a wild lesson in instrumental abandon, though the band never strays too far from their catchy garage hooks – bringing to mind their most obvious influence, The Sonics.
Unga Bunga is heavy on the guitar bludgeoning and breakneck drums and the whole thing sounds like it was recorded as cheaply as possible.  Still, throughout every track the band's devil may care demeanor shines through –sounding gritty and determined but also coming off like a bunch of crusty jokesters who would rather dress up in mummy rags and hurl themselves around a stage than be taken too seriously.  And if Unga Bunga was meant to be a compilation that is representative of the band's overall aesthetic then in that regard it certainly fulfills that expectation.   While it did break the Mummies' longstanding ethic of only releasing albums on vinyl (Unga Bunga is available on CD), it is still very much epitomizes the Mummies' unconventional ten year plus run at garage/punk.  Its definitely still worth checking out, and if France has The Bomb decide to play the same covers again next year I definitely won't miss out.
— Jon Behm
The Mummies – (You Must Fight to Live) On the Planet of the Apes
The Mummies:          Site
.