Wunky Zine Interview with Children of Euler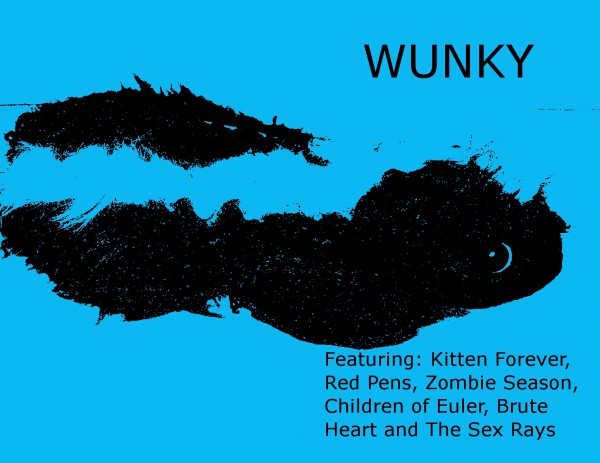 Wunky Zine is a just released local zine that features interviews conducted by former Sharp Teeth frontwomen Erica Krumm with various local bands.  There was a release show recently to celebrate the completion of the Zine and you can now get your very own copy at Treehouse Records and Extreme Noise.  Erica was kind enough to share the interviews with us, so if you enjoy what you read this week as we roll out the interviews, make sure to support our local art scene and pick up a copy. For updates check out the Wunky Zine Facebook Page.  Today we have a chat between Erica and Children of Euler.
August 25, 2010
The dudes in Children of Euler played at Dusty Pixels Records for a basement packed full of enthusiastic metal fans, the faithful fans and  friends who can be seen at most C.O.E. shows, as well as some curious stragglers. Still pouring sweat and talking to people as they came up to say hi, Jim (vocals), Eric (drums), Rocky (bass), and Dave (guitar) met with me for a very awesome interview, and beards weren't the only thing we talked about.
Erica- What kinds of shows do you guys get most excited about playing?
Playing with friend's bands or playing with people who haven't seen you and are experiencing you for the first time?
Jim- Those are just two really good options!
Eric- I feel like my favorite thing personally is playing with friends from out of town and playing cool basement shows… like maybe some new people but also some friends. Or being on tour and playing with people you know.
Jim- That's the best. Playing some weird, unexpected show on tour, with friends…. The Studded Bird.
Eric- Yeah, The Studded Bird in Kansas City.
Erica- If you could describe your sound in a couple words, how would you describe it?
Eric- I'd say speed metal about mathematicians with harsh vocals.
Dave- I'm just gonna say awesome.
Jim- I always say, "Like, metal?"
Eric- I think it's also good to make sure people realize that we're a little silly and we're not taking ourselves too seriously.
Erica- Yeah, because of those connotations with metal?
Eric- Yeah, if you tell people you're in a speed metal band or any kind of metal band, there's like a certain expectation.
Jim- Yeah like, "Sweet, we'll put you on a bill with a bunch of jerks!"
(everyone laughs)
Eric- Yeah, there's a lot of goofy metal people, too. Those are our people.
Dave- It's a fun band but technical as well, in a lot of ways and I really like the transitions.
Jim- I got in a lot of trouble on the Internet for saying that we were a technical death metal band because we play technically and are influenced by the band, Death. Which apparently is not the same as technical death metal as it turns out.
(everyone laughs)
Erica- What are the most common questions you guys get asked after a set?
Rocky- How long have you been playing bass? (laughs)
Jim- Yeah I think that's probably the main one.
Dave- How do you do that?
Eric- Mostly just get asked questions about my beard.
(laughing)
Jim- Whenever we were on tour, it's just like any time you look over at Eric, there's like two people talking to him about beards cuz you have a big catalogue of beard things to say… so I'll hear them over a crowd and be like, "All is right with the world."
Eric- One of my ten stock responses….
Erica- Can you tell me a couple of stock responses?
Eric- It kinda depends on the question because some people will be like, "how long did it take you to grow that?"..That conversation, or it's like, a side conversation I have in response to people's standard queries, like, "Does it get itchy in the summer?" …Things like that.
Erica- Yeah, "Do things get stuck in it?" "How long have you had it?"
Jim- "Do you have a beard?"
Rocky- Yeah!
(laughing, laughing)
Erica- "Have you noticed you have a beard?"
Eric- Yeah…(laughs) ..totally.
Jim- You have something on your face….
Erica- If you guys could play in a city you've never played in, what would it be?
Eric- I'd really like to play in Philly sometime soon.
Jim- I was gonna say Philly too.
Eric- Philly is really fun.
Jim- I've heard good things.
Eric- Yeah.
Dave- I was gonna say Winnipeg.
Eric- I'd like to play anywhere in Canada.
Erica- What kind of plans are you guys most excited about for the future of Children of Euler?
Eric- Our split with Terracide
Everyone- Yeah!!!
Jim- Hopefully another tour of any length and destination.
Eric- Yeah, It seems like Myrrh is pretty into going on tour again.
Jim- I just want to play with Myrrh everyday.
Eric- They're great, wonderful people to go on tour with.
Jim- And they're just a duo!
Eric- We can fit six people in a van rather than trying to fit seven or eight or something.
Jim- Yeah, cuz then we're just like one big band.
Eric- It makes the gear fit in way better.
Dave- Yeah!
Jim- Except that amp that Jackie has!
(laughing)
Jackie has the heaviest amp I've ever seen and it's not even that big!
It's like the weight of four amps.
Eric- It's enormously heavy.
Erica- O.k. last question. What is your spirit animal as a band?
Eric- Owl Bear.
Dave- I like owl bear.
Jim- A mad wizard was experimenting with owls and bears and created owl bears.
Dave- With a long neck, maybe.
Jim- That would be good.
Eric- That would be real weird.
Jim- They evolved that way to get the leaves on the tops of trees.