The Strokes: Angles Review (Four Takes)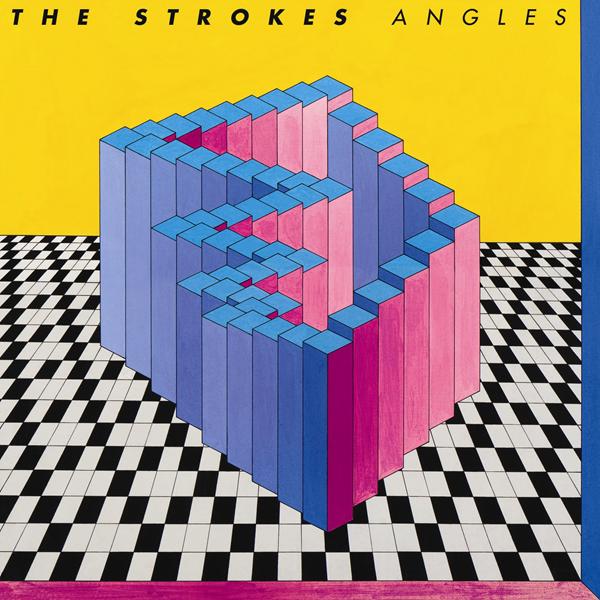 It can be difficult to gain a balanced perspective on an album after reading a single summary of the music. Bias can tilt a review, as can personal taste, history and just about everything else that is unique to the person writing it. So in an effort to offer an expanded perspective in such a medium, here are four reactions, four impressions, Four Takes on Angles by The Strokes.

Ali Elabbady (Background Noise Crew, Egypto Knuckles)
75/100
Seems the new thing to do now a days is take a 3-4 year hiatus as a really popular act in your prime after your last album doesn't really get the respect it deserves, then revisit what once was.  In Angles circumstance, the 4th record from The Strokes, is certainly a comeback.  The rhythmic and rapid rock stylings are in full effect here, hearing such jams as "Two Kinds of Happiness," and the almost doo-wop like nature of "Under Cover of Darkness" which at best, sounds like a C-list version of "Last Night" from their debut record, Is This It; but its the genius in the almost electro-like notions of "You're So Right," and the new-wave stylings exuded on "Games" that definitely shows a band that is not out of any creative fuel in the least bit to experiment in new directions, but with all due respect, as a whole, some of the songs on Angles either sound like leftovers from Phrazes For the Young, or b-sides from First Impressions of Earth, however the good thing is in the curt and extensive sound palettes that were exercised in Is This It or Room on FIre.  There's no question about whether this band needed to make a comeback, the full question lies in whether or not Angles can be considered a return to form, and there's a little ways to go to get to that stage for The Strokes.

Jon Behm (Reviler)
73/100
The new Strokes record is bound to evoke some strong opinions this year – the band's tumultuous recording process alone (which apparently was pretty contentious) seems to have generated a perfect storm of buzz/speculation/wild rumors.   And all that excitement might be warranted if Angles was either spectacularly good or spectacularly bad, but as a matter of fact it's neither.  The Strokes' fourth studio album is just OK.  It has a handful of pretty good tracks ("Machu Picchu," "Taken For A Fool,") some decent ones ("Gratisfaction," "Games," and "Call me Back") and some filler.  "Under Cover of Darkness" might be the least interesting lead single the band has ever recorded (though I predict that some of the lamer radio stations and chain clothing stores out there will flog it to death this summer).  The eighties synthy vibe and the Thin Lizzie references both mostly work for the band, but the latter would probably be more interesting if Free Energy hadn't already brought it back and done it better two years ago.  Still, if the Strokes toured behind this stuff (which I assume they will) you will still find me lining up to hear them play. I will be crossing my fingers for tunes from Is This It and Room on Fire, but there is no denying I'll still be there.

Jeremy Hovda
89/100
The Strokes deliver some of their best, most infectious songs to date on Angles.  They also bring a few duds, but the hits outnumber the misses, and on balance, this record constitutes a serious step forward.  The trademarks are all there, from Julian Casablancas's baritone croon-turn-scream, to the restrained ferocity of Nick Valensi's guitar solos, to the machine-like tightness of the rhythms, yet the songwriting has evolved significantly, as have their abilities as performers.
 Ten years ago, when The Strokes rode in as the critic-anointed saviors of rock and roll, their sound was all lo-fi art rock with Bo Diddley cum Velvet Underground choppy guitars, and downtown swagger filling the gaps where musicianship was lacking, but beginning on (the too-maligned) First Impressions of Earth, their style began to be characterized by a clean, almost Baroque, use of counterpoint, with disparate guitar lines intersecting, wandering, and intersecting again.  Angles takes this art one step further, creating a complexity unique in contemporary guitar rock.  (According to interviews, the album title derives from the "angular" sound created by each member attacking the songs from a different direction.)  A brief listen to Is This It? or Room on Fire after spending time with Angles makes apparent the enormous evolution. 
The misses – "Two Kinds of Happiness" which sounds like a Cars parody, "You're So Right" a flat, prog-rock number and "Metabolism" – can't bring down the fun.  Opener "Machu Pichu," first single "Under Cover of Darkness," and the Valensi-penned "Taken for a Fool" are among The Strokes' best work.  "Gratisfaction" channels early Nick Lowe to positive effect, and "Call Me Back" carries a lilting bossa nova line reminiscent of Fab Moretti's side project (coincidentally, the best Strokes-member side-project) Little Joy.  While not without its flaws, Angles is a return to form for The Strokes and serves as a reminder that when these guys are on their game, no one can do what they do.  Not even close.

Matt Linden
68/100
Angles is a fitting title for The Stokes fourth album, and first in five years. In interviews leading up to the release of the album, several members stated openly that this album sounded like five different guys bringing their own influences to the table. While Casablancas was the key songwriter, both lyrically and musically, on their previous releases, he opts to take a backseat on Angles, recording vocals apart from the band and sending them the cuts electronically. Not only that, they also said it was one of the worst recording sessions they've been through. In the end, they were dead on. This clearly isn't the most cohesive effort from The Strokes. Nor is is it the best. Although it could be seen as the most dynamic, even for its faults. Some classic sounds are here, like the whirling guitar work from Hammond and Valensi, but the massive misses tend to overshadow the small glimpses of the band that was once considered the saviors of rock. 
The album kicks off with "Machu Picchu," a bouncy reggae-tinged opener that feels more like a trip down Electric Avenue than something born out of the gritty streets of NYC. The second track and first single, "Under Cover of Darkness," is actually one of the strongest tracks on the album, but they only hit that same energetic edge a few other times on the record. Those come on two tracks that feel more like a return-to-form, "Taken For A Fool" and "Gratisfaction." "Taken," which could double as a Room On Fire-era B-Side, is one that benefits from its great hook and signature guitar work. And "Gratisfaction" hits hard with its big chorus and fully committed vocal work from Casablancas. They also go some '80s nostalgia on the so-so track "Two Kinds of Happiness" and again on the soaring synth tune "Games." But then there are the negatives. "You're So Right" is simply the worst song the band has recorded. Period. "Metabolism" is ripped from the worst pages of First Impressions, "Call Me Back" is a throwaway from Phrazes, and "Life is Simple in the Moonlight" sleeps the record to a close. 
You can hear some of the more spaced-out instrumentation found on First Impressions of Earth, and only snippets of the jangly guitars that made Room On Fire and Is This it? immediate classics. But, said and done, the album is disjointed. There is no sense of togetherness. It's apparent in the songs and the overall flow of the record. And they all but lost all their youthful grittiness after Room On Fire. As a huge Strokes fan, I don't really view the album as a letdown, though. My excitement about the reunion is based solely on chance to see them live for the first time. (Plus, they already said there is a fifth album in the works). Is This It? came out ten years ago, so longtime fans should know better than to think they are going to get the same album or the same Strokes. They've grown up (and apart), evolved their sound and are a different band. If you can come to terms with those facts there is still plenty to like about this record.