Angel Olsen: Strange Cacti Review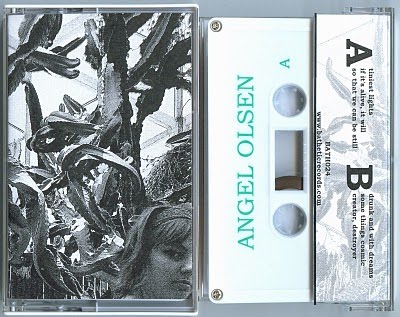 77/100
Chicago songwriter Angel Olsen's (originally released in 2010) tape Strange Cacti may be recorded on the cheap but the low-fi, highly reverbed sound is a perfect fit for her haunted, melancholy tunes.  No amount of reverb can mask the fact that Olsen has an incredible vocal ability, and across the span of six tunes she drives that point home again and again. Olsen's throaty purr sounds country influenced – while her songs might not have a country twang her inflections share a lot in common with golden-era country singers like Goldie Hill, or for a more modern comparison, Jolie Holland (in her Springtime Can Kill You mode).  But Country Strange Cacti isn't – it's really more of a Gothic folk sound with slight psychedelic underlinings.
The tape starts with "Tiniest Lights," easily a standout and probably the best example of Olsen's singing.  In a wash of sorrowful echo, Olsen nearly yodels out her slow, forlorn lyricism. "Some Things Cosmic" and "So That We Can Be Still," stand out as well. The former is the most Country of the tape's offerings and the latter drips with the eerie psychedelic folk of another era.  And the rest of Cacti is strong as well – from start to finish the tape is a promising, if short listen.  Olsen may be one to watch in the future – if she keeps building on the strong base she seems to have mastered here then she could be well on her way to success.
— Jon Behm
The Strange Cacti reissued EP is available now via Bathetic
.