CSC Funk Band "We Don't Care" and "Caneca"
by josh keller · Published · Updated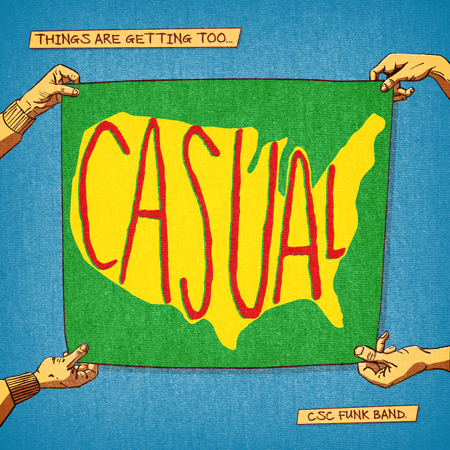 CSC Funk Band are an instrumental funk ensemble from Brooklyn who I initially missed, but recently spent a little time listening to and have liked quite a bit. Their sound is sharp guitar stabs and funky, soulful horns, with a solid beat holding the tracks down, not unlike the grimy, soulful sounds of the The Budos Band. The groups latest LP Things Are Getting Too Casual is out now on Fat Beat Records, and you can hear two of the tracks below.
-Josh
HOLIDAY GIFT GUIDE
The Gazette (Colorado Springs, CO) November 26, 2007 | BILL REED, When the weather outside is frightful, and the fire is so delightful, it can be really tough to haul your carcass out of the easy chair to exercise. But gym rats and trail runners alike know it's easier to get moving when you have cool clothes, cool gear, and cool tunes to propel you. Thus, the gift guide for fitness fanatics. .. as well as reluctant exercisers who are just hoping during this season of cookies and eggnog to avoid ballooning so much that their friends start calling them "Goodyear." Not only is a fitness gift the best kind of gift in that it might better the receiver, but it might make the giver's life a little easier, too. When the days get short and the trails get icy, the health nut in your life might get downright surly as they suffer from endorphin withdrawals. A health club membership, personal trainer and an iPod are all great ideas, but you've probably already thought of those. We checked out Mountain Chalet, 226 N. Tejon St.; REI, 1376 E. Woodmen Road; Criterium Bicycles, 6150 Corporate Drive; The Colorado Running Co., 833 N. Tejon St.; Runners Roost, 107 E. Bijou St.; and online stores to find a few cool things you might not have thought of yet. ..
Yaktrax Pro > Metal traction fits over your shoes to give you grip on packed snow and ice. Hikers and runners want the Pro version, with its strap that helps keep the traction in place. At Mountain Chalet, employees said these are good for any hiking trail, just not technical climbing. And at Runners Roost and The Colorado Running Co., they said you can run comfortably on ice with Yaktrax strapped on. "All winter we sell them like crazy," said Alicia Morey at The Colorado Running Co., who has several customers who conquer the Manitou Incline in winter with Yaktrax. "We've had other brands, but we found these hold up the best. Most of the pretty hard-core trail runners wear through them in a season or two." $28-$29.95, widely available ToughGirl winter skirts > Sport skirts were the hot trend in running this summer, as many women decided they wanted to look good while working up a sweat. "Before, women wanted to prove they were tough, but now you're tough but you're also feminine," said Alicia Morey of The Colorado Running Co. She runs in skirts from Skirt-Sports, with spankies or boy shorts under the skirt for modesty. Morey likes the skirts because they don't crawl up your legs the way shorts do. "It's comfortable, and you still look like a girl." Gift buyers can still get skirts such as the RollerGirl ($55) for the gym or treadmill, but SkirtSports is trying to extend the trend into winter with ToughGirl tights that have a built-in skirt that "just so sweetly covers all the right spots." $85, The Colorado Running Co. go to website bike trailer
CycleOps Fluid2 indoor bike trainer Some hearty riders let their fingers freeze to the handlebars and keep going, but the rest of us might be tempted to pack up the bike for winter. Instead, you can slip the bike into an indoor bike trainer and keep riding while the snow is falling. Paul Perez at Criterium Bicycles likes the CycleOps Fluid2 trainer best because the fluid resistance has a more realistic road feel than magnetic or fan resistance, it's much quieter than the fan, it can take up to 600 watts of energy from the biker, and it's the most reliable system he's seen. Plan on buying a few accessories such as a front- wheel block, a slick tire for the back, and a mat to protect your carpet. $319.95 at Criterium, $299 at REI > Chariot Cougar 2 > The next-best thing to offering free child care is giving a parent the versatile Chariot Cougar. Buy the chassis, and then you can buy conversion kits to use it for strolling (compact front wheel), jogging (big front wheel), hiking (with tow bars and harness), as a bike trailer (with hitch to your seat), and for cross- country skiing (with skis on the Cougar). Experts at Criterium Bicycles and REI say the Chariot is the brand you want for thoughtful engineering, collapsible design, comfort for your kids, and durability. The Cougar 2 holds two kids and 100 pounds. $424.95 for chassis at Criterium; $399.93 for chassis at REI; bike kit $50 at Criterium and REI Reflective gear > With short days, reflective running and walking gear is essential. The Brooks NightLife jacket ($90) comes in don't-run- over-me yellow at Runners Roost, along with a hat ($18) and toasty gloves ($28). The Colorado Running Co. has plenty of illumiNITE gear, such as the Aspira jacket ($90) and headbands ($18). Online stores such as nightgear.com specialize in reflective clothing. The new apparel has retro-reflective technology on wide swaths of the surface of the fabric, so it reflects light back to the source (most likely headlights) and makes you stand out. By the way, when buying outerwear, make sure it's "wired" with an iPod pocket with a slit that allows the cord to run inside the jacket. That way, you don't need extra iPod accessories, at least until summer. biketrailernow.com bike trailer
Race with buddies Itching to race your pals on some of the finest courses in the world? The CompuTrainer bike trainer lets you do just that. You can either drop more than $1,500 on the software and equipment, or head down to Criterium Bicycles, where five folks can climb into the saddle and hit the virtual road for 5 bucks each. Hook your own bike into the indoor trainer, watch the course on a screen, and the resistance adjusts to the terrain. "It's a really unique feeling," Perez said. "It feels like you're moving." The software also helps you adjust your fit and technique for maximum power. Rides start at 5:30 p.m. Tuesdays and Thursdays. $5 at Criterium. A gift certificate at the store can be used for rides.
< 'The Complete Manual of Things That Might Kill You' If your loved one would rather cogitate on the things that might kill him than do anything about it, feed his obsession with this terrifying tome, organized by symptom for easy self-diagnoses. Have you ever considered that if your face is flushed you might have the potentially fatal disease polycythemia? And a stiff arm could be the first sign of fibrodysplasia ossificans progressiva. As the publisher, Knock Knock, says: "We're all going to die of something - - why not choose an ailment that's rare and hard to pronounce?" The book is meant to be funny, by the way.
$19.95, available at booksellers Dec. 7 BILL REED,