Fancy Feast: Così fan tutte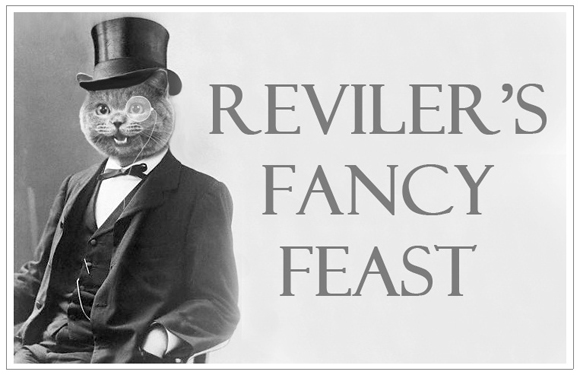 Fancy Feast is a recurring column in which the sterling gentlemen of Reviler don their monocles, top hats, and pocket watches in a half-hearted attempt to impress their significant others and the Minneapolis music community at large.
In this installment, Will Wlizlo polishes off his binoculars at the Ordway Center for Performing Arts in St. Paul for the Minnesota Opera's presentation of Wolfgang Amadeus Mozart's Così fan tutte. Opera photography by Michal Daniel.
Synopsis:
Ah, love! What is love? Why is it so impossible to keep your fingers wrapped around it? And when one finally gets a good grip, how to keep from smothering it like a fragile, baby animal? Don Alfonso—the patriarch, philosopher, and all-around tricky fuck played by Daniel Mobbs in the Minnesota Opera's performance of Mozart's lesser-known Così fan tutte—has been around the Block of Love a few times, and knows of its potholes. Instead of trying to understand her impenetrable motivations, or guide her on a sure-footed path, Alfonso knows that Love is meant to roam free—and be run down by motorists on the Highway of Life. Which is why he has no qualms teaching a gory lesson of the heart to two young, smitten military officers.
Ferrando and Guglielmo, the smarmy suitors of sisters Dorabella and Fiordiligi, boast of their girlfriends' honesty, fidelity, and purity. You can practically hear Don Alfonso snickering behind his seersucker and mint julep. He wagers that, left alone, the sisters would betray their former lovers—read: screw random dudes—within a day of their absence. "SCOFF!" say Ferrando and Guglilmo. "SCOFF, SCOFF, SCOFF, OLD MAN! But we'll take your bet." The two pretend that they've been called for duty on the battlefield, and leave bleary-eyed from crocodile tears. The stage is set for a tale as down on immaculate love as Shakespeare's The Rape of Lucrece, but where this story lacks sexual violence, it makes up for it greasy, 18th century sex jokes. Let the gender stereotypes begin!
Alfonso enlists his hausfrau Despina in the ruse; while the Don dresses the soldiers up in "Albanian" garb—think a cross between a gypsy, a pirate, and Danny Trejo—Despina encourages Dorabella and Fiordiligi that, essentially, life is short and all men suck. "We women should pay them back in their own coin," she implores in one conversation.
The women prove a tough sell for Despina and rebuff the advances of their Oriental-ish suitors with the conviction of stubborn children. To their credit, Ferrando and Guglielmo's buffoonery would only work to successfully get under a lady's corset in the fantasy world of The Hangover 2. "And these moustaches," Guglielmo sings, pointing to the thin whiskers glued to his lip, "could be considered plumes of love." Undeterred, the guys fall back on a tried-and-true strategy: if you fail, try again . . . and again . . . and again . . . and again . . . and if that still doesn't work, pretend to swallow a lethal dose of arsenic so that when she runs to see if you're alive, you can touch her boobs for five seconds.
As if the advances of the pseudo-Albanians and Despina's scandalous chatter were the mewling of a hungry cat, Fiordiligi and Dorabella eventually cave to the amorous nagging. At this point, the women's lovers have been gone for, oh, about 12 hours. (What was that about "soul mates" . . . ?) The sisters agree to marry their new-found loves the next day.
Although it's unlikely that Mozart was familiar with the term "shit-eating grin," the composer had that expression in mind for Don Alfonso when he was to wake the next morning. After a few snags, his plan to expose the inconstancy of love to the doe-eyed officers went off with nary a hitch. Alfonso would rake in some cash-money, prove himself immeasurably clever, and embarrass the sisters in a playful, yet moralizing, manner. The ending, which I won't spoil here, doesn't play out as a blood-drenched tragedy, but a comedy that glides over the small detail that two buddies were about to screw each other's girlfriends. Water under the bridge! Happy ending!
Critique: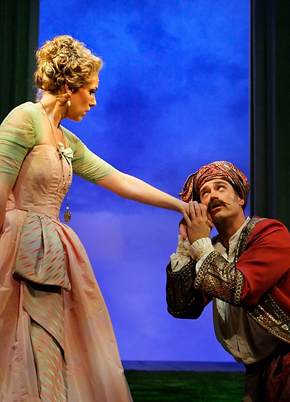 As a member of the most vaunted echelon of society, it's no secret that I am cultured beyond even the wildest dreams of proletariat like you. That being said, I've been too busy attending to my stable of multi-billion dollar per year businesses, hobnobbing with leaders of unpronounceable countries, and blowing money on things I'll never use to familiarize myself with The Opera. My take on the art is unique, as I have utterly no clue what the fuck I'm blathering about.
The performance of Così fan tutte that I attended was actually the final dress rehearsal (you know how we elites roll: invitation only). Unfortunately, the performers were not singing at their full volume and range; even still, as a first-time opera-goer, those dynamics are impressive. The cast traipsed around a minimal, moody set under the guidance of director Peter Rothstein—the founding artistic director of Theater Latté Da and something of a demigod in Twin Cities musical theater.
I'm much more accustomed to patronizing concerts by local psychedelic rock bands. As I sat in the audience of Così fan tutte, I couldn't help but compare Mozart's layered, repetitive, vacillating vocal arrangements to the layered, repetitive, vacillating rock sounds coming out of Deutschland 180 years later. What I'm saying is this: Wolfgang Amadeus Mozart, among all of his other accolades, is the founder of Krautrock.
On a final note, I'd like to mention that the gender discourse in art from this time period can be beguiling, nay infuriating, to a modern audience. Così fan tutte is no different: women are proven infirm and duplicitous and men's actions garner no (negative) consequences. The first reaction is to dismiss the opera for these unenlightened notions of femininity and masculinity; the next is to chuckle at their quaintness. Forging a middle path is better. Acknowledge the ways of thinking in a bygone era, but do not let them be an excuse for the work's final takeaway.
 —Will Wlizlo
You have three more chances to see Così fan tutte: Tonight, Thursday, September 29th; and over the weekend on Saturday and Sunday (October 1st and 2nd). More information is available here.