Still Corners: "Creatures Of An Hour" Review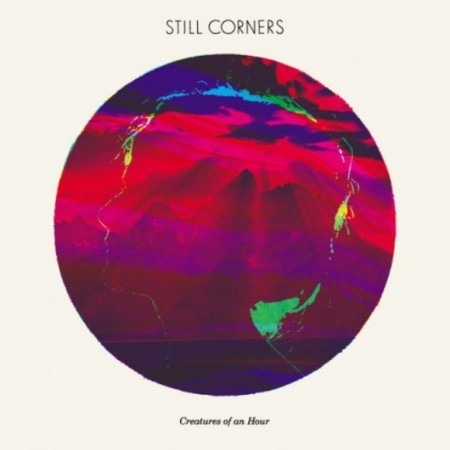 It's kind of appropriate that UK dream-popper's Still Corners are releasing their debut record, Creatures of an Hour, just in time for Halloween.  The band's sound is very much in keeping with the witching season. It's moody, dark, and atmospheric: the perfect soundtrack to a walk through eerie Autumnal woods at dusk – perhaps accompanied by your undead zombie bride whom you tragically cannot let go despite her untimely demise.  
The zombie story might be taking some license with the band's sound; however the tragedy at the heart of it seems very much in keeping with Still Corners' aesthetic.  With heavy reverb, mood-drenched synths, and most of all Tessa Murray's dolefully beautiful vocals, the band evokes the epically gorgeous melancholy that we have come to associate with the dreampop genre.  You could call them a goth Beach House, if Murray's singing didn't share a much closer affiliation to Broadcast vocalist Trish Keenan's.  The similarity is to the extent that "The White Season" could almost be passed off as a Haha Sound lost cut.   
Despite the Keenan/Murray similarity (she also occasionally resembles Stereolab's Laetitia Sadier) as well as a resemblance in overall mood and tone, Still Corners is much more of a pop band than Broadcast ever was.  The ten tracks on Creatures of an Hour share a pop sensibility that make them far more immediately accessible (though perhaps less filling) than their experimental influences.   Lead single "Endless Summer" is the perfect example – it's an immediately endearing melody that pairs Murray's sweet breathy woe with organ drone and reverb-laden drum beats.  And the rest of Creatures is no less lovely.  "Circulars" utilizes eerie haunted house organs but somehow makes them sound less scary than woozy, though the occasional synthesizer squall is a welcome piece of discord in otherwise conventionally pretty music.  "I Wrote in Blood" mixes things up with a bit of haunting guitar that's just a shade shy of (muted) rockabilly while also employing urgently pounding synth tones.    
Creatures is full of enough catchy melodies and irresistibly sweet melancholy that there is no doubt it will be an instant success come the record's Oct. 11th release stateside.  And despite the fact that most of that praise will be deserved (Creatures really is quite lovely through and through) in the long run Still Corners would be advised that catchy pop can only take them so far.   They have made an excellent start for themselves, but hopefully in the long run the band will take a note from their avant garde influences and experiment experiment experiment.  Though their sound may be lovely to behold now, it will be far more interesting to see what avenues they take it down in the future.       
     — Jon Behm
Still Corners will perform at the 7th St. Entry on October 28th
Still Corners:          Site
Pre-order Creatures of an Hour here
.