HTRK: Work (Work, Work) Review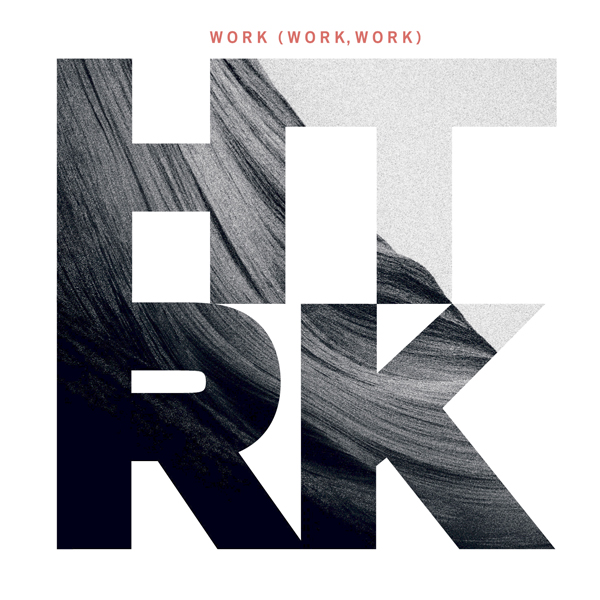 HTRK are a band from London-via-Berlin-via-Melbourne fronted by the scariest, toughest girl you've never heard of, androgynously ice-voiced Jonnine Standish. She's probably in your basement right now, setting up her great, hulking drum, or putting the finishing touches on your new, unrequested sex dungeon, or shit, I don't know, MAYBE BOTH. HTRK (or "Hate Rock," as it's pronounced) are the perfect soundtrack for the final, sputtering days of your desperate affair, 4am drugged out despondence, or just for your Leopold von Sacher-Masoch book club. In fact, next time you read the band's name in your head, just pronounce it "Hate Fuck." Because, really, with all the fevered sensuality and glacial detachment of their LATE NIGHT NOISE SLEAZE, that's really pretty much what they sound like. And now, dear "kinda goth" reader, Michigan indie label Ghostly International are finally introducing HTRK to audiences in the US with the Sept. 6 release of their second full-length, Work (work, work).
A little background: nigh unto a decade ago, HTRK crawled out of the Melbourne, Australia underground scene and into the hearts of industrial noisemaker/porn star/sex intellectual Sasha Grey, the Birthday Party guitar player Rowland S. Howard, and failed musician/failed author/failed careerwoman/CLAP contributor Alison Stolpa. For awhile, the band's main promotional photo was an aggressive, full frontal nude of HTRK members Jonnine Standish, Nigel Yang, and Sean Stewart, and the band seemed to be trying to "outskeeze Throbbing Gristle," (as I wrote back in 2007), with song titles like "Rentboy" and "Shoot You Up." Those songs contributed to the greatness of the band's Rowland S. Howard/Lindsay Gravina produced 2009 release Marry Me Tonight, which came out on Mute Records (Nick Cave, Depeche Mode, Liars) imprint Blast First Petite. With tours and one-off shows alongside the likes of Suicide's Alan Vega, Lydia Lunch, Yeah Yeah Yeahs, the Horrors and Liars, the band seemed to be on the rise. (Well, as on the rise as a band that sounds like a female-led Swans fed through a Suicide effects processor can get.)
Then in 2010, bass player/programmer Sean Stewart took his own life. Work (work, work) is a collection of the then trio's 2006-2010 era recordings, a sort of memento mori for Standish and Yang's departed friend and bandmate. HTRK's signature topics of desire, submission and degradation return for another late night slink through the flickering fluorescent lights of corporate hopelessness, but it's a less cohesive affair than the self-proclaimed "pop record" Marry Me Tonight. There are fewer immediate standout tracks like album highlights "Skinny" and "Synthetik," although Work contains a decent smattering of sleepers like "Bendin'" and "Slo Go." As always, the band employs chopped-and-screwed slooooow 808s and bristling synth menace to take listeners on an atmospheric journey into the duality of seduction and desolation. Album opener "Ice Eyes Eis" is an actual recording Stewart made of late night Berlin TV sex channel ads layered over ambient noise and slowed down by Nigel Yang, in which a breathy Teutonic lust purveyor whispers empty promises to lonely viewers, and for a band so hellbent on portraying flat-lined emotions and atrophied desire, there's nothing more poignant than the thought of the late Sean Stewart staying up all night to record the empty promises of sex and love for sale. Work (work, work) may not be HTRK's strongest, but at times it seems almost as if, the band is working their way at a Robo-tripped out sloooooow pace towards the still beating heart of all that noise sleaze darkness.
-Alison Stolpa
(originally printed in C.L.A.P. zine, Fall 2011)
Writer / photographer / Reviler co-founder