Reviler Best of 2011: Most Overrated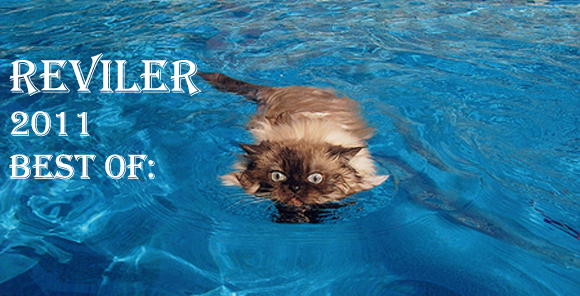 Snow is falling, people are spending money on crap they don't need and you are starting to dread all of the time you will be spending with your in laws in the next couple weeks. Cheer up. It is also that wonderful time of year where music sites like yours truly pontificate even more than usual, although in a more orderly and concise manner than we normally do (numbered lists!). For the next week we will be presenting you with a plethora of lists covering our favorite (and least favorite) things from calender year 2011. Today we have one of our most popular lists, which takes look at artists and events we feel are over and underrated. Disagree? Let us know in the comment section. Tomorrow we will bring you our favorite local songs from 2011.

Zoe Prinds-Flash (site)
1. Tyler, the Creator — at first we kind of liked the shock value, the energy, breaking all the fucking rules, but, "by the way, we do hit bitches," happened. Fuck that. Tyler just proved to everyone why reckless kids shouldn't get a spotlight.
2. Howler — I may be biased because these tweens stole my best friends band name, but in all honesty, their nasally bubblegum rock pop joke of a song, "I Told You Once" makes me want to claw my ears out. After my disbelief at their upcoming UK tour, i decided they would be better off staying there and becoming bff with Arctic Monkeys.
3. Thanksgiving — I haven't been able to stop eating and crying since.
4. Brian Eno producing your records: STOP USING THE DUDE. IT IS A COP OUT. YOUR SHIT ALREADY SUCKS. Let him go back to making minimalist airport records!
5. Foster the People: It was funny for half of the first song, the first time. I can't really believe that my pick for best new artist (Polica) is playing with them next month.

Will Wlizlo
5. Complaining About City Pages' Coverage of Bon Iver's New Album – For the record, I'm not a fan Bon Iver, his old albums, his new album, Bon Iver-Kanye West collaborations, Bon Iver merchandise, and on and on. It's one characteristic that separates me from the Twin Cities music tastemakers (Mark Wheat, Andrea Swensson, that one bartender at the Varsity Theater) as well as my less-high-strung peers who are just listening for a good time. Justin Vernon is an easy target for snarky bloggers with nothing to lose, and those that write about him are even easier to lambast—like so much hipster culture war collateral damage. They're all just music industry professionals fulfilling their prescribed roles in the business. It will never get better; abandon hope. One final note: In the future, Mr. Vernon, stay the fuck away from Björk covers. Some things you just don't mess with.
4. Ariel Pink/John Maus/Puro Instinct/Los Angeles – No one likes a Unabomber wannabe/toothy prick/stoner chick with a trust fund/fiat city. Also, this is a perfect example of me ignoring my concerns laid out in #5.
3. Odd Future apologetics – Although I was at first intrigued by the media-savvy hip hop collective, the discussion about how "real" Odd Future is, how homophobia/misogyny live in Tyler the Creator's lyrics and persona, whether they're the future of rap, etc., has become numbingly boring. They're just a bunch of kids trying to milk the music industry for all it's got using the oldest tricks in the book: minstrelsy, controversy, and practiced "cool." Give 'em a year and a half and you'll be reading about Odd Future beating up drunk women outside a nightclub on TMZ.com.
2. Spotify – You mean you can stream music on the Internet now? Since when?
1. Reviler.org – Although our humble website has won numerous local, national, and international awards for investigative music journalism, been name-dropped by at least three members of U2, and been a force of positive change in the Minneapolis music scene, Reviler.org was one of the most highly overrated elements of music culture in 2011. I mean, seriously, what do we do here? If you think about it, it boils down to just gorgeous concert photography; thoughtful, diverse album reviews; previews of undiscovered bands; and tireless championing of local music. How quaint!

STEVE SKAVNAK (@steveskavnak)
TYLER, THE CREATOR – Saying all the press he and his Odd Future douchemates received this year was deserved is pretty much like saying rape is underrated.
SPOTIFY – Sure, having access to a kajillion songs at your fingertips is enticing, but it takes away the joy in introducing friends to new music. Should I even bother making you mixtapes anymore?
ADELE – Any time a singer's vocal health becomes more of a relevant topic of conversation than the actual material, you're approaching Mariah or Whitney territory, and we all know those nut-job endings.
RADIOHEAD – Extra! Extra! Read all about Radiohead's circle jerk via their unnecessary and outlandish newspaper! Over the last half decade, Radiohead have made the shift from musicians to marketing executives. I prefer them as neither.
LCD SOUNDSYSTEM'S FINAL SHOW – What was supposed to be a tremendous curtain call turned into a complete dilution of excitement, thanks mainly to greedy scalpers and an ill-conceived approach to ticket sales.

Ali Elabbady (Background Noise Crew, Egypto Knuckles)
1.  The eventual stardom of Adele
2.  Rebecca Black "Friday" (and the hot garbage it has inspired in being part of a Kohl's Ad)
3.  Lupe Fiasco's "Lasers" (and the respective controversy around its release)
4.  The Sophomore Slump and the Freshman Jinx (see: Drake's "Take Care" and J. Cole's "Cole World"
5.  While not musically related, all of the Republican nominees for president (With the lone exception of John Huntsman, the only candidate who the media doesn't give facetime to, but makes sense)

Josh
Dawes- I know this opinion could get me shanked in Minneapolis with the level of adoration this band gets here, but I just don't get it.  The go to band if Kings of Leon are just too damn rowdy for you and you don't want to, you know, spend a little time to find music that has a morsel of creativity.  I blame you The Current.
The popularity of Foster the People-I will look past the fact that I think this is pop garbage fluff, but the fact that they will have, oh, 1,450 more people at their show than Ty Segal makes me equally depressed and angry.
Odd Future-Yes, I am nominating them again, which is like beating a dead horse.  A dead horse these talent derived, immature, celebrity chasing assholes probably would rap about raping.
The Decemberist/Coldplay- Do people still like them or am I the person who is still fighting the Cold War?  If the later, their bland pop music is as boring and uncreative to me as it was back when they started and I want to acknowledge that they have not gotten any better nor any more creative.  If it is the later….I'm sorry.
She and Him- They seem nice enough.  She of quirky indie films meant for suburban kids in Urban Outfitter clothes.  He of easy to like folk music with a slight twist who has done some pretty decent stuff in his own right.  I probably would just let it go, but….. A FUCKING CHRISTMAS ALBUM!  There are some lines that should never be crossed, and boring folk music meant for Starbucks mixed with horrible Christmas music is most definitely one of those lines.
1. Drake:
Drake has actually got a tremendous singing voice. However its wasted on his inch-deep lyrics and mediocre tunes
2. Girls' new album:
I have liked this band in the past but I just don't see what there is to love about the new record. To me its the weakest material released by the band by far
3. Wild Flag:
While several people whose musical opinions I respect seemed to love this supergroup I can't get past simply finding them pretty bland and uninspiring.  I think I missed a key formative influence during the nineties that would allow me to appreciate them.
4. Achtung Baby/Siamese Dream Reissues
Really just kind of fed up with 90's nostalgia and I hate U2. Smashing Pumkins is just collateral damage. I liked Siamese Dream back in the day but its got a metacritic score that borders on ludicrous.
5. Lianne La Havas:
I really wanted to like this young up-and-comer due to the fact that she has got tremendous, tremendous vocal ability.  So far though she seems to be angling for the Starbucks compilation crowd. All fluff.
.