Skoal Kodiak: Kryptonym Bodliak Review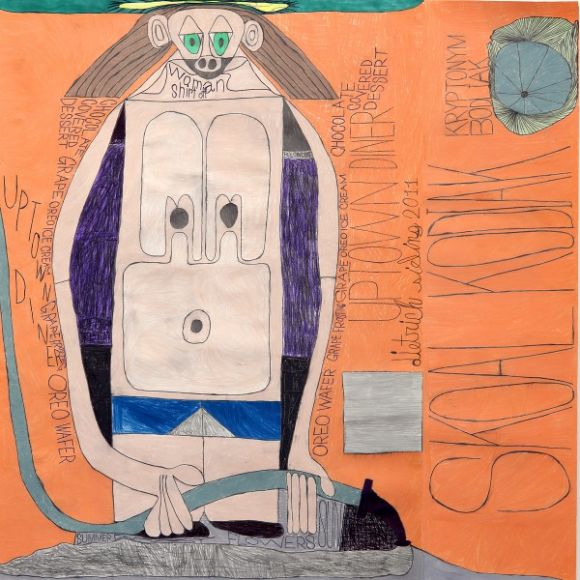 It is easy for local music fans to take for granted the scintillating work of noise-dance trio Skoal Kodiak, but the group had only released one LP prior to this year. While anyone who has seen their lights out (literally) shows or heard their debut LP Three People Are Keep Having Grape Emergencys knows the power of these three, I would imagine their impact outside of the reverence the local scene isn't quite as heavy is it is in the Twin Cities. That should change with their new LP Kryptonym Bodliak, which has recently dropped on the venerable label Load Records and captures the band's sound in blistering fashion.
For those unfamiliar with the frantic sounds of Skoal Kodiak, Kryptonym Bodliak is a great place to start. A conglomeration of grimy synths and dance floor ready beats tomahawk the listener from the opening beeps and hisses of lead single and album opener "Teapot." Tracks range from the overwhelming noise freak out of "Hollidazzle" and the brutal noise of "The Borrower" to G-Funk gone haywire of "Pinomage." Highlights include the delayed groove of "Sciswell," which features Markus Lunkenheimer's trademark echoed growl (via a bleach bottle) as a main focus of the track and the angular gallop of "Tomah Triangle," which floats in the funhouse ether before bursting into a sinister groove that sounds like a confident extension of the material they created on Three People…. The record closes out with the "A Astral Assassin," which wraps up the album in perfect Skoal Kodiak fashion by creating a slightly spooky, head bobbing song that tears through the speakers with reckless abandon.
There are a few bands in the local scene (Skoal Kodiak, Blind Shake, etc) who I often find myself taking for granted. Seeing Skoal Kodiak in small room settings is always awesome, but isn't something that is that out of the ordinary for Minneapolis music fans, which makes it hard to take in the big picture and see how great this band really is. With the chance to get their music in front of a larger audience via Load Records, hopefully others will catch on to this great band.
-Josh
Buy the record from Load Records HERE