Kison "Part Hero, Part Woman" Review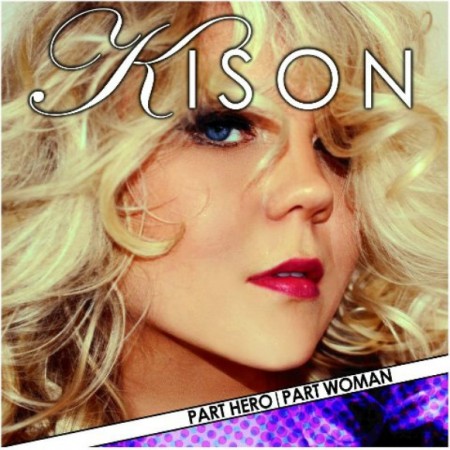 We in the local scene have been fortunate to get so many great musical releases five months into the new year, and while there have been a ton of noteworthy names to run off, there is certainly one who should be on the radar as well.  Kim Swanson, also known as Kison brings her sophomore effort, Part Hero, Part Woman to the table, which is an R&B/Pop infused record that sonically fuses futuristic sounds and a loosely based narrative from the comic series known as Blonde Phantom.  But make no mistake, Kison is in a class all her own with her noteworthy album.
From the start of "Wake The World (Intro)", it provides a glimpse into the world of Kison, drums crashing and her vocals soaring through the wonderful chaos, while the title track provides an almost galactic like soundscape.  Throughout the course of the record's 33 minutes, King Karnov, who serves as the chief producer of the record and Kison who serves as the singular songwriter provide Part Hero, Part Woman with a sonically polished and vocally enriching experience of a world that is of a modern day female superhero of sorts, but themewise keep the record sounding fresh and new.  To liken the experience, instrumentally speaking it carries a sonic soundscape similar to Bilal's First Born Second fused with the lyrical themes of Janelle Monae's The ArchAndroid, making Part Hero, Part Woman a record that is equal parts rewarding and soothing.
There are very many highlights on the record, but "Ark" is in a class all its own.  Produced by 88-Keys, its a perfect mesh of neo-futuristic soul, and Kison's vocals, especially on the hook, soar wonderfully providing an atmospheric high unlike any other.  In addition, the militaristic drums and spacey synths on "Ricochet," sounds wonderful in practice and in execution, whereas "Kidnapped by the Future (3052)" has ever-changing arrangements and Kison hangs on every last part of it casually, as if she's taking us into a world all her own provided by the music.
Overall, Part Hero, Part Woman is one of those rare moments in which Kison brings us into her world, her vocals alongside production by King Karnov, Rahki, and 88-Keys help provide the record with a rich and rewarding soundscape that warrants taking the record as a whole rather than the sum of its part.  In that light, Kison is well worth the experience, and if you give Part Hero, Part Woman a chance, its payback in the experience is tenfold.
— Ali Elabbady (Egypto Knuckles, Background Noise Crew)