Flashback Friday: The Afro Soultet's "Afrodesia"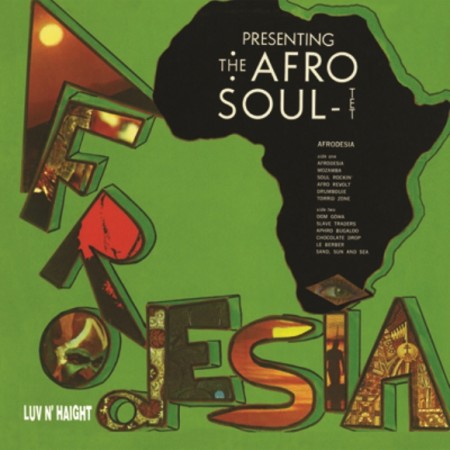 When I first received the promo CD for Ubiquity Records' reissue of the Afro Soultet's Afrodesia I sat on it for a long time. Though I am a big fan of Afro-Cuban jazz, something always held me back from finding time to listen: I think it may have been the Ubiquity imprint name, Luv N' Haight, actually, that did me in. Though named for a Sly and the Family Stone song, it still sounded like some hippie-dippy shit to me. It didn't help that I felt like the last Ubiquity album I had listened to, Orgone's Cali Fever, was some hippie dippy shit.
But that was all beside the point once I finally got around to checking out Afrodesia, which is assuredly neither hippie nor dippy. It's a broadly influenced kaleidoscope of jazz, rock, and experimental music. Though mainly Latin/Afro jazz in tone, it also incorporates straight jazz, Eastern, funk, and rock undertones. The opening track on each side of the record features a thunderstorm as well as a menagerie of jungle sounds. "Drumbouie" sounds a bit like a chaotic arm exercise program for drummers, and about half of side A wouldn't sound out of place on an Ethiopiques compilation. Though side B starts off with the jungle chant "Oom-Gowa," it is still much more heavily slanted towards straight jazz with "Slave Traders" and "Aphro Bugaloo" leading the way. The lefthand turns don't end there yet – the rest of side B takes a decidedly chill turn into a Lounge/Bossa Nova direction. If that sounds like a bit of a mess rest assured – Afrodesia's diversity is its strength. By limiting each thematic foray to the space of a few songs, the listener never really gets a chance to dig in and get bored.
The band itself was originally known as the Afro Latin Blues Quintet +1. They were discovered by eclectic producer Jack Millman (aka Johnny Kitchen) in the late sixties in Los Angeles. And though the band later went on to record albums under the name The Afro Latin Soultet, their sole recording under their former name, Afrodesia was never made commercially available. According to Ubiquity, they don't even have any idea when it was recorded – just "sometime between 1968 and 1971" according to Millman. Thankfully Ubiquity has changed all that and has now made Afrodesia widely available for the first time. Check it out now and you are still coming late to the party (it was reissued in 2010) but at least you have a good excuse. As for me, I plan on doing a better job of listening to every promo I get as soon as possible – even the ones with the silly names.
— Jon Behm
Afrodesia is available here.