Brother Ali: Mourning in America and Dreaming in Color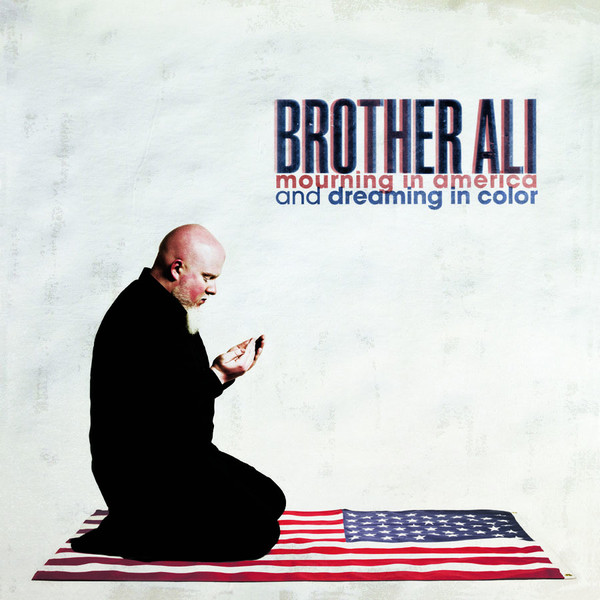 Marshall Ganz, who worked with Caesar Chavez in the 60's in their quest to organize the farm workers in California, knew his fair share about dark times and big challenges.  Before his time working with the exploited immigrants picking grapes, he had spent time in the civil rights movement in the deep South, and subsequently he has worked on numerous social justice causes and become a well-known, veteran voice for activist trainings, eventually being a guiding voice for the way Obama build his ground game in 2008.  In Why David Sometimes Wins, a book he wrote about the amazing victory the farm workers won, after decades of suppression and degrading conditions, he spoke about what it took for someone to really organize groups that felt voiceless.  He said change was brought about by those who have a "critical eye and hopeful heart," a statement I couldn't help but keep returning to listening to the stunning new Brother Ali LP Mourning in America and Dreaming in Color.
Ali has always had social/political undercurrents streaming through through his work, but Mourning in America is by far the strongest statement yet.  From the album cover, with Ali praying on an American flag, to the almost spoken word into of "Letter to my Countrymen," subtly is thrown out the window.  Ali no longer tosses in references to causes he beliefs in, but now seems to use the sultry Jake Uno beats that cover the record as a canvass to capture the passion that bursts from his body in his confident flow.  From the biography of the real struggle on "Only Life I Know" to the tense "Fajr," which finds Ali spitting "I'm offended by, these authentic lies…I'm the little fire flickering within the riot" Ali is at the top of his game.  Both the music and lyrics are red-eyed angry on songs like "Mourning in America," "Say Amen" and the punishing "Gather Around," showing a fire that burns through the speakers.  While Jake Uno's beats are stone cold jams, I do miss Ant's soulful beats at points, especially on the Ant sounding tracks like "All You Need" and "Namesake," songs that remind listener of the smooth Brother Ali back catalog, although even these songs have a stronger undercurrent than Ali's previous work.
The album has a flow that seems to keep the listener engaged, a pattern that community organizers know as "Educate-Agitate-Organize."  Ali seems well aware of this technique, teaching the listeners the struggle behind the social justice movements that are bubbling up in groups like Occupy Homes (which Ali has been very involved with) before making sure the listeners realizes the potential to make change. There are many references throughout the album about the strength in numbers and the power in collective action, mentions the ensure that Ali isn't making this music just because he is pissed.   There is a lot to be pissed off about, of which much of "political rap" takes the easy road and scores pot shots from a distance, but Mourning in America doesn't feel just like a "protest" album.  It feels like movement building album.  This album, created by an artist with a very large, and expanding, reach into the hip hop community, isn't meant to just be a soundtrack to your party or bumped in your car (although it can easily do both), but  a gentle push for the listener to make a stand against injustice.  Over the 14 songs on the LP, Ali displays his critical eye and hopeful heart, not only creating a succinct and powerful message, but crafting on the very best records released this year.
Stream the record below from Youtube and buy it from Fifth Element. Ali is performing both tonight (Oct. 5) and tomorrow (Oct. 6th) at First Ave.