Pony Trash: Pony Trash EP Review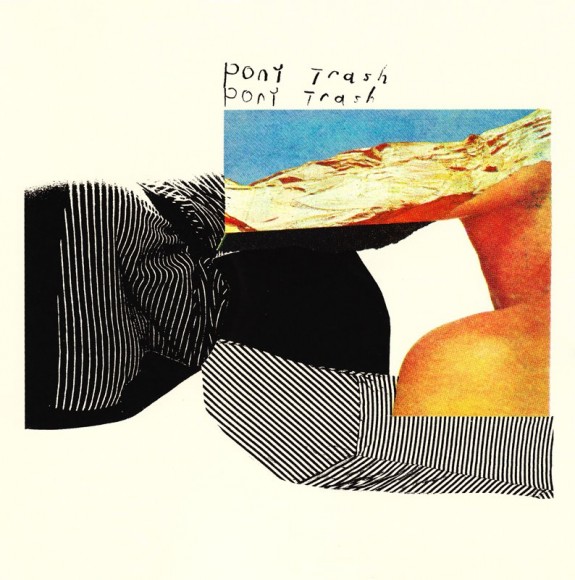 The descriptors that accompany the press release to Pony Trash's debut EP paint a pretty telling picture: "Velvety…drenched…blue…fuzzy haze…".  In short, they have taken most of the best dream-pop adjectives and left only a few for reviewers.  But such descriptors can only tell you so much – and applied liberally to every reverb-happy band in the country, to a certain extent they have lost some of their meaning.
I think a better descriptor comes in Sara Bischoff's (who plays in Heavy Deeds with Pony Trash bassist Chris Bierden) metaphor for the band's sound, which she compares to being swaddled in blankets and making out under the "sad and starry electric sky." Bischoff's description accurately depicts a dichotomy of cosmic loneliness as well as a lush intimacy – as does Pony Trash's sound.  On one hand the band's vocalists (Chris Bierden, Neil Weir and Nate Nelson all contribute on vox) convey a sort of spacey remoteness, a sound not too dissimilar to the sound Pink Floyd achieved on Dark Side of the Moon (think Roger Waters on "Brain Damage").
On the other, the reverb laden guitars, steeped heavily in shoegaze and dreampop modalities, create an atmosphere that is very cozy and snug.  When paired together the elements convey an atmosphere conducive to the mysteries of the universe being discussed via pillow talk.
But quantum physics discussions these aren't – Pony Trash's dabbling in the infinite seems singularly confined to humanity's greatest mystery.  Behind the lyrical abstraction, the pathos conveyed through these bittersweet melodies leads one to believe that, at heart, they are love songs.  Sad love songs (with occasional swaths of country twang) but love songs all the same.  They are love songs set to the tune of some solid, albeit largely reserved instrumentation (Bierden's bass-playing is as flawless as ever and Weir, Nelson, and Moltaji are no slouches either) and unfortunately when it comes to this EP, there are only four of them.  Ideally Pony Trash will soon follow up with more, since when it comes to making out under the stars, the length of four tunes will only get you so far.
— Jon Behm
Pony Trash will play their EP release show this Friday (11/23) at the Turf Club