Beat Detectives: Self Titled Cassette Review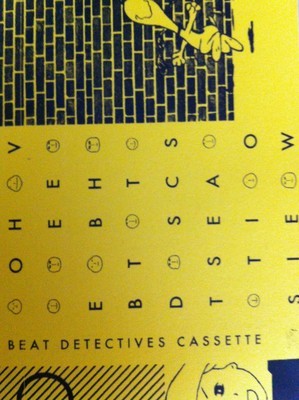 Food Pyramid, for all of their chameleon shape shifting on their myriad of releases, have a general template they work from. Whether it is their new age work, their kosmische influenced tape trilogy or their ambient pysch-dub on their Mango Sunrise LP , the ever evolving group always seem to have a method behind their madness, a guiding light even when they are producing improvised music. For Food Pyramid side project Beat Detectives, at least on their debut tape, the process seems much more loose and fluid.
The self titled tape feels more like a house/idm/electronic/ambient mixtape than an album proper. The tape consists of two sides, with (at least on the electronic copy I got) no song titles to untangle the mess. The tracks all have a loose feel to them, ranging from woozy, electronic dirges to straight up bangers, with a wink and a nod to diverse musical influences throughout. There are moments of dexterity, with slinky bass lines and stuttering hi-hats enticing people to the dance floor alongside dark, Run D.M.T-esqe drugged out electronic jams (including the woozy vocals that have been mostly absent from Food Pyramid releases). The tape is 32 minutes of funky grooves, with tracks that should equally please the headphone sound junkies and the dance floor ravers.
For fans that have been following Food Pyramid as they ventured into the ether over the last few years, the Beat Detectives tape (the first of three) is a nice addendum. The music is grounded more in the club than in space (even though there are some heady moments), lending a more laid back feel to the process without sounding haphazard. While Food Pyramid are not lacking in quantity of music released (they have two more albums out in the coming weeks), if their side projects are as great as Beat Detectives is proving to be I saw the more the merrier.