Food Pyramid + Roy Orb DMT: Arp Navigators Review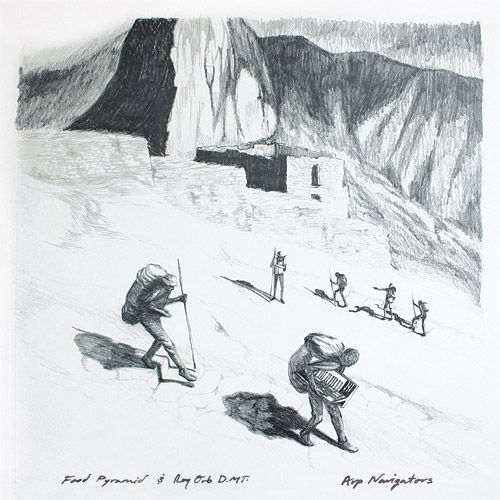 As I was absorbing Arp Navigator, the third release this year from Minneapolis kosmische/kraut/electronic collective Food Pyramid, I couldn't help but think they are entering the Guided by Voices/Lil B/Ty Segall realm. The group is churning out new material at a breakneck pace, leaving fans spinning as they attempt to keep up with their new material. Luckily for fans, the high quantity has done nothing to affect the high quality of releases, as Arp Navigator is another feather in the groups cap and only serves to boost their standing as one of the best (and hardest working) groups around.
The Roy Orb D.M.T portion of the group is Collin Gorman Weiland aka Camden aka Cole from Daughters of the Sun & Leisure Birds. He has been incredibly busy as well, but has been finding time to jam with Food Pyramid on multiple occasions at their live shows this year. The partnership blossomed into this release, which finds Weiland not only twisting knobs on the record, but mixing and mastering as well. The six song record is more adventurous than Food Pyramid's last release (the new age Live/Dead) but not quite as colorful as their Mango Sunrise LP from earlier this year. From the wistful, waves crashing on album opener "Windsong" to the more funky ambient grooves of "Visualizer," "Corealis" and the vibrant "Sandstorm," Arp Navigators is a nice capstone to these artists impressive year of work. The album peaks with the exploratory, wide eyed "Summit Expedition," which begins in cerebral ether and builds in a (nearly) dance floor ready jam, showcasing the groups sound spectrum over one six minute track.
Like the groups mentioned at the start, it can be a little overwhelming at time to keep up with both Food Pyramid and Roy Orb D.M.T's output. Food Pyramid fall closer to Ty Segall's work, which at least so far has been pretty much across the board great, than the uneven work of Lil B or Guided By Voices. Arp Navigators is a late year treat for fans of ambient synth music, a final salvo for a band (Food Pyramid) and an artist (CGW) who have been consistently great this year, going out with a bubbling, color-wheel of a bang, making sure we don't have one second to forget the great work they have been consistently putting out throughout 2012.
[soundcloud url="http://api.soundcloud.com/tracks/67989190″ params="" width=" 100%" height="166″ iframe="true" /]