Wunky Interview: Claps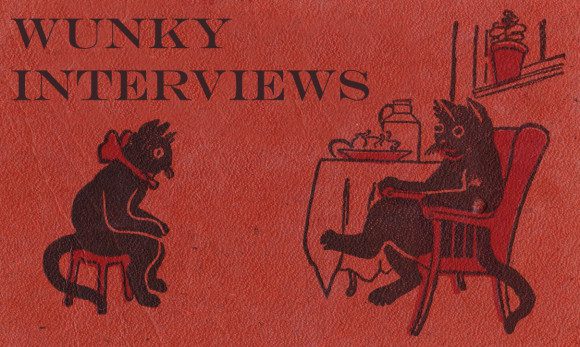 Wunky Interviews is a feature where Reviler friend Erica Krumm hits the pavement to find and  talk with some of the best bands in the Twin Cities music scene.  Previous Wunky interviews have been released into two volumes of an excellent Zine, which you can purchase from Erica HERE.  
December 4, 2012
Claps are a sparkly, dark and dancy, synth trio comprised of Sara (bass), Patrick (vocals), and Jed (synth). These guys are longtime friends, but it's obvious that they know one another even more like family. They all met several years ago in college and formed a bond because of their love for music and art. I met up with these guys at their cozy Minneapolis practice space and we chatted about everything from favorite beverages to hiccups and weddings! It was a pleasure to get to ask these guys some really pretty silly questions!
Erica – Ok. guys, first question, if you had to pick your least favorite Christmas song ever, what would it be?
Patrick – Neil Diamond has a song called "Merry Cherry Christmas", that I really hate, because it's just Neil Diamond, being Neil Diamond, which would be great, but there's no reason for the song to exist. That's my biggest pet peeve with Christmas songs. It needs a reason to exist! Like, Elton John's Christmas song, which I can't remember what the name is, it starts off where he goes, "So this is my Christmas song I want to thank you for the years." He's just blatently being like, "This is my Christmas song, why am I writing this?"(Everyone laughs)
Jed – You know a lot about Christmas songs!
Erica – This is a passionate…. This triggers some passion.
Patrick –Yes! It is!
Sara – I hate all Christmas music, I just hate it all. But if it's on it's fine but I would never, ever put it on. Ever in my life. (laughing)
Patrick – We do have a collective rule that we can't play Paul McCartney's…
Jed – That's the song that I hate!
Erica – "So this is Christmas?"
Patrick – Not "So This is Christmas", but uh, "Wonderful Christmas Time."
(Patrick and Sara start singing, "Siiiimply haaaaaving a wonderful Christmas time…" (Everyone laughs)
Jed – Year round that gets stuck in our heads!
Erica – I kind of like that song….
Patrick – I LOVE that song, it's my favorite Christmas song!
Sara – We don't hate it because it sounds bad, we hate it because we can't get it out of our brains.
Jed – I can't think of another song that gets stuck in our heads collectively….as a brief aside, besides being in a band together we work together so we're around each other all day.
Erica –Cool!
Patrick – So if someone plays that song, anytime of the year, it's stuck in all of our heads.
Erica – What is your favorite alcoholic beverage or your favorite soda, or both?
Jed – I think my favorite alcoholic beverage would have to be Old Style beer because it's always reliably…. I know exactly how much to drink, but also I can drink as much as I want and I won't be hung over.
Erica – Really?
Jed – It's just like a…symbiotic relationship with it. (everyone laughs) It just gets me and I get it. That's Old Style.
Sara – Your body knows what to do with it….I think mine is Mickeys. I really like it, it makes me happy to drink it. I don't often drink it, but when I do drink it, I'm like, "This is gonna be quite a night."
Patrick – I mean, I like beer a lot but if there's any sort of beverage or anything of that sort, Coca Cola is like, my life source.
Erica – Really?!
Patrick – I could drink Coke all day…..
Sara – He drinks it for breakfast!
Patrick – You could ask me to give up anything… I could never give up Coca Cola. I love Coca Cola with all my heart. I don't drink as much as I used to, I was raised on Coke, I drank Coke every day as a kid…It's like, if there's no Coke in the world, I'm not sure I want to be there anymore. (Everyone giggles)
Erica – That's how I feel about coffee. So, what's your hiccup cure? You know everybody has a really strong opinion about when someone gets the hiccups at a party or something and everyone's like, "oh do this," and like, "no, no, no, do this!"
Sara – I just laugh and make fun of them! (Everyone laughs)
Jed – All you can do is wait, and drink water. That's, I feel like, all you can do, and maybe you can try holding your breath or have someone scare you or ask a bunch of people how to get rid of the hiccups but none of that's going to work, I think. But maybe that's a negative view about hiccups.
Sara – I think my mom just said, "Hold your breath." I think that was my family remedy.
Patrick – The one I thought was real for awhile was putting your tongue on the top of your mouth, just holding it, it worked for awhile, doesn't work anymore.
Erica – What was the first record that you owned as a child that you were obsessed with, that you listened to over and over?
Sara – I don't know if it has to be music…
Erica – No, it could be anything…
Sara – When I was very young I had all of the…Carol Channing reading Winnie the Pooh on tape and I listened to them all day all the time. Christopher Robin and his friends….The first CD I had was Shaggy!
Patrick – Mister Lova Lova…(Everyone laughs)
Erica – Yeah, I was pretty into that actually….
Jed – I had older siblings so they introduced me to all the music that I liked as a kid, and I had this tape that was made from other tapes that they gave me because they wouldn't let me actually have the tapes, but I think it had…I can't remember what Rancid album it was…I can't remember the order of the Rancid discography unfortunately, (everyone laughs) but it had some Rancid album, it had Kerplunk, the Green Day album before Dookie, and it had something else like, maybe They Might Be Giants or something, and I used to listen to that tape religiously.
Patrick – Man this is hard, I'm shockingly proud of my first record I ever bought and the first record I was ever gifted, because they're both somewhat good, which is nice. The first one I ever got was in fourth grade my sister bought me the Chemical Brothers record, Dig Your Own Hole, I loved that, and the one I bought, which was in sixth grade was Garbage 2.0, that was the first record I ever bought.
Erica – I was really obsessed with both of those when I was in eighth or ninth grade…
Patrick – Their great records! So I dont really feel that bad that I really liked them. I remember my sister had the cassette single of Smells Like Teen Spirit and I really liked that as a kid.
Erica – O.k. guys this is a really weird question that I thought up…. but if you went to a wedding and ____ didn't happen or they didn't have _______, you would think it was a really lame or bad wedding. What would that thing be?
Jed – I think if they didn't have a dance floor that would be my number one thing.
Patrick – I'll take that to the next level and I would say, a DJ, when it gets to a certain point where the old people are starting to leave, when it gets to modern pop and hip hop, that's the moment when it's perfect. That's my favorite part of every wedding, when it's like, "now shits gonna get crazy."
Sara – I just go to Arab weddings, so there's no booze and there's just really good meat. So if there wouldn't be really good meat at a wedding, I think I'd think it was shitty.
Erica – What kind of meat?
Sara – Steaks, lamb, all kinds….
Erica – Yeah that would be good! I like meat…O.k. What are your guys' plans for the band in the new year?
Jed – We have an ultimate fantasy of going to Europe someday, so that would be cool, that might not happen, but if we could ask Santa for one thing…
Sara – We've made some steps to it actually happening.
Patrick – If we could ask Santa for one thing… to go to Europe.
Jed – If that doesn't happen, we're kind of trying for that, but if that doesn't happen, next year, we will definitely tour at some point and….
Patrick – Go out west.
Jed – Probably go out west because we've never been out there and we really want to do that.
Sara – We gotta go!
Erica – (To Patrick) You said you are getting married this year?
Patrick – Yeah! I'm getting married in June, which will be fun.
Erica – Nice!
Erica – O.k, What's your band's spirit animal?
Jed – That's a really good question…
Sara – Right now it's a sloth (laughing)
Jed – I wouldn't say that.
Sara – No, I said right now….we're tired.
Jed – I feel like it's an animal that like….
Sara – It could be bees, because we are really good at working together.
Patrick – I don't know, this is hard! Do we consider bees animals?
Erica – Yeah, they can be…it doesn't have to be a mammal.
Jed – It's something that makes a little den or a little home. Our band and our lives are really intertwined.
Patrick -Yeah.
Sara – Maybe we're like geese flying in a V formation.
Patrick – That's pretty good, I like that.
Sara – Beavers? We can't be a beaver…
Erica – …I've never told a band what I think that their spirit animal is, but now I think I'm going to because I have a really strong…and you can tell me if I'm wrong, but all the things you're saying, I'm thinking that you guys would be like a bat. I know that sounds cheesy because you play sort of gothy music, and a bat…. but that's not why. People think that they're dark, but their actually sweet and cute and hang out in dens together and sleep all huddled up…
Jed -You may not know, but actually that's my favorite animal.
Erica – Weird! (Everyone laughs)
Jed – Recent studies have proven bats have actually nursed for other bats, so say, I have little bat babies and a little bat home, and I have to go do something for awhile, or I get killed or something else, the other mothers will stay and take care of…there will be at least one bat that will take care of all the other babies while the other bats…
Erica – So they'll nurse off a different mother?
Jed – Yeah, yeah! There will be a nanny bat, basically, while someone's going to get food. Basically they raise the babies as a community.
Erica – That's super cool.
Sara – We watch each other's cats at least…(laughing)
Patrick – Yeah! We do watch each other's cats! (everyone laughs)
Erica – Do you all have cats?
Jed – I do not have a cat, I can't have a cat, if I could have a cat, I would.
Erica – You all like cats?
Patrick – We love cats.
Erica – Cat People? That's probably why I like you guys!