Nick Cave and the Bad Seeds: Push the Sky Away Review (Three Takes)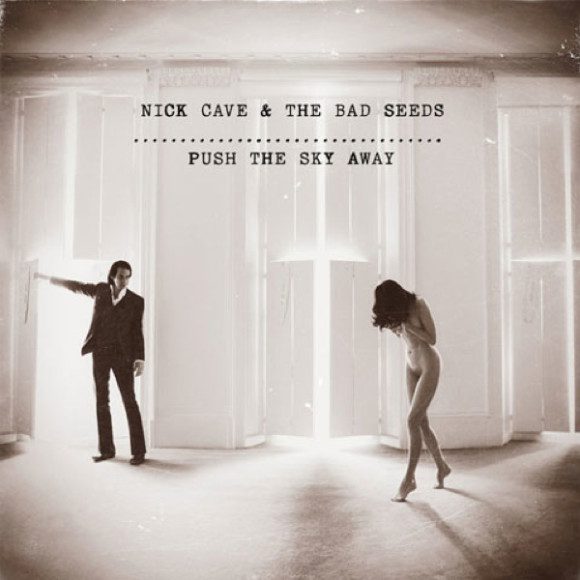 It can be difficult to gain a balanced perspective on an album after reading a single summary of the music. Bias can tilt a review, as can personal taste, history and just about everything else that is unique to the person writing it. So in an effort to offer an expanded perspective in such a medium, here are three reactions, three impressions, three takes on Push the Sky Away by Nick Cave and the Bad Seeds.

Steve Skavnak (@steveskavnak)
84/100
Does anyone set a mood as perfectly as Nick Cave? That answer is no. For ¾ of an hour, Push The Sky Away taunts us with Cave's signature devilish croon, begging the listener to get lost in a tangle of sultry vocals and eerie accompaniment.
Despite it's cringe-worthy spelling, the lead single "We No Who U R" is a gripping reminder that, if he wanted to, Cave could probably eat your face. The eight tracks that follow embody a similar aesthetic, all while showcasing Cave's uniquely dark use of the English language. On the haunting "Jubilee Street," he sneers 'I've got a fetus…on a leash." Not that this line is in any way literal, but you know what? I'd believe him if it were.One of the most intriguing aspects of any Nick Cave record, though, has to be hearing how he's influenced today's shining stars. At least half of Push The Sky Away found my brain wandering, getting equally excited for The National's new album later this Spring. At the same time, you can hear how Dan Bejar's knack for poetic storytelling has been heavily influenced by Cave's.
And come to think of it, I'd be fine if Nick Cave wanted to eat my face. That'd be a cool way to go.
Josh (Reviler)
Over the lumbering bass line and foggy string arrangement of "Water's Edge," Nick Cave sings "You get old and you get cold."  10 years ago it would have been easy to believe Nick Cave when he sang that.  The master of murder ballads, the intensely sublime songwriter who strolled out of the shadows of Birthday Party to craft some of the most haunting songs over the last few decades, Nick Cave was guy who was going to forever brood in the shadows, a place where he was more distant/sad/heavy/cool than the rest of us could ever dream of.  Then came Dig! Lazarus! Dig!! and his Grinderman side project.  Not only was this Cave and company sounding "young" and "hot," it was one of the most scintillating releases Cave or anyone released over the last half decade.
After the testosterone and feedback of those three amazing releases, Cave and the Bad Seeds have returned back to form on the more subdued and dark Push the Sky Away.  It is still great, with Cave's lyrical wizardry on full display and the Bad Seeds sounding as somber and sinister as ever, but for someone like me who fell in love with the louder, more aggressive Nick Cave over the last few years, it can't help but feel a little bit of a letdown.  I imagine as I listen to Push the Sky Away more and more, it will blossom into a record I love, as most of his records have, but after my first half dozen spins it makes me want to pull out his last few records and crank up the volume.
Jon (Reviler)
75/100
I still feel like I am only just getting acquainted with the new Nick Cave & the Bad Seeds' album Push the Sky Away.  The more I listen to it the more I tend to like it – though there are exceptions that may take a little time.  For instance it still feels pretty flat out incongruous to hear Cave lyricizing about the internet and Miley Cyrus under any conditions.  Cave has always seemed to be somewhat impervious to pop culture, so hearing him suddenly awake to realizing it now occasionally comes off a little kitschy. Like seeing Napoleon Bonaparte in a SoCal Mall in Bill and Ted's Excellent Adventure. It's funny because it's irreconcilable. But this is generally an unfair gripe on my part and something I will have to just come to terms with – in fact my logical side believes I should applaud Cave for branching out and trying new things. The id just isn't quite there yet.
Overall Push the Sky Away is a pretty solid album with a number of tunes that I am pretty fond of, including the terrific "Jubilee Street," "Mermaids," and "We No Who U R." The only tune I can't fully reconcile myself to is "Higgs Boson Blues," which I am not crazy about and sounds a little like latter day Bob Dylan doing a spoken word piece about history.  Maybe I will come around to "Higgs" eventually – I have a long history of evolving opinions towards various Cave projects. As it stands today though, I think Push the Sky is solid if a bit shy of amazing.