Review: The New Lines 'Fall In Line' vs 555 'Solar Express'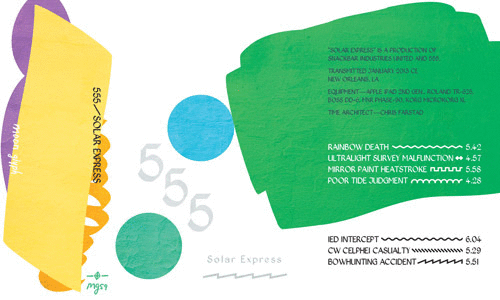 Like the last time I compared and contrasted two Moon Glyph releases (Beat Detectives/Erros Mágicos), this review looks at two of the distinctive sides of the always fascinating coin that is the Moon Glyph record label. While the last review contrasted colorful pysch-guitar music with debauched bliss-house bangers, this review features two groups who, while diverging in the final product, are coming from a similar starting point.
Both The New Lines and 555 use electronic instruments, namely synthesizers, but weave their webs in slightly different ways. On their second LP Fall in Line, The New Lines create a record of ornate, 80's leaning synth pop that shimmers out of the speakers. For those skeptical that synth music can be as verdant and rich as other genres, The New Lines dispense that myth with the 11 immaculate songs on Fall in Line. The lush arrangements and silky smooth melodies could easily slip into parody in other hands, but the group does an outstanding job of creating a collection of songs that float lightly but still pack a punch. While The New Lines stare blissfully towards the clouds, 555 look right past this earth and shoot for a whole other dimension.
Solar Express, the new tape from Food Pyramid member Chris Farstad, is an extraterrestrial romp of ambient synth work. Glitchy and sedated, the seven song collection lulls the listener in and then takes them for a wonked-out modular carpet ride. It is a seductive, gentle journey on the komische highway. The tape is, to me, a perfect embodiment of what I always expect Moon Glyph to represent. 555, and the whole Food Pyramid orbit, is music that to many music "fans" will be left out in the cold because it isn't a quick rush of easy-to-digest enjoyment, but it is the kind of release that get the MG stamp of approval and get sent out to a world that is appreciative of some of the most deep and meditative work being created.
Whether you like the sleek or sublime, Moon Glyph delivers again with these two releases. If you're looking for a more straight shot, check out the warm new-waveish pyschedlecia of The New Lines. If you're looking to zone out for about 45 minutes, the 555 album Solar Express is going to be your ticket to paradise. As is the case with virtually every MG release, both are well worth your time and money.
[soundcloud url="http://api.soundcloud.com/tracks/100918978″ params="" width=" 100%" height="166″ iframe="true" /]
[soundcloud url="http://api.soundcloud.com/tracks/106172644″ params="" width=" 100%" height="166″ iframe="true" /]
[soundcloud url="http://api.soundcloud.com/tracks/105049046″ params="" width=" 100%" height="166″ iframe="true" /]
[soundcloud url="http://api.soundcloud.com/tracks/105049044″ params="" width=" 100%" height="166″ iframe="true" /]