Tara King Th: "Hirondelle et Beretta" Review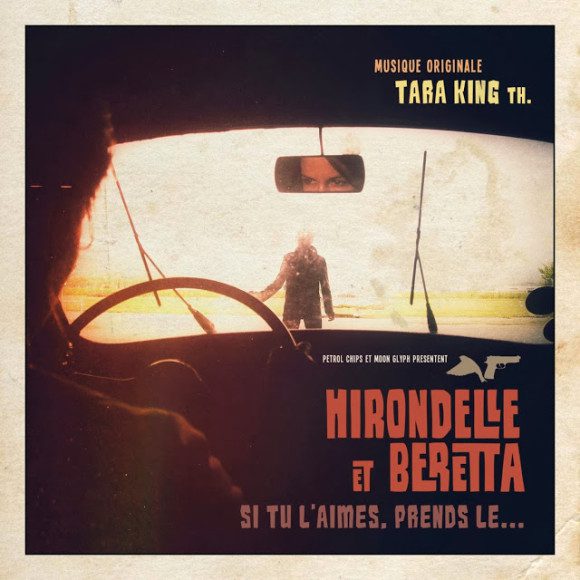 Parisian group Tara King Th made it pretty obvious with their debut album that they are big admirers of British band Broadcast.  So when I discovered that their next album would be a soundtrack to a photographic representation of stylish vintage thriller, I immediately suspected that it would sound like Broadcast's Berberian Sound Studio, which itself was a thriller soundtrack of the same hue. And to a certain degree Hirondelle et Beretta does in fact do that.  But there is also enough of a departure that Tara King Th's execution couldn't possibly be mistaken for Broadcast's.
Berberian Sound Studio took a Giallo sound an filtered it through a lens of distortion and field recordings.  Hirondelle et Beretta skews Giallo as well – though their approach is much more straightforward. It more closely resembles a Goblin score than anything else, but with fewer synthesizers and more baroque accoutrements (harpsichord, organ, bells, flute).  While it styles itself as having a "spy film" sound, it isn't a classic "spy" sound that comes across (despite a few leans in a Bossa Nova direction). There are no tunes here, for instance, that could soundtrack the big chase scene.  You could make a convincing argument for moody noir thrillers (like the work of Jean-Pierre Melville particularly), but you could probably make an even better case for a horror soundtrack.
And while the horror theme seems prevalent, it's also a bit difficult to imagine Hirondelle setting the tone for some Italian gore-fest.  Vocalist Beatrice Morel-Journel's haunting singing gives the sound a much more reserved, haunting tone.  This is the stuff of slowly unraveling mysteries, not knife-wielding psychopaths. Morel-Journel sings melancholy, wordless timbres as often as she does lyrics, and her voice, though beautiful, sounds undoubtedly melancholy and distant. It helps that where she does sing lyrics (like in standout "L'Enquete") she does so in her native French, a language tailor made for moody songs.
Regardless of the specific flavor of this imaginary soundtrack, Hirondelle is a triumph of a sophomore effort.  If it were indeed to accompany a film, undoubtedly it would an interesting one since the notes alone present a pretty compelling storyline. You can pick up the tape today from Moon Glyph Records, and if the fates align hopefully this band will one day make it stateside for a tour.
— Jon