Review: Richard Buckner at the 7th Street Entry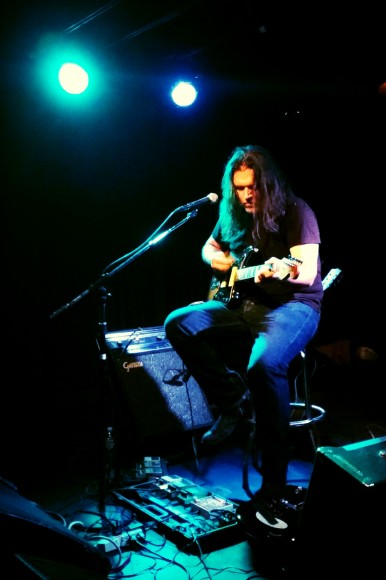 It's weird to see Richard Buckner almost happy. He's usually taciturn and distant, but in front of an appreciative and rapt crowd at 7th Street Entry on Sunday night, he ripped through an energetic, powerful solo set. Apparently, Buckner played a shitty, empty show the night before. "I played Iowa City last night," he said, "but the pinball machine started mocking me so I stopped my set early." Iowa City's loss was Minneapolis' gain – Buckner was engaging and (almost) gregarious, and played one of the best shows of his career.
To be fair, Richard Buckner is always an intense live performer. He's a big guy (I've heard him described as "bear-like" more than once) who looks like he could effortlessly crush his guitar and the first few rows of fans. Sitting on a stool and surrounded by amps, guitars, pedals, and a Suzuki Q Chord (some kind of digital autoharp instrument), he crashes his voice into the mic, at turns growling and whispering. His eyes are closed and he slumps over his guitar, picking and strumming furiously. Normally, Buckner lets his oblique lyrics speak for him.
On Sunday, though, Buckner chatted between songs, telling a funny story about visiting the Goodwill store in Fairfield, Iowa (apparently, there's a 9-foot fiberglass marlin for sale there for $100, if anyone wants to run down and get it) and even explaining the background for his songs. About "Escape" from his 2011 album "Our Blood," he explicated, "this song is a scene from my mind from my little town in upstate New York and in this shittly little bar called the Shamrock." I've watch Buckner for a decade and seen a dozen or so shows, I've never heard him talk so much. It was fantastic.
He repeatedly thanked the audience for coming out, saying, "thanks for leaving your house tonight. I hate leaving my house, so I know what it's like to be here tonight." Near the close of the show, Buckner paused between switching guitars and said, "no, really. Thank you. You've restored my… well, I don't have faith, but you've restored something."
Openers Ryan Holweger and Laulu were both solid. Holweger, clearly influenced by Buckner, strummed his way through a strong set of acoustic songs, backed by a drummer/mandolin player. Iron Rangers Laulu created an atmospheric folkie vibe during their set, reminiscent of some mashup of Cloud Cult and Sigur Ros.
–Atom Robinson, @atomrobinson