Chris Forsyth & The Solar Motel Band: Intensity Ghost Review (Show Tonight!)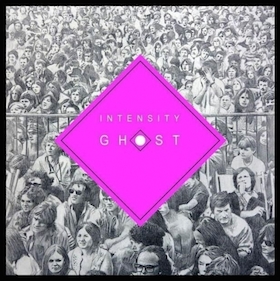 After really capturing a lot of folks attention with his outstanding four-part instrumental suite Solar Motel, Chris Forsyth hit the road with the band that would eventually take the name of the album. After honing their chops, the newly-minted group have their first collaborative LP in the can, and it is a doozy. Intensity Ghost is a bit less spacey than Solar Motel, but it is as powerful and evocative as the last LP. It is five songs spread out over nearly 40 minutes, and it is an epic journey that somehow finds the sweet spot between Television's starry-eyed guitars, warm psychedelia, slide guitar laden Americana and guitar-hero Krautrock. It pushes and pulls in so many directions that it should fall apart within the first minute of the LP, but in fact it is a record that somehow gets better with each listen.
The searing guitar leads can, and could, be the focus of all of the attention, but Forsyth's band hold their own on the LP. The baselines are fat, the slide guitar is piercing and the keyboards are lush without being distracting. It almost was overwhelming on the first half dozen spins, but it offers something new each time you listen. It is a free-spirited album that lets its hair down, but doesn't ever feel like their are unnecessary parts. The jams build to crescendos, the instruments weave around each other, and the grooves are present without overpowering the musicianship.
To me, Intensity Ghost is the dust and earth after Solar Motel orbited the stars and moon. It may not venture as far, but it goes to a much deeper place. It is an album that you can feel the sweat dripping down onto the amplifiers as the band confidently charges towards their long-haired nirvana. While Intensity Ghost is another winner from Forsyth, you still are best advised to catch his magic in the live setting. Catch Forsyth and his crack band tonight at the 7th Street Entry with great local support from openers American Cream & The Ventures Cover Band. Listen below to Intensity Ghost opener "The Ballad of Freer Hollow," grab the whole LP from No Quarter and see The Solar Motel in the flesh tonight in our very city.
[soundcloud url="https://api.soundcloud.com/tracks/158590584″ params="auto_play=false&hide_related=false&show_comments=true&show_user=true&show_reposts=false&visual=true" width="100%" height="450″ iframe="true" /]