Live Blog: Drone Not Drones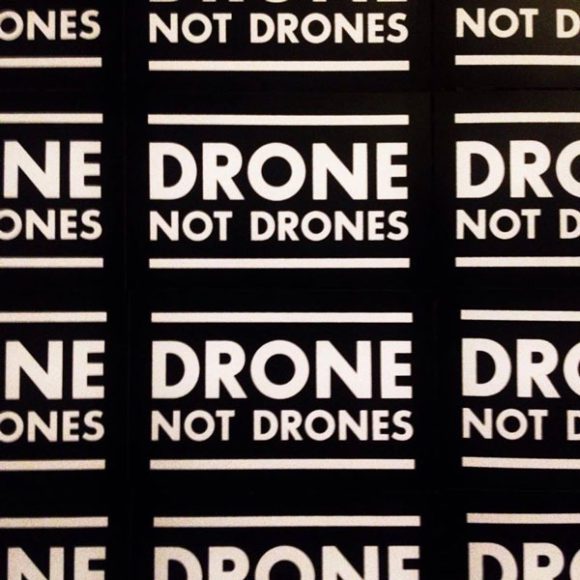 8:45 – Heading out soon. Ready to drone.
9:04 – We've landed.
9:06 – Nona Maria and her multi-generation Anonymous Choir are up. Grouper-esqe waves of haunted call and response vocals and thick synths wash through the speakers. Hypnotic.
9:14 – $5 Indeed beers. Jackpot
9:21- Lots of kids here, which us cool.
9:22 – I think a few people are already asleep on the floor of the Cedar. C'mon people, it is a friday night.
9:32- transition to Gaelynn Lea, who goes right into beautiful solo violin. Classical gone drone. Or drone gone classical?
9:34 – new light show featuring colorful liquids on an old projector. Seems like a lot of work.
9:38 – Side note: kudos to all the pros from the venue to the stage to the sound who make a 28 hour concert happen on the fly. Well done.
9:43 – Lea's loops sound like a ghostly orchestra and are spellbinding. So good.
9:53 – Even the whistling is majestic
10:02 – Alan Sparhawk joins and we have a Murder of Crows set
10:07 – a gentle power between the two, like a million pounds of feathers crushing you slowly. Violin and guitar weaving between each other into swelling waves
10:22 – now fading into solo Sparhawk om his electric guitar
10:31 – more subtle than aggressive, Sparhawk meanders through the gentler side of ambient electric guitar
10:41 – Paul Metzger now on stage with his bowed banjo to blend with Sparhawks minimal guitar work
10:46 – some of the most spooky, disjointed music so far
11:06- no matter how many times I've seen Meztger, his music always is captivating and challenging.
11:11 – he is coaxing scary yet symphonic sounds out of his 12-string banjo with a violin bow. Cool stuff
11:27 – Steve Hauschildt, who has put out some of my favorite ambient records over the last few years, is almost all set up. Formerly of Emeralds, it should be really cool to hear his set.
11:33 – we've reached the point of the night where a grown man is on his hands and knees with his forehead on the floor spinning in circles. I'm guessing he won't make it all 28 hours.
11:43 – As is entirely expected, Hauschildt creating whole sonic universes with his rack of synths. Sounds lush and gigantic.
11:52 – rolling on floor guy just strolled on stage and started hitting mics and piano. Probably not super safe. Maybe the wildest thing to ever happen at Cedar? I feel like he is running close to being first person kicked to be kicked out of a beneift show. Whoops!
11:59 – Hauschildt is still killing it..
12:12 – just pristine
12:16 – it's like an adult day care in here with the number of people under blankets and sleeping bags on the floor. I can hear snoring.
12:26 – after a wonderful set by Hauschildt, there is a transition starting to local trio Noise Quean Ant
12:32 – as great as everyone had been, and acknowledging all the cool music to come, it is becoming clear my time here is wrapping up for the evening. If i had packed camping gear like some of these folks it may be a different story, but alas I will be choosing my own bed for sleep. I hope to be back in the morning.
Drone on.
9:12 – Back in the saddle
9:15 – a bit jarring to come from sunny (albeit freezing cold) outside to pitch dark space, with pysched out projections swirling on the walls
9:17- Robust Worlds distinctive reverb-drenched anti-folk is a welcoming sound.
9:21 – the guy snoring when I left last night is still here. Trooper.
9:24 someone is snoring louder than the music, which is too bad because Robust Worlds sound fantastic
9:32 – the first accordion I've heard as Nightingale #3 start up
9:36 – coffee is free if you stayed the night. I'm old and soft, so sleeping in my own bed and paying $2 is well worth it to me…but cool of the Cedar
9:38 – Nightingale #3 move to twitchy piano and hand drums
9:43 – add in some singing…a rich tapestry now of all three performers
9:48 – so Dosh is performing a solo piano set somewhere, with occasional noisy electronic freakouts, but I can't see where he is in the dark venue. Kind of surreal.
9:55 – found him. He's playing the old Cedar piano in the corner of the stage, with a synth balancing on top. Awesome