Royal Brat: "Eyesore" Review / Release Show 2/23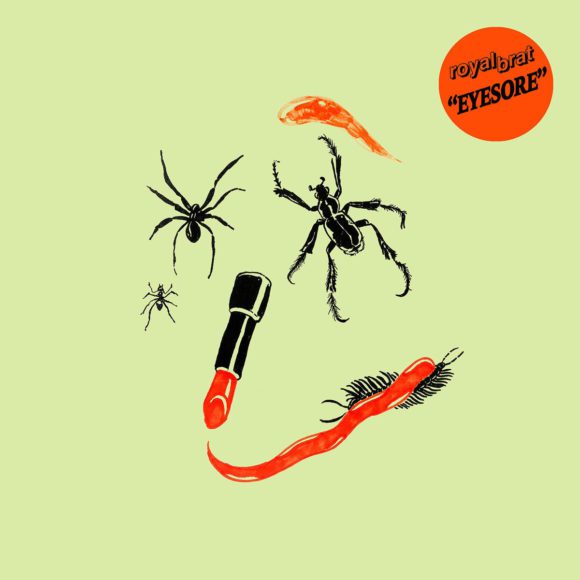 Eyesore, the newest record from TC queer punk quartet Royal Brat, contains a pretty powerful message. And you should listen to the whole thing (because its great) but the spoken word lyrics of final track "Camisole" are also fairly instructive:
"The truth about strength just like gender, is that in reality you are much more than just your physical form. You don't have to prove anything to anyone but yourself. The right to self-determination doesn't require permission. It predates your first breath. You had it even before you could advocate for yourself. Be assured but tender. Don't let this sharp world cut you apart. Listen the way you want to be heard. Destroy your boundaries as often as you create them."
That's pretty compelling stuff – and its by no means exhaustive. Lead vocalist Alex Uhrich has an album's worth of fiercely empowering lyricism, and it's delivered via a whirlwind of manic, punk energy courtesy of bandmates Clara Salyer (guitar), Shannon Boyer (bass), and Conor Burke (drums). Eyesore is Royal Brat's first proper full release album, and it comes with what feels like enough energy to blow the whole regressive side of society away (if only it were that easy).
The album contains 26 minutes worth of poignant reflections on topics such as heartbreak, sexual assault, and gender dysphoria, all packed into high-dosage 2 minute pills. It's combative without being macho. Political without being preachy. And hey, at times it's kind of fun too (for instance in "Snowball"s send up of the popular sporting-event chant "be aggressive, be, be aggressive").
Eyesore feels like it's been a long time in coming, in more ways than one. Not only has Royal Brat existed for the last few years as one of the TC's best kept secrets (who you could only listen to live or via their long sold-out demo cassette) but they are also delivering a message that needs to be heard. They certainly aren't the only ones doing so, but the more voices added to the chorus will mean a better chance of the message getting across.
Royal Brat will release Eyesore this coming Friday (2/23) at Moon Palace Books in Minneapolis (info here). You can also pre-order it here from Moniker Records.
— Jon