Local festival Heavy Air returns for a second edition March 1st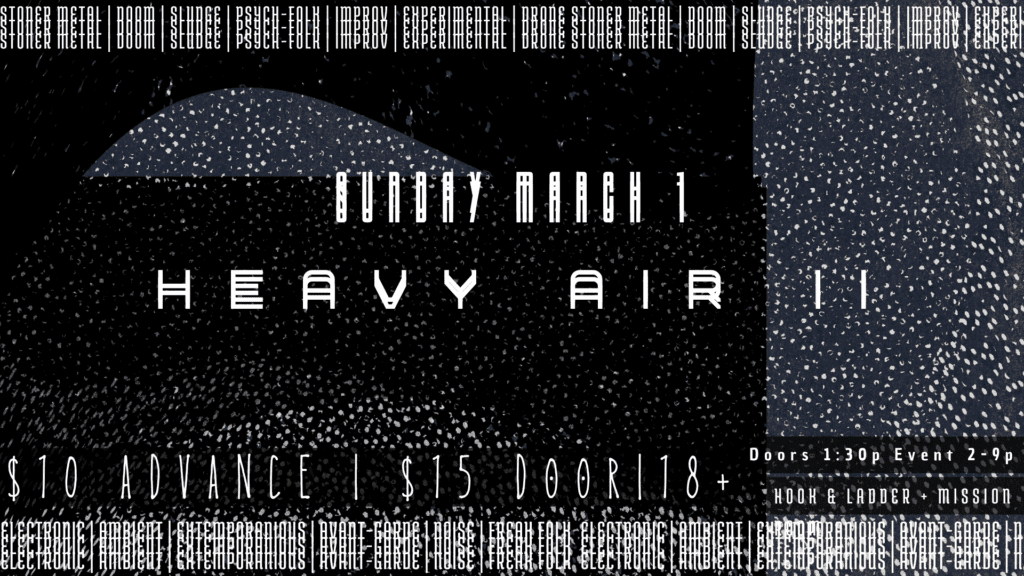 We've been lucky here in the twin cities to have a number of festivals over the years to focus in our thriving music scenes that tend to be on the fringes. Last year saw Heavy Air's first edition at the Eagles Club span three rooms and included local acts from all over the spectrum of heavy and improvised music. This year brings it back together with a couple returning acts but mostly all new lineup to the Hook and Ladder theater. Stage I in the Hook and Ladder theater brings together some of our local heavy music scene including the sludge metal of Serac, haunting doom from Livid and a secret co-headliner. Stage II offers a wide variety of experimental, electronic and more sounds in the Mission Room. Performances range from finger style guitar (Matt Sowell), tape collage (Final Seed), modern composition ( Dameun Strange) and much more. Heavy Air skips the traditional bill hierarchy by providing an all day event that weaves together the artists into their own set lengths and a natural flow of music.

– Adam
Stage I (Hook and Ladder Theater)
– Metal, Stoner, Doom, Sludge, Sci-fi –
Hrad Vallis : https://hradvallis.bandcamp.com/
TRITA: http://trita.bandcamp.com/
Serac: https://seracmusic.bandcamp.com/
Inhvmanity https://inhvmanity.bandcamp.com/album/live-at-the-hex-10-14
** Mystery Co-Headliner **
Livid: https://lividmpls.bandcamp.com/
Stage II (Mission Room)
Ambient, Modern Classical, Electro-Acoustic, Electronic, Freak-Folk, Experimental, Improvisational, and Sound Art.
DJ RROWR – https://www.kfai.org/program/uneasy-listening/
Matt Sowell – https://mattsowell.bandcamp.com/
Morgan Schoonover – https://www.morganschoonover.com/
Final Seed – https://roundbalerecordings.bandcamp.com/album/s-t
Dameun Strange – http://www.dameunstrange.com/
Bella Yaga – https://bellayaga.bandcamp.com/releases
Slow Clarity – https://slowclarity.bandcamp.com/
A Constant Cough – https://aconstantcough.bandcamp.com/releases
Alluvion – https://alluvion.bandcamp.com/
John Saint Pelvyn – https://johnsaintpelvyn.bandcamp.com/

Heavy Air II starts at 2pm on Sunday, March 1st. Tickets available here and more info here.
Writer / photographer / Reviler co-founder