Gorillaz Plastic Beach Review (4 Takes)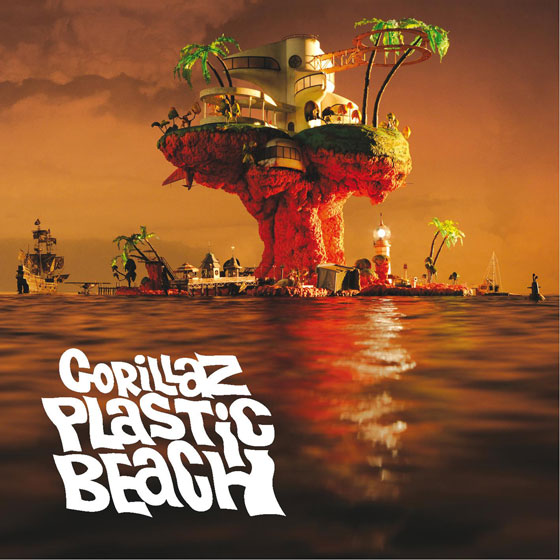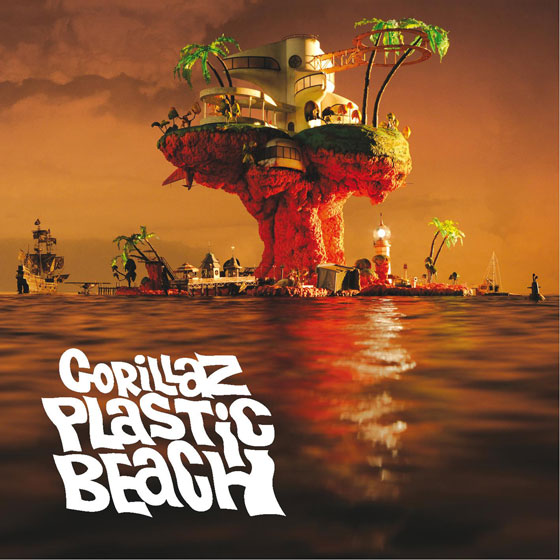 70/100 
Okay, this might be a stupid, rambling experiment, but I'm gonna put the record on and just write whatever pops into my head. Let's start shall we. 
"Orchestral Intro"
Pretty cinematic opening. Are we going to a plastic beach or Jurassic Park? 
"Welcome to the World of the Plastic Beach"
Ah yeah, here comes the funk. Nice beat. Stupid autotune. What the fuck is Snoop Dogg doing here?!  Snoop Dogg's rapping is more lazy sounding than ever. Great instrumental energy on the outro. 
"White Flag"
Bongos. Flute solo! This is nice. Bump that shit. Hot. Nice garage beat. I like African influences. Solid rap style from Kano and company. There's the flute again. I missed you flute. 
"Rhinestone Eyes"
Blippy. Is that a word? Anyway, I like the vocal distortion on Damon. Ah shit yeah, space funk! Superb layering and song construction. Angelic background vocals a nice touch. This is a keeper. Fuck yes, sing it kid. Best track on the album! Excuse me while I bust into an awkward white guy dance. 
"Stylo"
Oooh, I like the deep bass. Mad Max? Mos Def, yes! I like his dusty vocals. He sounds like he's singing through an old radio. Sweet groove going here. Is that Erland Oye? Nope, Damon Albarn again. Here's Bobby. Mr. Womack's scratchy voice sounds good. This track needs more Mos Def though. 
"Superfast Jellyfish"
De La Soul and Gruff Rhys. Cool. This song is silly. I'm hungry for cereal all of a sudden. Shit, this chorus will be stuck in my head all day now. Someone's taking a page out of Doom's book. Reminds me of that Meat Shake record by Ugly Duckling. Ditch the autotune. 
"Empire Ants"
This record is all over the map. Funk to bubblegum rap to now a slow jam? I've forgotten how pretty Damon's voice is. Shit, what's happening? I've fallen down the Scandinavian electro rabbit hole. Little Dragon guest vocals just sound okay. 
"Glitter Freeze"
I love handclaps. Looks like we're getting funky again. Soccer hooligan style. What the hell is a glitter freeze? That was Mark E. Smith guesting? 
"Some Kind of Nature"
Woah, Lou fucking Reed!? It must be nice to be Damon Albarn. He can get anyone he wants. Who's guesting up next, Sir Paul McCartney? Lou's singing sounds off. He's not exactly the world's best vocalist, but it don't sound right. I like the bouncy chorus though. Nice save from Damon. 
"On Melancholy Hill"
Oooh, this groove is sounding great so far. Well "Superfast Jellyfish" is no longer stuck in my head. Damon again sounding solid on vocal duties. Background vocals a nice touch too. I feel like I'm dancing on a cloud. Second best track of the record! 
"Broken"
Spooky. Great break beat. Kinda bored by the rest. More unnecessary autotune. 
"Sweepstakes"
Jungle? Yes, Mos Def is back. This track has the blips and synth sounds I usually dig, but it's just not coming together for me. Not melding at all. Damon needs to lay off the Jazz and stop wasting Mos Def's talents. 
"Plastic Beach"
Time for the titular track. WOAH, Mick Jones and Paul Simonon as guests!!! This is gonna be awesome, I hope. Again, I wish I had Damon Albarn's influence. Okay, the chorus is kinda catchy. What's with the helium vocals? WHAT. THE. HELL. You have half the Clash reuniting for the first time in almost 30 years and that is the fucking failure pile of a song you make. WEAK! 
"To Binge"
It's Little Dragon again doing a slow jam. I don't really care. I'm still upset about the last song. 
"Cloud of Unknowing"
Bobby Womack's back. I like the subtle orchestration in the back. I'm starting to finally calm down. 
"Pirate Jet"
Sweet organ riff. Great chorus to sing along to! Wait, the song's already ending? No I want more. Damn. Still not sure what I think of the album. It's all over the place stylistically, but I'm sure it'll grow on me with future listens.
     –Mojo Marshall (switchbladecomb.com) 
67/100
I realize that Gorillaz certainly started out as a "super group" initially, but that still didn't really prepare me for the sheer volume of guest artists that are strewn across their 3rd album 'Plastic Beach'. Even though I've never been the biggest Blur fan in the past, i'd still much rather hear Damon Albarn sing than Snoop Dogg's opening salvo rap or Lou Reed's phoned in vocal take. About the only guest spot on this album that actually works for me on the album is Mos Def & Bobby Womack on the first single 'Stylo' (and to a lesser extent Gruff Rhys & De La Soul on 'Superfast Jellyfish'. With that out of the way, it's no surprise that my favorite song on the album is 'Rhinestone Eyes', a track that Albarn sings lead on. I've always kind of felt Gorillaz were a great singles act, but for the most part were more enjoyable on a superficial/stylistic level rather than their actual musical output, and this album proves no different for the most part. No question that it's a fun ride, but it's one that feels much more like a mixtape than an actual cohesive record. Fans of the band's previous records will find tons to love on 'Plastic Beach', and many might even find it their best album to date. Unfortunately for people like myself, they're still an act that I remain very skeptical towards and will just continue to admire from afar.
     –Kyle Matteson (Morecowbell.net)
  83/100
Gorillaz albums are always a little bit all-over-the-place, for better or worse, and "Plastic Beach" is no exception. It lacks, however, the knock-out singles that the previous two albums were able to utilize as tent-posts; rather than two monster hits and a bunch of other (pretty good, if uneven) songs, "Plastic Beach" boasts four or five just-short-of-great tracks… and a bunch of other songs. But perfect cohesion was never what Gorillaz were about, and "Rhinestone Eyes," "White Flag," "Superfast Jellyfish," "Empire Ants" and "Melancholy Hill" are all very solid entries into the virtual band's catalog. The songs here retain Damon Albarn's world-weary smart-ass voice, and though the familiar themes of consumerism, environmental decay and near-future dread are omnipresent, there's a glimmer of hope as well.
While not quite as immediately thrilling as "Demon Days" (Danger Mouse is missed), the album still manages to be both enjoyable as pop music and respectable as genre-smashing experimentation. It's not the classic some fans were anticipating, however, and its more indulgent moments, over-reliance on tinny synthesizers and overall lack of direction keep if from being something more than the sum of its parts. "Plastic Beach" could be a good idea's respectable dead end, or it could be a small detour on a larger journey. Either way, it's the least-engaging Gorillaz album so far… and still manages to be a lot of fun.
      –Kyle "Guante" Myhre
71/100
What to make of the fact that an artist you have respected throughout their career seems to now be making mix tapes?  Damon Albarn crafted some of my favorite pop ditties from the mid to late 90's with Blur, but he seems to have nicely put that persona to bed.  Starting with Snoop Dogg and ranging from Bobby Womak to Lou Reed to half of The Clash, Albarn at times seems to be doing everything but singing pop songs.  While the Gorillaz project is something that I have always liked, I am starting to feel like it has run its course.  Albarn clearly is someone massively creative and always trying something new, but it feels a little bit like his latest project has lost a little steam. While I wouldn't mind if this was truly a side project he was working on between other, more focused products, I can't help but feel like he is taking up time with getting his friends to sing on his cartoon album than really getting shit done. While I am glad he isn't grasping to any semblance of glory like his old rivals in Oasis, I wouldn't mind a little blast from the past, if for nothing more than to hear a whole album of him singing some songs.
     –Josh Keller