Killer Mike: R.A.P Music Review (Four Takes)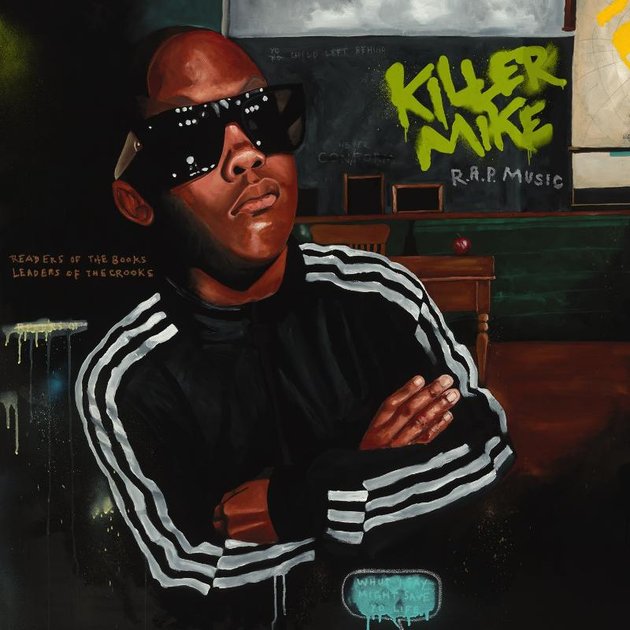 It can be difficult to gain a balanced perspective on an album after reading a single summary of the music. Bias can tilt a review, as can personal taste, history and just about everything else that is unique to the person writing it. So in an effort to offer an expanded perspective in such a medium, here are Four reactions, Four impressions, Four Takes on R.A.P Music by Killer Mike.

Kyle Tran Myhre (Guante)
It'd be easy to judge this album, "on paper," and love it without really listening to it. An unjustly overlooked underdog rapper with a mean political streak (and the street cred to back it up) hooking up with an underground rap legend, one of the most unique and talented producers ever to emerge from indie hip hop—it's Def Jux meets the Dungeon Family, NYC sewer-rap meets the Dirty South, a new millennium version of the Ice Cube/Bomb Squad collaboration. How could it not work?
I'd say that the album just about lives up to the hype. Mike has always been a good MC knocking on great's door, and while there are a few "look at me" moments on this album where Mike flexes and shows off his technique, he really shines on substance-oriented tracks like "Reagan" and "Anywhere But Here," where he slows down and just spits from the heart. Overall, he still has a few too many filler lines and awkward punchlines, a few of his hooks fall flat, and his hyper masculine schtick sometimes bumps up against his political content, but he's still a monster of an MC with as good of a combo of content, ability and voice as anyone in hip hop.
El-P is a surprisingly great match, too. The cinematic scope and density of his production is as impressive as always, and Mike has a delivery powerful enough to cut through the noise. After a few listens, I think I prefer this album to El's new solo album (at least musically); it feels like working with another artist has really focused his production, stripping away some of the longer instrumental breaks and more experimental sounds without losing any of his sonic personality—it's just trunk-rattling, neck-breaking, beautiful rap music.
Michael Herriges (Midwest Broadcast)
88/100
"This album was created entirely by Jaime and Mike" is the statement that opens "Jojo's Chillin," an essential track on Killer Mike's excellent new album, R.A.P. Music. Seeing Mike and El-P team up for a whole album is a prospect that would have seemed unfathomable a few years ago. But, the pairing actually makes a lot of sense. Both artists share influences (the two have frequently name-dropped albums like Ice Cube's AmeriKKKa's Most Wanted in recent interviews) and address similar themes and topics in their music. Furthermore, Killer Mike, despite putting out increasingly strong solo albums, has yet to issue that career-defining statement album, while El-P is a master of crafting start-to-finish cohesive projects.
Lyrically Mike is as razor-sharp as he's ever been. On album-centerpiece "Reagan" Mike is name-checking Ronald Reagan, the Bushes, Clinton, and Obama as "just another talking head telling lies on teleprompters" and discussing the racist implications of the War on Drugs. There's enough topical content here for a sociology dissertation, but the album never comes off as too dense or preachy. Plus Mike is just as potent on the less-serious tracks like "Go!" and "Southern Fried," where his second and third verses contain some of his finest technical delivery on the entire album.
El-P brought his A-game for R.A.P. Music, too. El-P was making his solo album Cancer for Cure at the same time he and Killer Mike were collaborating, so he could have easily taken throwaways from his solo work and gave them to Mike. This is not the case. In an interview with The Fader, El-P stated, "I knew what I wanted to bring for Mike and it wasn't what I wanted to bring for myself." He toned down his signature futuristic low-fi boom-bap sound to craft excellent beats that push Mike slightly out of his comfort zone. And while the styles switch from song to song — the industrial thump of "Untitled," the funk of "Ghetto Gospel," and the arena-ready synths of "R.A.P. Music" that would sound just as fitting for Watch the Throne — the album maintains a sonic cohesion throughout that holds everything together. (Special shout out to local legend DJ Abilities, who did all the scratching on the album.)
Killer Mike and El-P stay focused throughout to keep the entire album free of any filler, and as soon as the album ends, you find yourself returning for a repeat listen. In the end what we've got is one of the leading candidates for rap album of the year, Killer Mike's first undeniably great solo album, or maybe just what he describes R.A.P. Music as in its title track: "What my people need and the opposite of bullshit."

Ali Elabbady (Background Noise Crew, Egypto Knuckles)
100/100
When you got El-P as the main producer behind your record, you better come with some interesting ideas and things to the table.  Killer Mike, having had 5 records to his name, delivers that promise in spades on "R.A.P. Music," which not only places his fury and intensity on the mic in the proper spot, but he rises to the occasion and then some, be it delivering a punishing political critique on "Reagan," and "Untitled," or going toe to toe with T.I. and Bun B on the albums ferocious single "Big Beast." Elsewhere he also delivers wonderful, detail rich stories on "Don't Die" and also still manages to flex his double time muscle on "Go!" with some awesome scratches thrown in by Minneapolis' own DJ Abilities.  We've been blessed this year with a lot of great releases, but if this isn't in your album of the year contenders, you are sorely mistaken.
Jon (Reviler)
92/100
It's pretty rare for me to love a rap album all the way through as much as I have Killer Mike's new record R.A.P. Music. It's not that I don't love rap – I do, but more so than any other genre (at least in my opinion) rap is frequently subject to inconsistency.  I don't know why that is – whether it's a bad skit, a poorly thought out guest appearance, or just a plain bad song – just about every hip hop album that I know of has its Achilles Heel.  What makes R.A.P. Music so amazing to me is that if it has a fatal flaw, I certainly can't hear it.
Lyrically Mike is a chameleon. At times he sounds like he's fully embracing his Southern roots.  At others, he sounds like an ice-cold East Coast wordsmith or even a West Coast gangsta rapper. At all times though he is lyrically flawless – never getting lazy, never relying too much on the beat to carry a song.  R.A.P. Music is angry without sounding out of control. It's political without being unintelligent.  Its humorous without seeming like a joke.  Killer Mike has been in the business of producing good albums for years but with R.A.P. Music he's gotten as close to perfection as anyone else in the game.  OK, so maybe following up "JoJo's Chillin" with "Reagan" sends a bit of a mixed message (in the space of two songs he seems to both embody as well as discredit the playa lifestyle) but since both songs are stone cold jams it is easily forgivable.  I am ready to put R.A.P. Music up there with the greats and for me at least, that is a pretty exclusive list.