The Gaslight Anthem "American Slang" Review (Four Takes)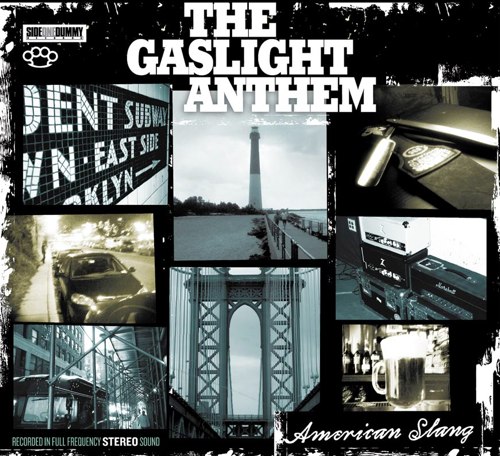 It can be difficult to gain a balanced perspective on an album after reading a single summary of the music. Bias can tilt a review, as can personal taste, history and just about everything else that is unique to the person writing it. So in an effort to offer an expanded perspective in such a medium, here are four reactions, four impressions, Four Takes on American Slang by Gaslight Anthem

Howard W. Hamilton III    (Red Pens) 
70/100
New Jersey boys Gaslight Anthem's new album of commercial punk "American Slang" is a little too safe and hit oriented to be called anything close to punk as their bio proclaims.   I hear strong Springsteen influence and blatant Social Distortion worship going on here.  I like how I can tell these guys love music and classic rock and must be huge fans of so many things rock.  This is the perfect music for stretching your earlobes to or getting a tattoo maybe.  It's trying so hard to be "blue collar"  but I am sure these guys are rich by now and it comes off as poser-ish to new listeners such as myself.   The production is huge and sounds like it's trying way too hard.   The lyrics will inspire you to go bowling in a wife-beater.  If you like mainstream "punk" like Green Day or shop at Hot Topic once in a while this record will make you cry it's so perfect but perfection just equals boring sometimes.

Richard Gill (Switchblade Comb)
75/100
I'd like to start by saying that I think Gaslight Anthem's last release, The '59 Sound, is a fantastic album and hands down my favorite record of 2009. The production was great, the artwork was spot in fitting with the theme of the album, and Brian Fallon perfected his Quentin Tarantino style of songwriting, taking little bits of his influences (rockabilly, Springsteen and Tom Petty style rock, old blues, 60's soul and R & B) and combining it all into a record that you couldn't help but love. He wasn't reinventing the wheel by any means but he was reminding us how awesome it was.
And therein lies the problem with the new album. The '59 Sound was such a leap forward in songwriting for the band that American Slang just sounds phoned in, almost like it's filled with tracks left off the previous record.
 
That's not to say it's a bad album, there are definitely some high points here. The title track and "Stay Lucky" are a great way to kick off the record and "The Queen Of Lower Chelsea" is a great mid-tempo cut, but I find myself getting bored with the rest of the songs. It's all just too same-y sounding to me.
 
I guess I was hoping that they'd take the best parts of The '59 Sound and build off of those to make an even better record, much like Against Me! did with White Crosses (you can argue with me if you want but that is is a fucking great album).
 
To quote my mom when I came home drunk in 10th grade, "I'm not mad, I'm just disappointed." 

Jon Behm, Reviler
48/100
 What is it that people like about the Gaslight Anthem exactly? Is it the hackneyed Springsteen lyricism? The worn out classic rock guitar riffs? The singer as poetic workingman motif? Honestly I just don't get it. I didn't get the '59 Sound and I get American Slangeven less. The new material sounds like a Springsteen parody band that replaces the Jersey shore with the ubiquitous clichés of New York City. And rather than updating the Boss's sound in an interesting way (like the Hold Steady does for instance), the Gaslight Anthem pretty much just rely on angsty emo-tude to carry their sound. I realize that I am probably in the minority in my assessment – for reasons I can't begin to imagine many people seem to actually love this band. Perhaps I wasn't born with the right circuit necessary for this stuff to actually resonate with me. Honestly, I only have to listen to about thirty seconds of The Gaslight Anthem's music though to realize that it isn't a circuit that I really want to have.

Josh Keller, Reviler
63/100
When I heard, and liked, the Gaslight Anthem album '59 Sound, one of my first thoughts was that this was music that I typically would not like. I was surprised that songs like the title track and "Great Expectations" really resonated with me, especially considering they teetered precariously on the emo rock threshold, although I felt there was enough there to keep them from falling into that trap. That can't be said for their follow up album American Slang. The Springsteen meets punk that actually worked on their album sounds cheesy and phoned in and is exactly what I expected when I first heard the band a year or so ago. I don't know enough about them to know which album was an aberration and which was their true style, but I do know that American Slang fulfills all of the bad stereotypes that the band seemed to mostly avoid on their last record and is an album that is a non-starter for me.