50 Songs That Poliça Should Cover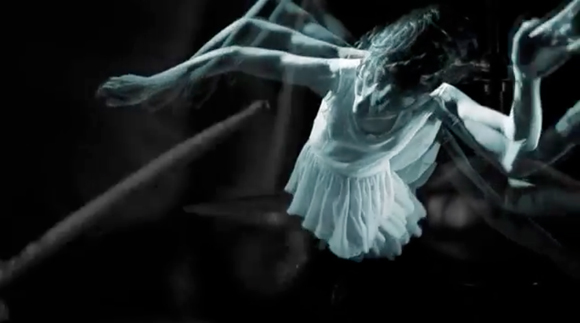 In the Twin Cities, Poliça is currently the slickest thing since green-painted bike lanes. The group—comprised of music community veterans Channy Leaneagh, Drew Christopherson, Ben Ivascu, and Chris Bierden—has rocketed in popularity in the half year or so they have been playing together, which culminated in a sold-out Valentine's Day album release show for their debut, Give You the Ghost. Very impressive.
These types of mega-events tend to warrant some pandering to the impressionable crowd. (Us included. Who doesn't love a happy dose of sentimental emotional manipulation?) Thus, the tasteful cover song.
We asked members of the local music community to share the songs they'd like to hear Channy and company cover during the big show.
Of course, we also want to know what songs you'd like to hear Poliça cover—so leave your suggestions in the comment box.
(Here is a Spotify playlist of most of the songs on the list—listen while you read: Reviler.org presents 50 Songs That Poliça Should Cover. Also, you read our review of Give You the Ghost and listen to a couple of songs off of the album.)

Jon Schober (The Current)
Captain & Tennille – "Love Will Keep Us Together"
Replace the clanky keyboard sounds, slow it down by half, auto-tune it all, and have the guys "do-do" the backup vocals. You'll see what I mean.
Holy Fuck – "SHT MTN"
The new rendition would be a little softer with Channy's blipped spelling of "H-O-L-Y-F-U-C-K." I imagine the live performance of this getting violent.
A Place To Bury Strangers – "To Fix the Gash In Your Head"
"I want to take you down," "Kick Your Head In," "I'll make you feel my sorrow." 'Nough said. Channy would then need to jump from five stacked monitors and blow the power in the venue (which is what happened when I saw these guys in Texas).

Josh Keller (Reviler)
Brian Eno – "And Then So Clear"
I wanted to choose "This," the album opener from the 2005's Another Day on Earth, but the warped vocal shenanigans of "And Then So Clear" just fits too closely with the sound Poliça is creating to ignore.  I probably could fill this whole list with Brian Eno songs they should cover. (. . . Maybe Turf Club New Year's Eve cover show 2012?)
Peter and the Wolf – "Safe Travels"
A song that I love that probably would have been a better fit for Channy's time with Roma di Luna. The hushed melody and plaintive lyrics would, in my estimation, sound great painted with a lush electronic brush and sung, preferably sans vocal whitewash, in Channy's songbird vocals.
John Maus – "Hey Moon"/"Believer"/"Cop Killer"/"Keep Pushing On"
Any of these songs from Maus's standout 2011 LP We Must Become the Pitiless Censors of Ourselves would fit into the musical style of the band, and I think both could take on a whole new dynamic when you substitute Maus's madman baritone with Channy's much more serene vocal styling.
Games – "Strawberry Skies"
This song was my top track of 2010 and found the band (now called Ford & Lopatin) creating a slinky electro-pop that breathes funky life into a chilly genre. Laurel Halo's vocal turn on this track is a stone cold classic, but I am fairly certain Channy could pull it off.
Pure X – "Easy"
Another song that matches well with the band's aesthetic. Pure X have been one of the best atmospheric pop groups over the last few years, and this song—one of the best they have released—would be a really good fit.

Zoe Prinds-Flash (Site)
Michael Jackson – "Thriller"
The Replacements – "We're Coming Out"
Blackstreet – "No Diggity"
69 Boyz – "Tootsie Roll"
Relevant video:

Sage Dahlen (Cedar Cultural Center)
Low – "Little Argument with Myself"
Maybe the reason it is so hard for this fellow to count stars is because they're wandering…
Soundgarden – "Black Hole Sun"
To replace the D'Angelo version that I would like to remove from my consciousness forever.
Gotye – "Somebody That I Used to Know"
It might just be me, but I think this seductive/sad tune could really work with Channy's croon and some auto-tune.
A-Ha – "Take On Me"
Self 'splanatory.

Jon Behm (Reviler)
David Lynch – "Good Day Today"
While "Pinky's Dream" might be the more obvious Lynch choice, considering it features female vocals (Karen O's), but I think that "Good Day Today" sounds more like a Poliça song. In fact it wouldn't take a whole lot of imagination to pretend that this song is actually Lynch covering Poliça.
Janelle Monae – "Sir Greendown"
This is a sweetly beautiful song that I would love to hear Poliça take in a darker, grittier direction. The dreamy synths could easily take on a colder, more ominous tone, and Channy's vocals would fit it perfectly.  It is a post-apocalyptic robot love song after all, so why not make it sound more like one?
The Specials – "Gangster"
This would be a pretty adventurous cover for the band, and I am all for bands stepping out of their comfort zone once in awhile (don't look at number four). I would love to hear what the band could do with this moody, dark post-punk-cum-reggae classic.
Portishead – "Silence"
This one almost seems too obvious. The rhythm plays a huge part in this song, and I have no doubt that Ben Ivascu and Drew Christopherson could take it in some interesting directions with the twin drumming. And of course Channy as Beth Gibbons is pretty much a given. I would LOVE to hear this cover live and see the band have some fun with it.
Lekar Hum Deewana Dil – "Yaado Ki Baraat"
OK, I just want some band, any band, to cover this Bollywood classic and do a frame by frame remake of this video. I figure Poliça could get Mike Noyce involved again on guitar and if maybe Channy wouldn't mind learning Hindi, then I think this could be a hit. Too much to ask?
First Runner-Up: Any Broadcast song, really. But maybe "Pendulum," if I had to choose. Another one to file under "obvious," but one of my favorite bands that I think would make excellent candidates for a Poliça cover. Better than, say Kate Bush, who everyone covers, or Björk, whose uniqueness I don't think lends itself to covers well.
Certificate for Participation: Smog – "Justice Aversion"
Just thought of this one and want to tack it onto the end. Why not?

Ali Elabbady (Background Noise Crew, Egypto Knuckles)
David Sylvian – "Red Guitar"
Channy could pull off a great rendition of Sylvian's wonderful vocals on this original cut. Not to mention the fact that Sylvian was also part of a defunct band prior to going solo.
Kanye West – "Coldest Winter"
Given Channy's newfound love of auto-tune (plus the band's tight rhythmic structure, like on "I See My Mother"), this wouldn't be a bad idea.
Radiohead – "Knives Out"
The almost bossa nova-like arrangement of "Violent Games" would match this Radiohead song perfectly. Plus, given a voice as powerful as Yorke, Channy could pull this one off rather well.
A-Ha – "Take On Me"
Most of Give You the Ghost, from a musical standpoint, reminded me of a lot of the music I grew up listening to in the '80s, and I think the band would be able to pull this cover off without a hitch.
The Jets – "Crush On You"
Could totally be done. Although a far stretch of the imagination, "Fist Teeth Money" sounds rhythmically akin to this Jets track. Plus, it's not a bad shout-out to MPLS, right?
Dana Raidt (METRO Magazine)
Al Green – "Here I Am (Come and Take Me)"
While under normal circumstances I would never encourage vocoder-y effects to be introduced into an Al Green masterpiece (blasphemy!), the vulnerability and subdued nature of this song would be perfect for Channy, and I would be curious to hear what the rest of the band does with the horn part.
Cat Power – "He War"
Channy has a, well, Chan-y voice and is one of the only singers I know of who could do a Chan Marshall song justice. The drums really carry it, so the two-drummer situation would only enhance that.
Danzig – "Soul on Fire"
I'd love to see Poliça take on something a little evil, and this seems like a good place to start—this or Sabbath.
George Harrison – "My Sweet Lord"
There's a lot of slow buildup to an epic, layered chorus, and a band like Poliça could do amazing things with that dynamic.
Cocteau Twins – "Alas Dies Laughing"
Channy is probably one of the few people who could even begin to get Elizabeth Fraser's weird phrasing and mumbly affect right, and the sparseness of the song fits the rest of the band perfectly.

Harley Brown (Consequence of Sound)
Aaliyah – "Don't Know What To Tell Ya"
Aaliyah's sultry vocals and Timbaland's bumpin' beats fit Channy Leneagh's exchanges with quick-fingered bassist Chris Bierden like her "lock and [her] key."
James Blake – "I Never Learnt To Share"
This song's heartbreakingly lonely lyrics reflect Leneagh's own songwriting, and dueling drummers would destroy Blake's slow-building crescendo.
Al Green – "Love And Happiness"
After seeing Poliça soundcheck to Ace of Base, it's clear they've got a playful side. And what's better for that than Al Green's groovy soul-searching?

Will Wlizlo (Reviler, @willwlizlo)
David Bowie – "Ashes to Ashes"
Bowie is the undisputed Queen Diva of Space-Funk. Poliça could do an honorable and faithful tribute to Mr. Stardust and Mjr. Tom. (Substitute for the young 'uns: "Modern Love" or "Suffragette City.")
Big K.R.I.T. – "The Vent"
This ambient-backed rap song is unironically ready to be covered by an electronic band. The lyrical content focuses on the anxieties of loss, success, and introspection—just like Poliça's debut album.
Depeche Mode – "Policy of Truth"
The last song of disenchanted heartbreak that ever needed to be written. It should help keep Valentine's Day in perspective.
Fiona Apple – "Better Version of Me"
I'm an unashamed Fiona Apple fanboy, and I'd argue Channy's singing style is modeled after Apple's (or greatly influenced by it). Replace the grungy guitar with synth muscle and the wonky percussion with dual drumming. Voila!
Tortoise – "The Lithium Stiffs"
I like the idea of a group that puts vocals front-and-center covering an instrumental song. Granted, there's a voxy synth sample in this It's All Around You-era Tortoise cut, but it would lend ample room for the rest of the band to jam like it's 2004. (Substitute for the young 'uns: "Angel Echoes (Caribou remix)" by Four Tet.)

Ryan O'Leary
Bruce Springsteen – "Born to Run"
The lyrics "Just wrap your legs around these velvet rims and strap your hands across my engines" must be paired with Drew Christopherson and Ben Ivascu's attacks.
Talking Heads – "Once in a Lifetime"
Channy could definitely pull off a sultry David Byrne.
Iggy Pop – "The Passenger"
It would work, trust me. Plus, Channy looks a lot like a late seventies Iggy.
Ginuwine – "Ride my Pony"
Straight-up sex attack that would make the boring music journalists littering the crowd get nastay.