Here We Go Magic: Pigeons Review (Four Takes)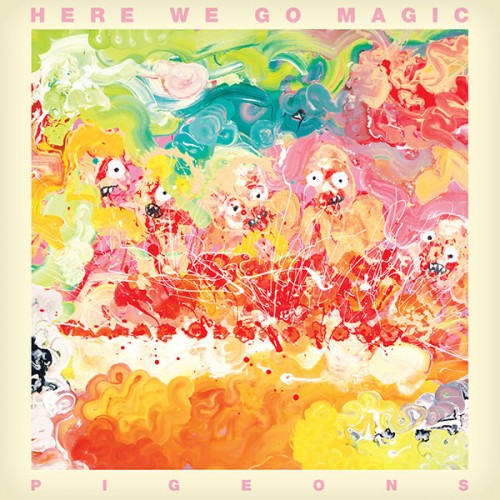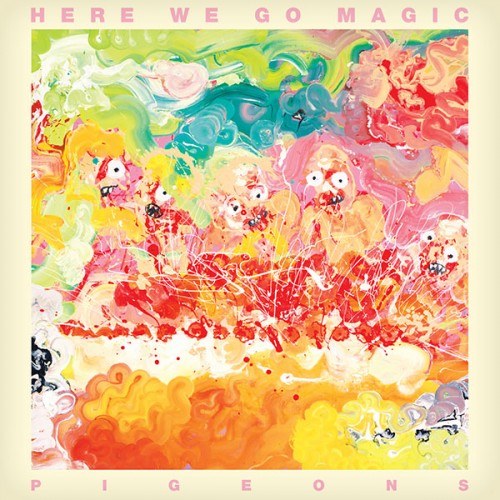 It can be difficult to gain a balanced perspective on an album after reading a single summary of the music. Bias can tilt a review, as can personal taste, history and just about everything else that is unique to the person writing it. So in an effort to offer an expanded perspective in such a medium, here are four reactions, four impressions, Four Takes on Pigeons by Here We Go Magic.

Jason Koffman (Cedar Cultural Center)
33/100
The first time I heard Here We Go Magic was when they opened for Grizzly Bear at The Cedar, exactly one year ago today (6/7/2009).  Their new album Pigeons sounds very little like what they played that night.  Apparently they learned a lot from Grizzly Bear as at least half of the songs touched on their sound, at least instrumentally.  "Surprise" has a looping bass line that seems lifted from Veckatimest, and Animal Collective vocal effects, who seem to be the inspiration for the other half of the album.
The album has what I would call mid-fi production.  Higher than lo-fi, but lower than hi-fi.  It gives the songs a very cassette tape vintage feel, which in this 80s flashback era should be annoying, but I think actually works in this muddy proggy instance.  Pretty much everything sounds unfinished.  Songs meander just a bit too long like there should have been a fade-out 60 seconds ago, and repetitious lyrics amount to simply a couple of words or a few lines.  All of it coming out of the speakers in not-so-glorious AM radio mid-fi, leaving you with the feeling that you're listening to a work in progress or a demo tape.
Crabbiness aside, they are successful at creating (or maybe reproducing) a proggy mood or period piece.  One moment you're bouncing to punchy Devo ("Old World United"), the next you'd swear you're hearing an umpteenth reissue of lost Pet Sounds/Smile outtakes ("Vegetable Of Native" = The Beach Boys' "Vegetables").  While repeated listenings might prove to wear thin, I do love the falsetto pop of "Collector", which sounds like simplified Of Montreal.  Plus the album kicks off with a few Remain In Light/My Life With The Bush Of Ghosts grooves that assures that I'll at least listen to the first few songs before fading out.

Kristian Melom (Minor Kingdom)
85/100
This record would probably sound best in a 85' DeLorean or on a Talking Head's mix-tape, but in this all too modern world I settle for my sleek Ipod accompanied by shitty ear-buds.  Nonetheless, this album translates and it translates well.
Pigeons is Here We Go Magic's second LP if you consider what has made it into popular culture's blogosphere, although front-man Luke Temple has been kicking around 4-tracks for the past decade.  It wasn't until Grizzly Bear swooned over his last self-titled LP that he started receiving the attention he deserved.  Moving on from his last record, Luke enlisted a full band to help him realize his latest batch of songs.  The result is quite the carnival ride. 
The cover of Pigeons sets the mood to the music immediately. Your acid trip goes from good to great after you discover that finger-paint set you adored as a child. Every color of the rainbow creeps out of the corners and swirls around your head and into your ear-drums.  Carefully complimenting their cover, HWGM made sure to leave something familiar for the listener, connector dots so you can find your way home within the music. In my opinion, this connection is made between the sweet grooves of the snare drum and bass guitar.  There are pop-hooks and catchy melodies galore within the rhythm section but they're hidden beneath the madness of spiky guitars, enchanted keyboards, and other underwater speculation coming from Luke's loose inflection.
Pigeons is not exactly radio-friendly, and its greatness isn't immediately obvious, but that is exactly why I like it.  There is a good balance between classic 80's pop and hazy dissonance that still leaves you asking your-self, why do I like this?  It challenges the listener to step outside their comfort zone, which isn't very common in our current creative climate.  Sure it has its obvious influences (see Tina Weymouth, Pink Floyd, and Highlander the soundtrack) but it demands another listen and each time you come back, it gets better with age.

Josh Keller (Reviler)
81/100
Wow. Where to start? From the second Here We Go Magic album Pigeons opener "Hibernation" kicks through your speaker, Luke Temple and his cohorts create the kind of dreamy, multi-layer pop music that is much easier to let wash over you than to describe. Even on more low key tracks like "Casual" and "Bottom Feeder," Temple's songwriting is a dizzying mess that always seems to work out in the end. Between the knotty song titles and the densely melodic, orchestrated arrangements that decorate the bands pop songs, I can see how people will initially be overwhelmed (and turned off) by Here We Go Magic. This would be unfortunate. One great remedy is to see them live, as they are excellent on stage and really bring the songs to life. The other is to submit to the jungle of sound that the band creates and let yourself be taken in. Grab a pair of headphones, turn down the lights and jump into the rabbit hole with the band. I promise it will be an amazing experience.
Jon Behm (Reviler)
79/100
This isn't a bad record by any means – Pigeons is full of all the intricately crafted, complicated compositions that we have come to expect from Luke Temple's (now full band) project.  Some of the tunes have a loose, unfinished quality to them though – as if some final stroke was needed to tie up loose ends that there just wasn't time for.  The tinny production style doesn't help all that much either.  Listening to this record I was reminded of the Summer I spent working construction, listening to Grateful Dead bootlegs out of some crappy cassette player.  Pigeons has both the wildly improvisational feel I remember from those tapes as well as the less than stellar sound quality.  I feel that my contributions to this site have become an anti-jam band screed lately but neverless, I am also fearful that if the band continues down this path they could end up opening up the 10,000 Lakes Festival for Umphrey's Mcgee.   Thankfully I don't think they are there yet.  I do hope though that in their next album HWGM really reigns in the jam though and tightens down to create some really nice, fully realized pop songs.  They definitely have the talent to make something that appeals to both the highbrow and lowbrow music consumer – and in my mind that is what makes good music.  These songs are close but not quite there yet. 
Here We Go Magic:          Myspace           Order Pigeons
.