Best Coast: Crazy for You Review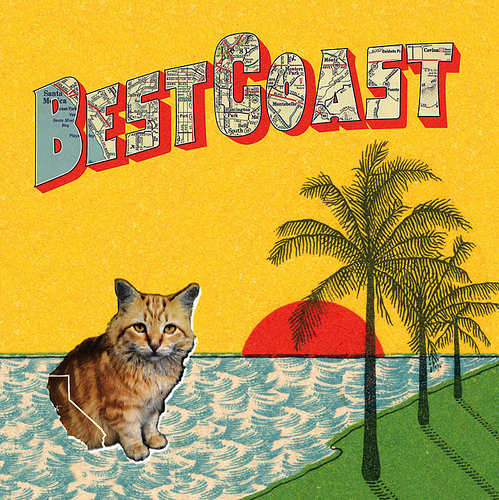 77/100
Female fronted garage rock has seen quite a resurgence in the last year or so, and the ranks are swelling with the long awaited debut album from Bethany Cosentino and gang, better known as Best Coast. Some of the bands making waves in the scene are underrated (The Bitters, The Mayfair Set), some are overrated (Vivian Girls) and some are just about right (Dum Dum Girls), so it will be interesting to see where Best Coast's sunny, West Coast take on the genre lands with their debut Crazy for You.
Best Coast is one of those bands that seem like they have been around forever, even without releasing one LP. Her first song to grab people's attention was the sunny, stoned out jam "Sun Was High (So Was I)," which was a great introduction to her style of writing.  Cosentino's songs are a mix of tongue in cheek references to beaches, boyfriends and partying, but somehow keep an air of seriousness to them. The song that really brought me on board the Best Coast hype machine was the simple but excellent "When I'm With You," which was tagged onto her debut LP as a "bonus track." The 13 song (including the bonus track) album does a great job of continuing on the strengths the band has shown and stretching them out over an entire album. Most of the songs sound like if Wavves were fronted by a girl and sang about boys and lost love instead of his own angst. Highlights include the sharp album opener "Boyfriend," the Jenny Lewis gone fuzz of "Our Deal," 'Goodbye" and the half speed broken heart lament of Honey."
Crazy for You isn't going to revolutionize music. Some people may hate it, especially people at the end of their ropes with this particular genre. In my view, it is one of the best releases from a genre I personally really like and am enjoying seeing become so prevalent. After I fell in love with "When I'm With You," I wondered if the full length follow up would just be a disappointment, but it really isn't. While that track is still probably my favorite on the album, the whole record is going to be one that gets lots of spins on sunny days the rest of this summer.
     -Josh