Belle & Sebastian: Write About Love Review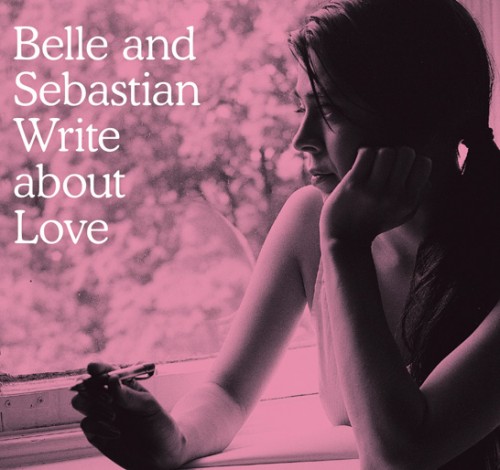 84/100
While Belle and Sebastian may have retained the production services of Tony Hoffer from their last full length, the critical darling The Life Pursuit, their newest offering Write About Love actually seems like a bit of a departure.    Whereas Pursuit was full of sticky pop melodies, brazen hooks, and gleeful energy, if anything Write About Love seems like a return to the band's twee, late nineties hayday.  While It isn't exactly as melancholy as some of the earlier recordings (save a few tracks like "Calculating Bimbo" and "Read the Blessed Pages"), it does have that feeling of not trying quite as hard to be happy either (a feeling that the band has been lacking as of late). 
If anything Stuart Murdoch and company sound "content," which is actually a welcome change from the recent exuberance of singles like "For the Price of a Cup of Tea," or "Step Into My Office, Baby." Even  Write's most upbeat offering, the Stevie Jackson penned/performed song "I'm Not Living in the Real World," sounds relatively muted in comparison.  That feeling of restraint is aided by the record's production style as well, which seems to add a soft reverb cushion to every tune, giving Write the retro "canned" sound of a cassette tape.  
For all the change though, Write certainly doesn't shy away from the old Belle and Sebastian mainstays.  Stuart Murdoch is still obsessed with love, religion, and particularly youth.  Despite now being over forty Murdoch still sounds like he had his first heartbreak just yesterday on the playground after class.   Not that pining over love's mysteries is exclusively a young man's game, but Murdoch's earnestness and lack of guile give him a youthfulness that belies his years.
 The record also still traffics in the blue eyed soul and soft rock that are B & S hallmarks.  And the old formulas still work – especially in standouts "I'm Not Living in the Real World," "I Want the World To Stop," as well as "Little Lou, Ugly Jack, Prophet John," which features guest vocals from Norah Jones.  In fact female vocalists actually play a huge part throughout Write, with actor Carey Mulligan making an appearance as well as B & S member Sarah Martin taking a strong role.
Regardless of how much they have "changed" over the years, Belle and Sebastian will doubtlessly always be one of indie rock's most critically divisive groups.  And Write About Love definitely won't change that.  If you are a B & S fan it will probably be some of the best work you've heard in years.  If you aren't, well this isn't going to change your mind.     
     — Jon Behm
Write About Love will be available on Oct 11 via Rough Trade
Belle and Sebastian:          Myspace
.